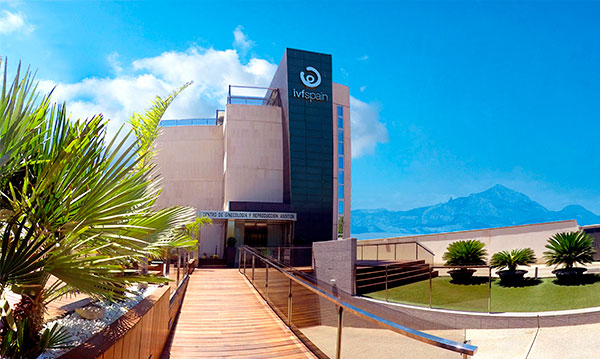 Egg Donation Exlusive Program
- IVF Spain
Alicante, Madrid, San Sebastian / Spain
Why choose IVF Spain?
We are a fertility clinic located in Alicante, Madrid and San Sebastian (Spain) whose aim it is to help patients achieve their dream of conceiving a healthy child.
At IVF-Spain we recognise that treatment is not solely about physical intervention – we pay particular attention to ensure we offer an environment and facilities which promote emotional and psychological well-being. Our philosophy focuses on providing a personalised treatment to the patient; we offer a complete service in their preferred language which promotes clear communication and understanding. At IVF-Spain we are committed to being at the forefront of assisted human reproduction research, constantly assessing and using innovation and technology to ensure our patients receive the best possible treatment. This commitment also allows us to specialise and achieve positive outcomes in often complex cases.
Our medical team is led by Dr. Jon Aizpurua, an internationally respected and renowned clinician in the field of assisted reproduction.
Programme restrictions and qualification criteria
Exclusive donor
All eggs retrieved from the donor are fertilized.
3 embryos on day 5
3 blastocysts on day 5 are guaranteed. If not, free stimulation of the exclusive donor will be carried out.
No waiting list
There is no waiting list. There are more than 500 donors with proven fertility.
Package flat rate
Full egg donation program with guarantees within one flat rate. See below what's included.
Egg Donation Programme
at IVF Spain
First visit and on-line follow up

Individual matching with a single donor

Carrier Screening on donors

ICSI / IVF / PICSI / IMSI fertilisation techniques
Costs of services not included in the program
First visit – basic screening tests

€200

including (when applicable): comprehensive sperm test (sperm count and morphology), Apoptosis, DNA fragmentation, sperm freeze + storage for 1 year

Viral screening tests - female

€48

Viral screening tests - male

€48

Recipient's medications

approx. €400

Medication before and after the embryo transfer

Vitrification of remaining embryos

up to 4 embryos: €400

More than 4 embryos: €100/embryo

Embryo maintenance (banking)

€300/year

(free of charge during the first year)

FET - frozen embryo transfer

€1,800

FET during the following cycle if the first cycle failed and there are frozen embryos left
MACS (Magnetic Cell Sorting)

€250

Embryo selection using the "Time-Lapse" technique

€600

International sperm bank

€1,000