The IVF egg donation success rates in the US may vary between states and particular clinics. They usually depend on IVF center experience, donor selection process, the kind of program you undergo, additional procedures done by in vitro laboratory, semen quality and the age of recipient (the oldest woman who got pregnant thanks to egg donation was 66 years old). They are counted as an average birth rate (rarely pregnancy) per transfer and may reach up to 55%. Of course the younger eggs the better.
IVF success rates in the USA
Some sources mention that statistically ca 48% women will experience pregnancy after in vitro with donor eggs, and unfortunately approximately 15% patients will miscarry. If you consider couples that continue their treatment egg donor cycles may have a success rate at the level of 60% and even higher if a fresh cycle is followed by a frozen cycle
According to the Society for Assisted Reproductive Technology (SART) summaries for 2012, nationwide statistics are: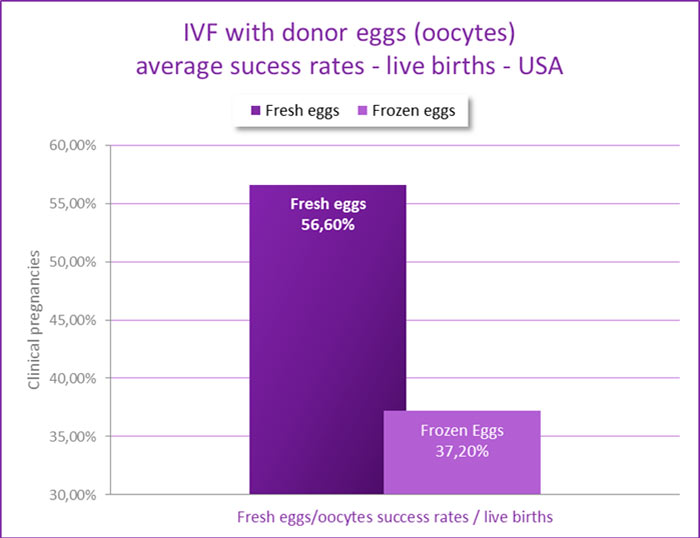 As for indications for IVF with donor eggs performed in the US – see the summary below:
Tubal Factor: 1%
Male Factor: 2%
Ovulatory Dysfunction: 1%
Other Factor: 10%
Diminished Ovarian Reserve: 49%
Unknown Factor: 3%
Endometriosis: 1%
Multiple Female Factor: 17%
Uterine Factor: 1%
Female and Male Factor: 15%
In the United States you may surely count on a very good quality of services and high success rates. Egg donation treatment at American fertility clinics may be much more expensive than a similar treatment at a European clinic, still, the professionalism of doctors and standards of treatment are very high quality in the USA.