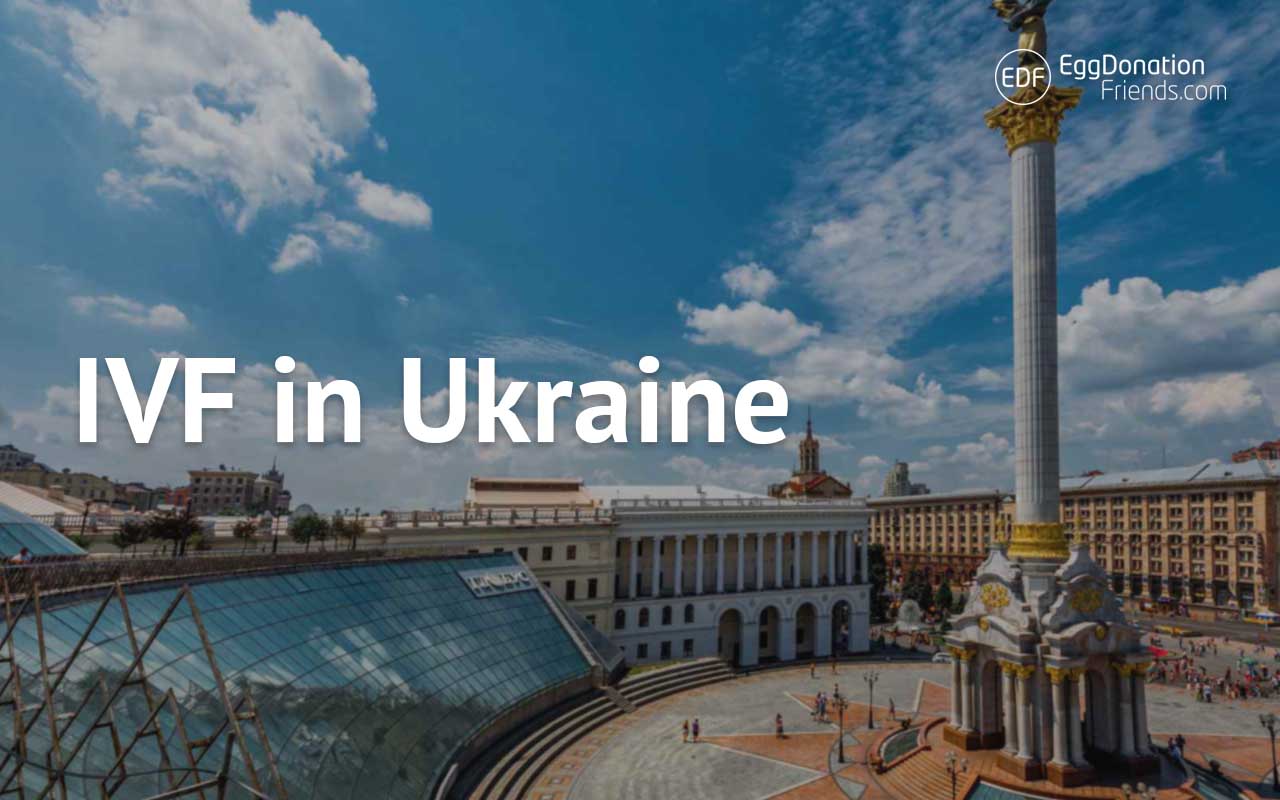 Why should I choose Ukraine for my IVF treatment?
Ukraine is not the first country that springs to mind when patients think about travelling abroad for their treatment. It shouldn't be dismissed off-hand, though; the small eastern-European country has much to offer, aside from its rich history, stunning architecture, and gorgeous natural landmarks. Reputable clinics in cities such as Kiev or Lviv are quickly establishing Ukraine as an affordable and safe destination for fertility treatments.
Find IVF and Egg Donation Clinics in Ukraine
IVF Clinics in Ukraine
Ukraine is well on its way to becoming one of the preferred destinations for IVF treatments. According to the latest report (concerning 2014 – see below) published by the European Society for Human Reproduction and Embryology (ESHRE), there were 38 clinics operating within the country in 2014. Over ten thousand own egg IVF cycles (and over three thousand egg donation cycles) were performed in Ukraine in that year – this includes patients coming from abroad.
Ukraine is one of the more popular choices for international tourists seeking fertility treatment, especially among those seeking a more economical option. As such, clinics are staffed with multilingual staff; English is commonly spoken. Some clinics even offer special treatment packages for patients from abroad, which include lodgings in local hotels.
Clinics in Ukraine undergo rigorous inspections by the Ministry of Healthcare every three years in order to ensure good safety standards and high quality of care. Results of all IVF treatments in the country are sent to the Ukrainian Association of Reproductive Medicine, along with ESHRE. Only ESHRE publishes its data, however – often with a four-year delay. Below you can find data for 2014, as published in the 2018 ESHRE report.
IVF clinics in Ukraine - ESHRE data for 2014 (latest report published in 2018)1
Number of IVF clinics in Ukraine
38
Number of IVF clinics in Ukraine reporting to ESHRE
32
Own eggs cycles performed in Ukraine
(2014, ESHRE EIM REPORT)

10,515
Donor eggs cycles performed in Ukraine
(2014, ESHRE EIM REPORT)
3,196
IVF donor eggs - success rates
(pregnancies/embryo transfer)
56,2%
IVF with own egg - success rates
(aspirations - egg retrievals / embryo transfer)
19,8%
IVF Treatment options in Ukraine
Basic information about IVF treatment in Ukraine – read before you go:
Ukraine offers much of the same options and services as other, more popular European destinations. Treatments are available to married and single women up to age 52, as well as men up to age 59. Lesbian couples, unfortunately, cannot undergo IVF treatments in Ukraine.
Egg, sperm, and embryo donations are available with enforced anonymity. Ukrainian donation recipients, however, enjoy access to slightly more information about donors when compared to patients elsewhere in Europe. Social freezing of oocytes is permitted by law, as is sex selection of embryos (for medical reasons only). Testing such as PGS or PGD is also available to patients. Frozen oocytes and embryos can be stored indefinitely.
Ukraine differs from the majority of Europe in one key aspect – surrogacy is legal. It was legalised in 2002 and has since enjoyed a steady level of popularity, although advocacy groups and experts express concern at the relative lack of regulation of the surrogacy market. The combination of liberal laws and other surrogacy hotspots outlawing the practice in 2015 have caused Ukraine to become one of the most popular destinations in the world for parents seeking a surrogate mother. Unfortunately, the Ministry of Health does not release any data on surrogacy, so it's difficult to estimate how popular the practice actually is.
IVF and Egg Donation in Ukraine - basic information
Maximum patient age
52 years old for women, 59 years old for men
IVF treatments for single women
Allowed
IVF treatments for lesbian couples
Not allowed
Maximum number of embryos to transfer
IVF with donor eggs
2
Maximum number of embryos to transfer
IVF with own eggs

2
(3 if there are medical indications and the patient gives consent)
Egg donor availability
Very good (Caucasian)
Egg donor age
18-35
Egg Donation in Ukraine
Egg donation in Ukraine operates under similar legislation to other European countries. All donation treatments are anonymous, with certain information about the donor being available on the condition that the donor signs a consent form. On the whole, egg donation treatments in Ukraine are much cheaper when compared to other European countries; this does not imply worse conditions or less chances of success, however, as according to data published by ESHRE, Ukrainian egg donation success rates are well above the European average – 56.20%! For reference, this is well above Greece (51.50%) and just ahead of Spain (55.60%), both of which are considered some of the best destinations in Europe.
Find Best Egg Donation Clinics in Ukraine
Egg donor information available in Ukraine
Ukrainian law permits egg donation from close relatives, anonymous voluntary donors and patients undergoing IVF treatments who give consent to donate their surplus eggs. The main piece of legislation regulating assisted reproduction technology does not define anonymity – as such, the clinics themselves choose how much information about the donor can be made available to the patient.
Egg donors are matched to the patient by their phenotype, that is, their visible characteristics – eye and hair colour, skin tone, height, weight, et cetera; genetic history, blood type and other factors can also be used. Some clinics even allow access to donor pictures, including those taken as a child, as well as tertiary information, such as educational history, athletic or musical skills, and others.
Additional information like that, however, is not available in every clinic.
Egg donor qualifications
Ukrainian donors must be aged 18 to 35 and have at least one biological child. They are also required to be healthy, not be affected by any hereditary diseases, as well as be free of bad habits such as substance or alcohol abuse. They are also required to undergo several mandatory examinations, as listed below:
Donor qualification tests required by law:
Blood type and RH factor
Coagulogram
Complete blood count
TORCH infections Ig G/M (Toxoplasmosis, Cytomegalovirus, Chlamydia, Rubella, Herpes 1 and 2)
Pap smear
Hepatitis B and C
HIV
T. Pallidum
Luteinizing hormone
Prolactin
Estradiol
Progesterone
Thyroid-stimulating hormone
Anti-Mullerian hormone
Follicle-stimulating hormone
Cystic fibrosis
Karyotyping
In order to ensure the donor understands the full implications of the process, they are also required to undergo psychological examination. This also serves to only allow donors who are undergoing the process for purely altruistic reasons. Donors are only compensated a nominal fee of around €350.
There is no central registry of donors, which potentially means they can donate indefinitely; however, many clinics operate according to ESHRE guidelines, which only permit six donations.
Embryo donation in Ukraine
Embryo donations are available in two forms in Ukraine – couples undergoing IVF can donate their surplus embryos, or new embryos may be generated from two donors. Although not as common as egg donation, patients can be assured that the same safety standards apply in both cases.
IVF and Egg Donation cost in Ukraine
Ukraine is often quoted as one of the most affordable options for IVF treatment in Europe. The average cost for an own egg IVF cycle is €3,200. Egg donation cycles in Ukraine cost around €5,000 – making the country one of the cheapest destinations for IVF overall. The price, however, does not imply poor results or low quality of treatment, as we'll see further down in the article.
Below you can compare the average costs of egg donation treatments in Ukraine with those of other countries. This average price includes the donor egg costs, donor compensation, ICSI fertilization, and embryo transfer.
As you can see, Ukraine is among the cheapest destinations in Europe. It also needs to be remarked that some clinics aren't upfront about additional fees accumulating during treatments; always be sure to ask your clinic of choice about whether these costs are included in their price quote:
the donor's fee, her medications and screening (if you're interested in egg donation)
egg retrieval
sperm collection and sperm preparation
ICSI
assisted hatching (or any other IVF procedures you need)
transfer of blastocysts
vitrification (freezing) and storage of embryos/blastocysts
IVF Success Rates in Ukraine
ESHRE is the European authority concerned with collecting and publishing data on fertility treatments in member countries; their reports, however, are published with a large delay. Their 2014 report (published in 2018) portrays Ukraine as a country very much enjoying a reputation for good treatment results, beating out even Spain in egg donation results. Own egg treatments are below the European average, although that may be explained by the fact that many IVF patients in Ukraine are in advanced maternal age.
IVF Success Rates in Ukraine (ESHRE 2014)
IVF in Ukraine average
ESHRE European average

IVF donor eggs - success rates
(pregnancies/embryo transfer)
56.2%
50.3%
IVF with own eggs - success rates
(aspirations - egg retrievals / embryo transfer)
19.8%
27.2%
IVF success rates in Ukraine as compared to European averages. While Ukraine enjoys plenty of success in their egg donation programs, their own egg IVF cycles lag behind the European average.
Your individual chances for a successful IVF treatment in Ukraine
Remember that average success rates shouldn't be the primary deciding factor for your choice of clinic. Each patient is different – they have different infertility diagnoses and medical histories. As such, the prognoses for each patient can vary greatly and usually are different from the presented average success rates of each clinic. If you're concerned with the success rates, call the clinic before scheduling an appointment – describe your medical history in detail, including your age, weight, height, the infertility diagnosis, the number of failed cycles, performed tests and procedures etc. and ask for your individual success prognosis.
IVF in Ukraine – Law and Clinics Accreditation
On March 6th, 2014, Ukraine put into law Order 787 of the Ministry of Health4, which set out regulations and guidelines regarding Assistive Reproduction Technology, including IVF. This document, along with the Family Code of Ukraine, Basic Healthcare Law of Ukraine, and the Ukrainian Civil Code, dictate who can and cannot participate in IVF treatments.
The law is largely similar to what other European nations operate under, however, some key differences appear. For instance, the hotly-debated practice of surrogacy is allowed under Ukrainian law, freely available even to foreign couples.
In order to operate, IVF clinics in Ukraine are required to register with the Ministry of Health in order to receive a license. This, in turn, obligates the clinic to report all of its treatments and their results to the Ukrainian Association of Reproductive Medicine, which in turn submits data to ESHRE. Clinics are also subject of inspections by the Ministry of Health, usually once every three years. This helps maintain a high standard of safety and care.
Find Best IVF Clinics in Ukraine
Resources:
1The presented data detailing the number of IVF procedures performed in Greece come from the 2014 ESHRE report, published in 2018. ESHRE reports are usually published with a three to four year delay.
ART in Europe, 2014: results generated from European registries by ESHRE: The European IVF-monitoring Consortium (EIM) for the European Society of Human Reproduction and Embryology (ESHRE)
https://academic.oup.com/humrep/article/33/9/1586/5055580
2 EggDonationFriends.com, data for 2018, own elaboration
3Data comes from 2014 ESHRE report, published in 2018. https://academic.oup.com/humrep/article/33/9/1586/5055580
4Order of the Ministry of Health on the approval of the use of reproductive technologies in Ukraine (09.09.2013, no. 787), http://zakon1.rada.gov.ua/laws/show/z1697-13