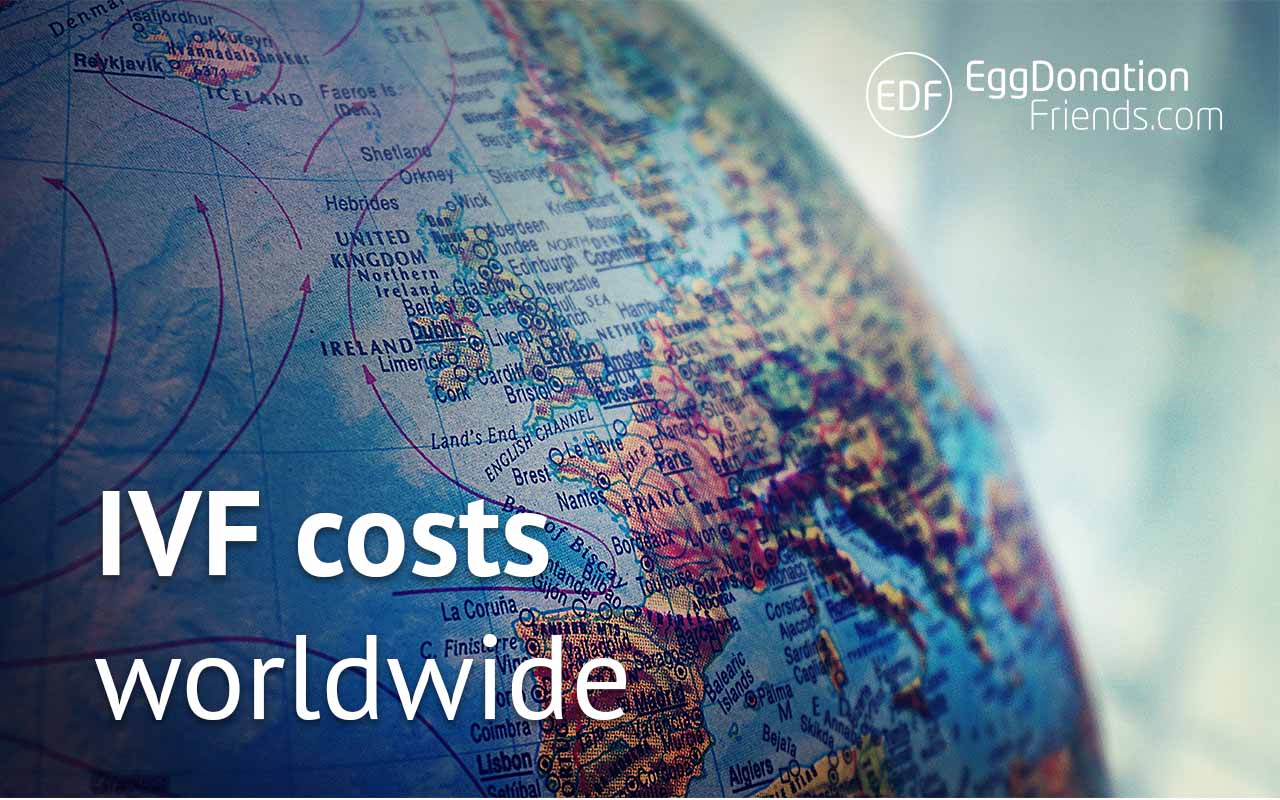 The costs of an IVF treatment using a patient's own eggs differ greatly between countries – from €2,500 in the cheapest destinations such as India, through an average of €4,500 in Europe and up to €15,000 in the United States. Egg donation programmes are even more expensive – around €3,500 in India, €6,000 in Europe and up to even €30,000 in the United States.
Many patients choosing to undergo IVF abroad base their decision on lower treatment costs. Others choose to seek treatment abroad because of a lack of access to certain procedures or techniques in their country of origin. Whatever your reasons are, you would obviously like to know how much IVF will cost you, what are IVF prices around the world, and what the financial differences are between countries. Invariably patients don't know what to expect cost-wise in certain countries, while advertised prices differ greatly from the actual costs of treatment.
IVF and Egg Donation Cost in Europe
The costs for IVF treatment in Europe differ from country to country. The cheapest procedures can be found in Eastern Europe – in countries like the Czech Republic or Poland, where prices range from €2,500 to €3,500 if you undergo treatment with your own eggs. If you decide to undergo IVF with donor eggs in Czech Republic you will pay from €4,200 to €5,000. Ukraine and Russia are a bit more expensive with own egg treatments starting at €3,500, and you will pay €5,000 for donor egg IVF in Ukraine.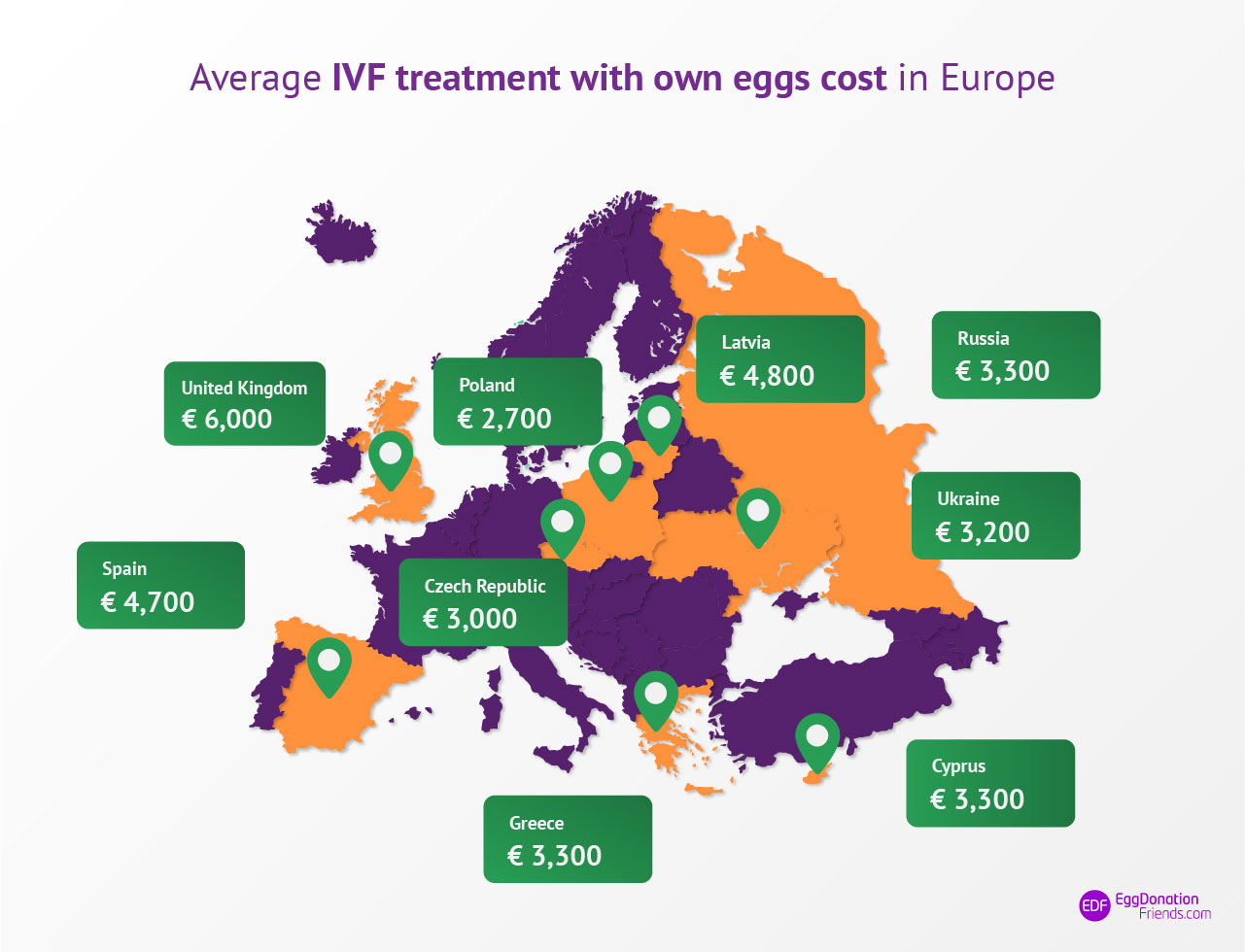 Another popular option is Cyprus and Greece, where the costs range between €3,500- €4,000 and €5,500- €6,000 for own egg and donor egg treatment respectively. The most expensive destination in Europe is Spain – there, own egg treatment will cost an average of €4,500, while a donor egg treatment costs around €6,500. Despite this fact, Spain remains one of the most popular choices for IVF treatment; the high availability of eggs from donors of many different races being one of the main reasons for this.
Find Top IVF Clinics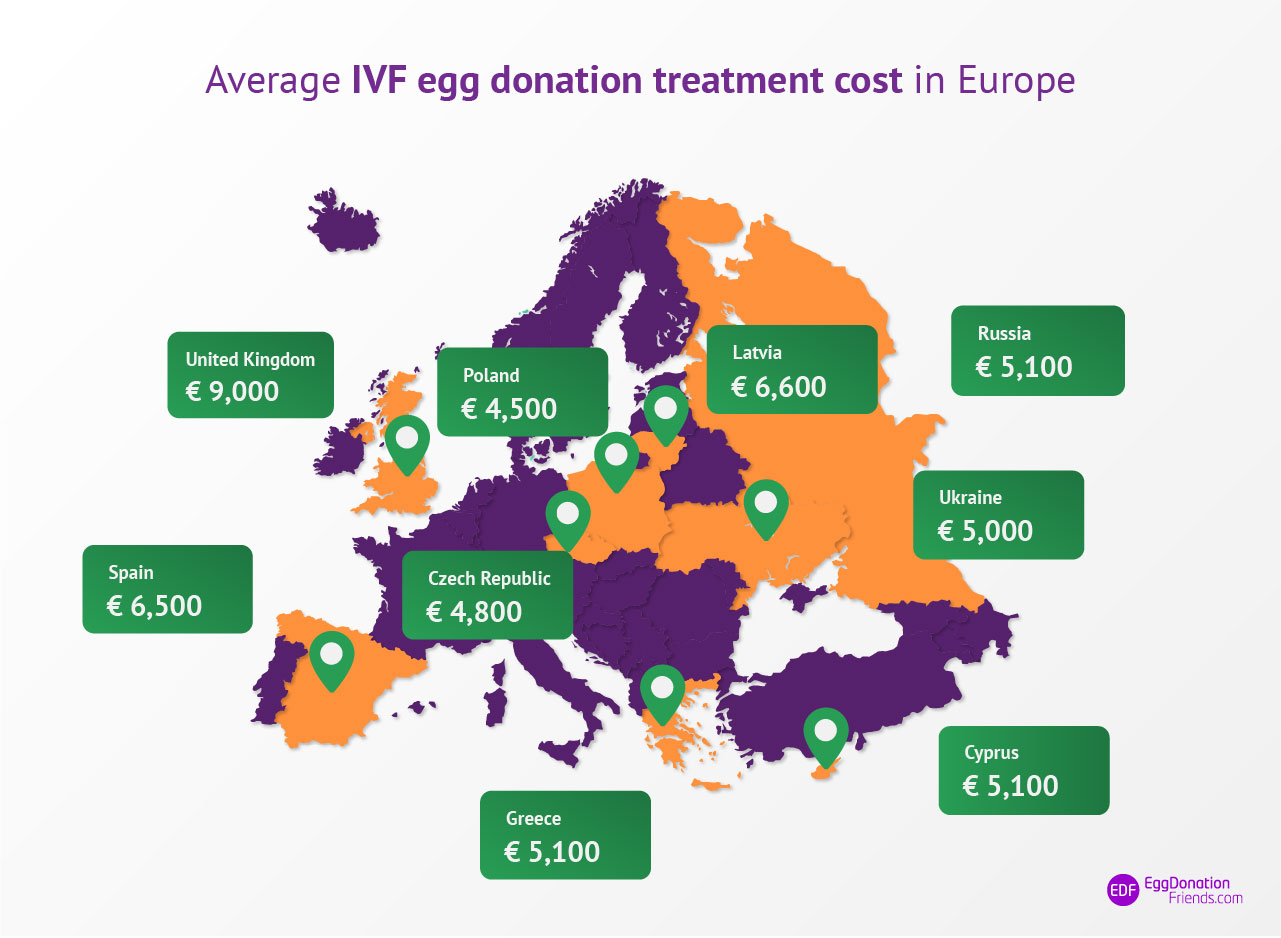 IVF egg donation cost in Europe
Why patients choose Europe for IVF treatment:
Most clinics enjoy a good reputation
High IVF treatment success rates
Large selection of donors
Most countries place strong regulations on IVF treatment
Low treatment costs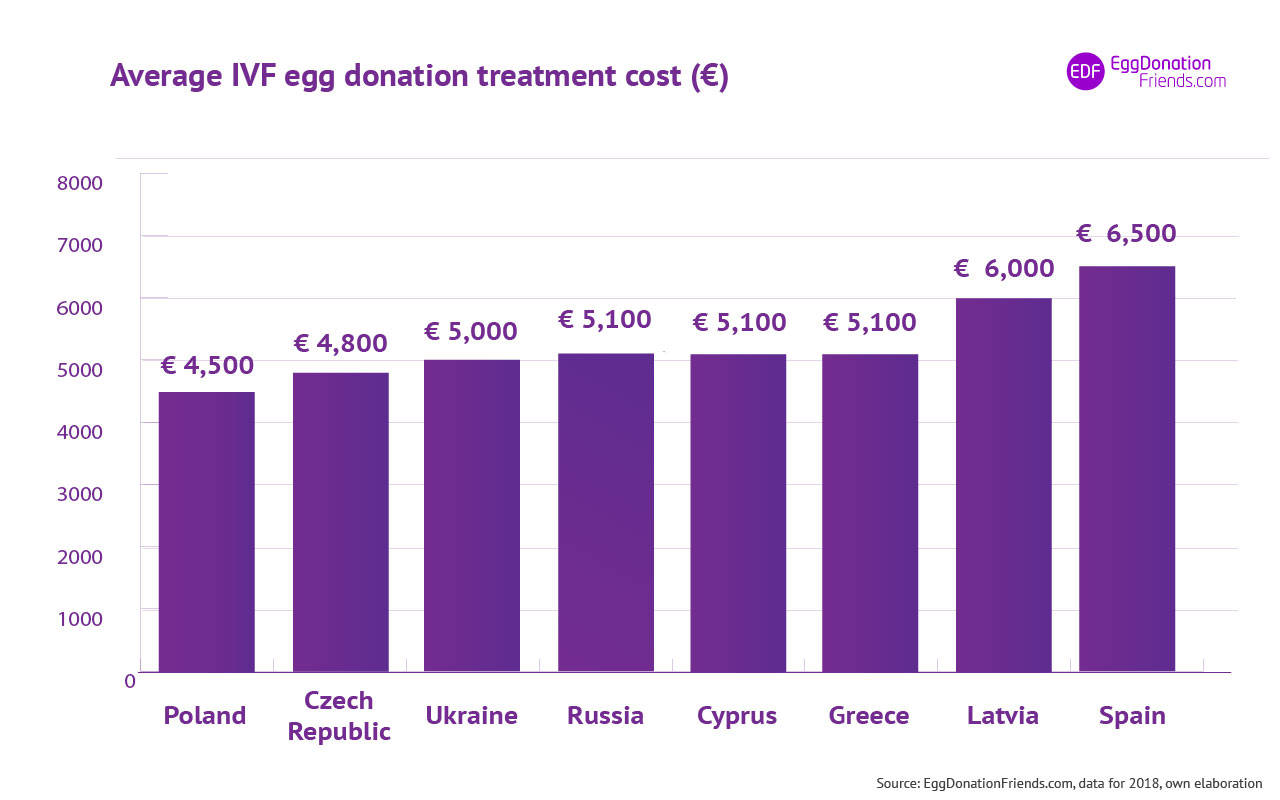 The average cost of IVF and donor egg in Europe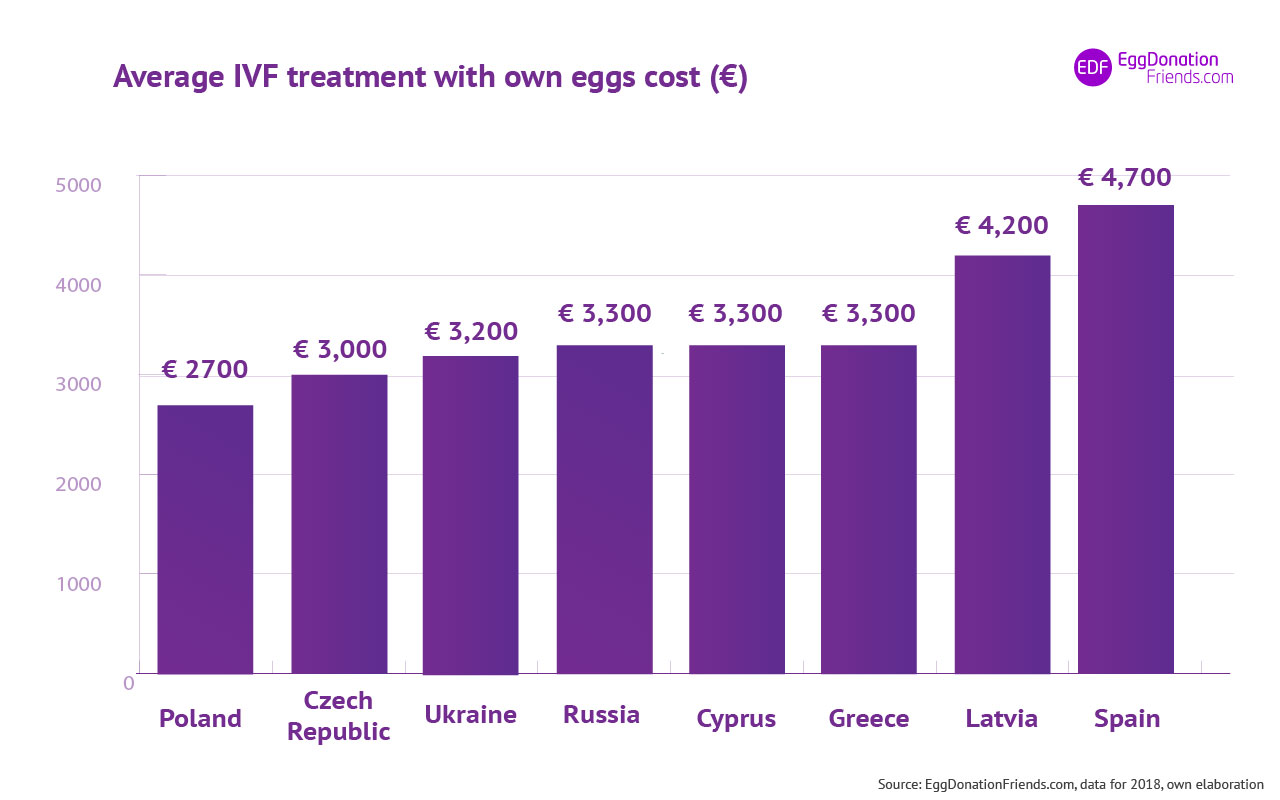 ---
What is an IVF and Egg Donation Cost in the UK
The costs of IVF treatment in the UK are relatively high – around 6,000 GBP (or €7,000) per cycle. For egg donor treatment, the costs rise to around 9,000 GBP (€10,500). A lot of patients decide to participate in egg donation programmes abroad because treatment in the UK is not anonymous; there is also a rather small selection of donors available.
You may be interested in reading: Legal aspects and costs of egg donation in the UK
IVF procedures are regulated differently in different European countries. Some destinations, such as Ukraine and the Czech Republic don't offer IVF treatments for single women. There are also some restrictions on the maximum age of the patient – for example, Spain doesn't allow treating women who are over the age of 50, limiting access to procedures for older patients.
Find Top Egg Donation Clinics Abroad
IVF and Egg Donation Cost in USA and Mexico
The average cost for IVF treatment in the United States is around €13,000 (€25,000 for egg donation) – whilst in Mexico procedures cost around €4,000 (€6,000 for egg donation). This staggering difference in costs is one reason why American patients opt for treatment in countries like Mexico and other Europe destinations.
However, there is still a group of patients that choose the US despite the high costs of treatment. There are many reasons for this, chiefly among them being the very liberal egg donation regulations, the high success rate and the wide – largest in the world, in fact – selection of donors. Additionally, IVF treatment is offered to homosexual couples and single women. Additionally, patients in the US are offered more information on donors when compared to Europe: you can see the donor's photo, read information about their education, skills and hobbies.
IVF and Egg Donation Cost in India
Another interesting choice is India. Attractive costs (ranging from around €2,500 for own egg treatment and around €3,500 for egg donation) make it an interesting alternative for Europe, especially for patients interested in using their own eggs. However, the situation gets more complicated when it comes to egg donation – due to the ethnic makeup of the country, most eggs come from donors with an Indian background. Due to the lack of availability of white donors, egg donation treatments are rather limited for patients from Europe.
We have prepared a special report for patients which collects information about the costs, the success rates and the legal restrictions in countries offering IVF treatment. You can learn more about the popular destinations among other patients seeking IVF treatment:
IVF Egg Donation Abroad – 9 most popular destinations
---
IVF costs – how to calculate them?
When presenting the average costs of IVF treatments above, we considered own egg treatment consisting of the retrieval of egg cells, insemination of eggs using the ICSI method, developing the embryo to the blastocyst stage and embryo transfer. Keep in mind that this does not include the cost of hormonal stimulation medication which can cost around €1,000- €1,500, as well as additional procedures that can be performed in an embryological laboratory in order to raise the odds of a successful pregnancy.
In the case of egg donation programmes, the costs include the donor egg cells, including the hormonal stimulation medication for the donor, ICSI insemination of the egg, developing the embryo to the blastocyst stage and embryo transfer.
What are additional IVF costs to keep in mind?
No matter what the qualifying costs are and whichever additional lab work you choose, there is another element to consider when calculating the costs of IVF treatment – the transfer of frozen embryos. Why? If your IVF treatment fails, but additional embryos were generated and frozen, you have the option of using these in a future cycle attempt. This allows you to skip starting a completely new IVF programme, saving you time and money. However, it needs to be pointed out that clinics usually don't include the cost of frozen embryo transfer in their overall costs. IVF programmes also carry with them the risk of stopping at the embryo transfer stage, if medical reasons prevent successful implantation or if the recipient's uterus isn't correctly prepared to receive the embryo. In that case, all your embryos become frozen, while the transfer gets rescheduled – which means you will receive a frozen embryo transfer, which carries an additional cost.
The cost of frozen embryo transfers varies depending on the country – from €200 to €400 in cheaper destinations such as India, €450 to €1,800 in Europe, and up to $6,000 USD in the United States. These costs don't include freezing the embryos – oftentimes this cost is included in the IVF treatment programme.
IVF Programmes and additional costs to consider
The average costs we have indicated do not include the costs of qualifying for IVF treatment, or the medical tests required before the procedures begin. Depending on the programme, the couple will be asked to undergo certain medical tests which will allow them to proceed with the treatment, including infection and hormonal testing, diagnostic hysteroscopy, semen and genetic testing (for example karyotype and CFTR). Depending on the programme, these tests can cost anywhere from €350 to €2,000 per couple. These tests can significantly increase the total cost of IVF treatment.
Regardless of the programme you choose and depending on your medical history, your doctor can recommend additional procedures or tests, such as genetic testing, assisted hatching, pre-implementation genetic screening, embryo monitoring, and others. Unfortunately, all of these additional procedures will have an impact on IVF costs.
Other additional costs of IVF Treatments to look at
There are some things individuals might forget when choosing low-cost egg donor programs. There are some additional costs that might have slipped your mind. Make sure to check extra costs before finally picking an infertility clinic abroad.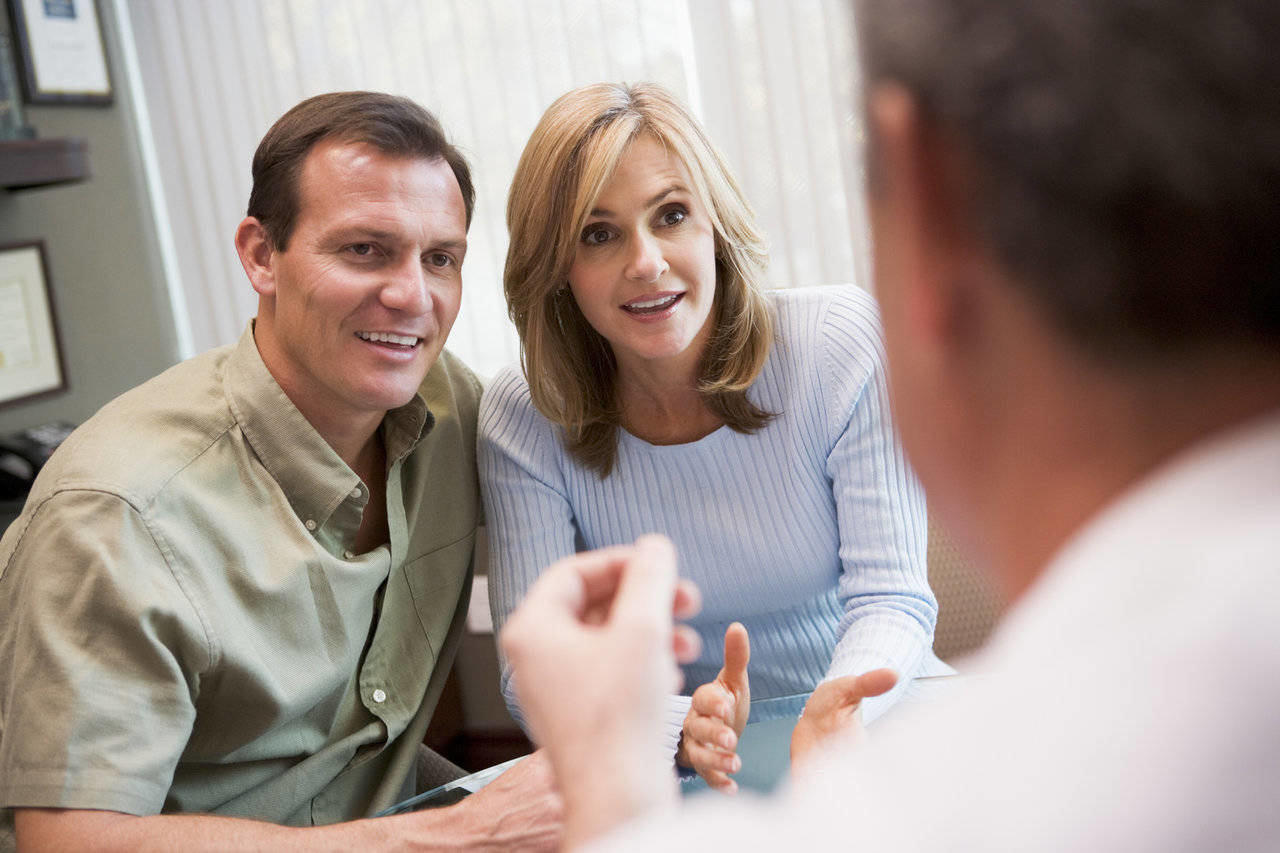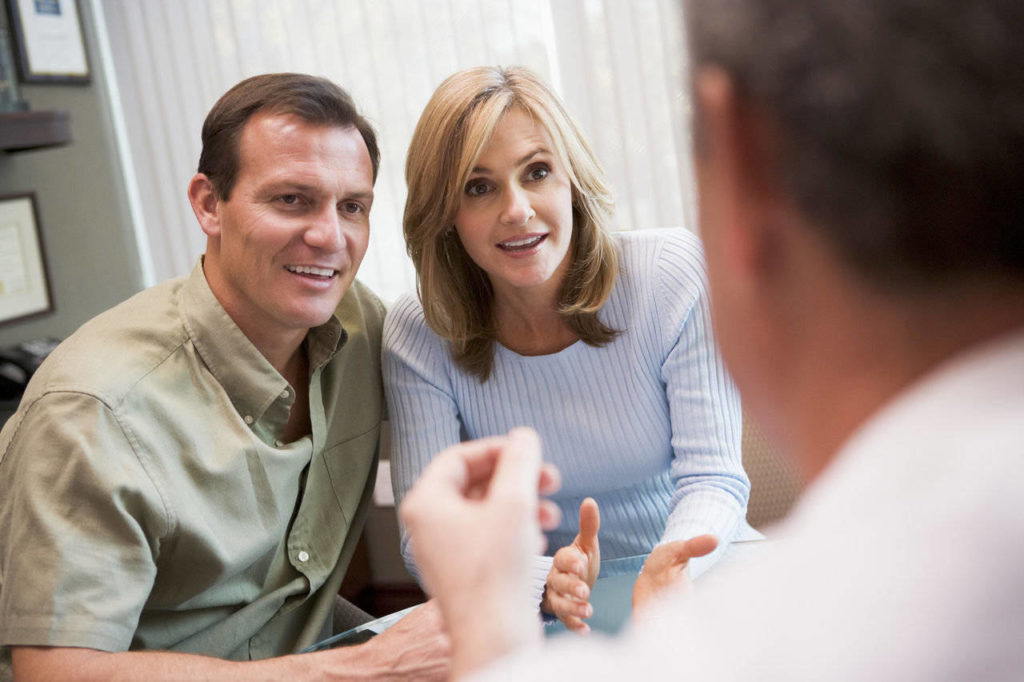 Travel costs
If you find an infertility clinic locally then there is nothing to say here, except you have to pay for petrol or bus fare, etc. But when an IVF centre is located in another country then the best option to visit the chosen clinic will probably be a flight which could make the whole procedure more expensive. More than that, it might happen that you will visit the IVF centre two or more times, and you will have to organize some accommodation unless the IVF clinic takes care of this for you. Things look a little brighter if you have decided to go on vacation and combine your relaxing holidays with successful IVF or IVF with donor eggs.
Take advantage of low-cost airlines that connect lots of European cities. You will not have any problems with airport transfers, as many IVF clinics offer to pick up and drop off services. Alternatively, you might ask the international department, that every reliable IVF centre has, to arrange the transfer for you.
Medication
Medication for the recipient and the donor is very often not included in the main cost of IVF with donor eggs or IVF treatment. IVF clinic sometimes assumes you will bring your own IVF medication from where you are travelling but most times IVF centres don't include medication into the IVF costs. Don't forget to ask if you need to pay for IFV meds out of your pocket.
Local monitoring
You will probably need to find a gynaecologist that will monitor and do tests during the cycle. All those tests, ultrasounds, hormone level checks and so on will be your additional costs if your insurance doesn't cover them. Contact your insurance company to find out more.
Absence at work
Do not forget that IVF treatment will be a period when you will be needing to take some days off which are not necessarily paid for days. So remember to check how this will impact your income and household budget during your IVF treatment.
Freezing of embryos
If fortune smiles at you and you will get pregnant during your first cycle you will surely need to add some extra costs to the price. You will have to decide if you want to have the rest of embryos frozen and stored in case you decide to undergo yet another IVF with donor eggs program This service is not free, not always anyway. Some IVF clinics offer one year of free storage but the initial freezing is most often charged.
Failed IVF cycle
Failed IVF is the worst-case scenario you will have to consider. You may find yourself in a situation in which you have spent your money and the treatment has not been successful. Some IVF centres offer refunds and then you could continue your infertility treatment with the money you get back. But it all depends on what treatment plan has been chosen by you. It is always worth having a backup plan and always remember to ask the fertility clinic about their refund policy before you finally pick that centre.
Cost of IVF with donor eggs – simple ways to save
First of all, you need to find the best destination. Of course, if there's a great, reasonably priced IVF clinic locally this will probably be the best option. However, depending on where you live you might just make a better deal going abroad to undergo low-cost egg donor programs.
Some international patients combine low-cost egg donor programs with going on holidays. You might think that this is a stressful period and not a proper time to relax with your family on a sunny beach in Brazil, Spain or Greece? Well, it could be. So combining your infertility treatment with unforgettable holidays could bring not only financial benefit (read more about the most popular countries to undergo IVF with donor eggs) but also do good for your peace of mind.
Another way to save money is to try the option of a shared donor egg program that can reduce the costs of IVF with donor eggs treatment even by 50%! Shared donor egg program means you will share the same donor with one or two couples. The pregnancy rates for this kind of procedure may be similar as in a standard IVF with donor eggs treatment (if you want to read more, go to the article 7 must know facts about success rates of IVF with donor eggs). You might also look for multiple cycle options – IVF refund guarantee if your IVF procedure is unsuccessful. IVF centres offer 50%, 80% or oven 100% refund.
Don't forget to check the refund policy! It is sometimes worth paying a bit more and be insured in case the infertility treatment does not go as planned, and you will get some money back.
Keep your eyes open for the services that are not included in the cost of egg donor IVF cycle. It could be pre-screening tests or pregnancy testing and monitoring. Remember to make sure you check every detail.
You should make your own little investigation of the costs of IVF with donor eggs but here's a little insight into the low-cost egg donor programs around the world.
Find Top IVF Clinics Abroad
What to check in cost of egg donation programs:
if the primary consultation is included in the cost
if medications needed for a donor are included in the cost (very often medications costs are excluded from the main cost; make sure to check this)
if your medication is included in the IVF costs (such cost is rarely included in the basic costs)
 if ICSI is included in the treatment price (every IVF clinic has its own policy, so make sure you ask about that)
if embryo freezing and monitoring is included
if sperm freezing cost is included
if blastocyst transfer is included in the price
What to check in the cost of IVF treatments:
if consultation is included
if tests and screening of male and female diseases are included
if sedatives are included in the basic costs
if ICSI is included
if embryo monitoring and freezing are included
if blastocyst transfer is included
if medication for the recipient and the donor is included
if sperm freezing is included
---
IVF Costs vs IVF Success Rates vs IVF Treatment Time
Do IVF costs have a direct impact on the success probability of treatment? It depends. No matter whichever country you choose for your IVF programme, you will be able to find clinics which boast high success rates. As a rule, however, they won't be the cheapest options in any given country. In Spain, for example, you can find over 200 clinics, around forty of which actively offer treatment to international patients. Among those clinics there are those which offer egg donor treatment for anywhere between €8,000 and €11,000, but there are also some clinics which offer the same programme for €5,500- €6,500. In these cases, patients understandably question whether the quality of treatment and care is as good as in the more expensive options.
In our opinion, you should decide upon your budget and if it is a straight decision between the cheapest option in one country and the most expensive in another (assuming they are the same cost) you should always choose the expensive option. This will increase the probability that you will end up at a reputable clinic with a good record and medical staff.
Remember – cheap doesn't always equal good. Sure, sometimes genuinely good deals happen; more often than not, however, they can carry a major health risk. You need to ask yourself – considering all the costs and work involved in treating infertility, is adding additional risk factors really worth it to save some money?
If you need help choosing an IVF Clinic Abroad
Spare 3 minutes of your time. You will save at least a few hours.
If you are looking for an egg donation clinic abroad, use the EggDonationFriends unique patients tool – Clinic Matching Test. We analyse your needs and choose 3 overseas clinics which match your expectations. Our database of IVF centres includes only trusted fertility clinics which have experience in providing high quality services to international patients. The suggested IVF centres will contact you directly within 3 working days. Spare 3 minutes of your time – you will save at least a few hours! Our assistance is free of charge.
IVF Triangle – how "not" to think about an IVF?
Ask any patient – what, in their opinion, is the most important aspect of IVF treatment? Most of them will answer, without any hesitation, that they want the treatment to be successful. According to our research (of patients who used our service over the last two years) and the information we received from IVF clinics, around 80% of patients ask the following three questions when they contact the clinic for the first time:
What will the IVF treatment cost me?
What are your success rates?
How long does the treatment take?
These questions, of course, are asked in the following context: the cheaper – the better; the higher the success rate – the better; the less personal visits to the clinic during the treatment – the better.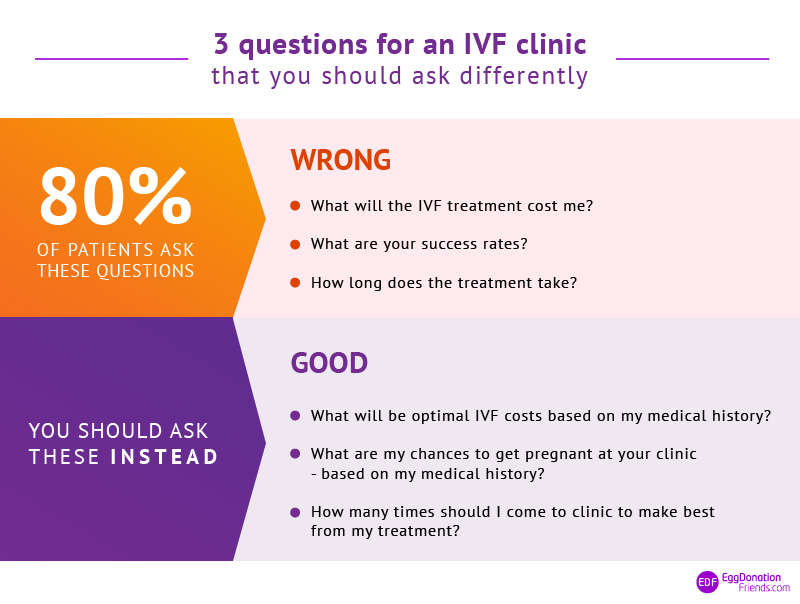 Unfortunately, as you might have already noticed, these questions are mutually exclusive. Below you will find a visualization of this concept. In short, you can't have a cheap, fast and effective treatment. If it's cheap, you can assume it won't be cheap or fast. If it's fast, it won't be effective or cheap. If it's effective, it won't be cheap or fast.
Low costs equal lower success rates and long treatment
High success rates equal long treatments and high costs
Short treatment times equal lower success rates and higher costs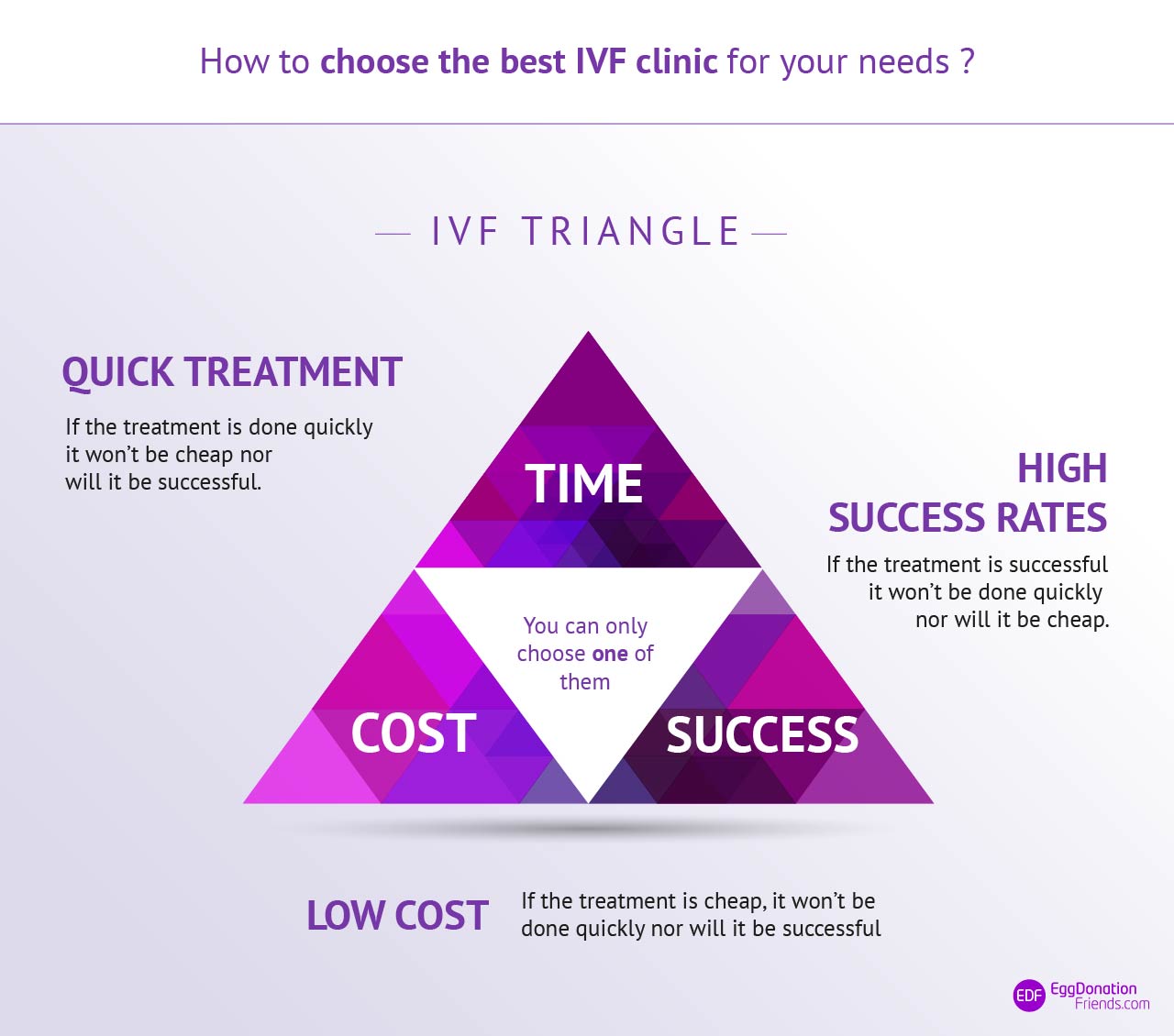 In summary, if you base your choice of the clinic on whichever clinic is cheapest and offers the highest success rates and shortest treatment times, consider carefully which of the three parameters is the most important for you.
Find Top IVF Clinics
IVF Abroad Guide – Costs, Success Rates Comparision
Download IVF ABROAD – Patient's Guide – where we focus on 8 European destinations. With the help of our guide you'll be able to compare legislation, limitations, costs and success rates in 8 countries in Europe. It's free, 55 pages comprehensive, impartial publication made for patients travelling to Europe for an IVF treatment.