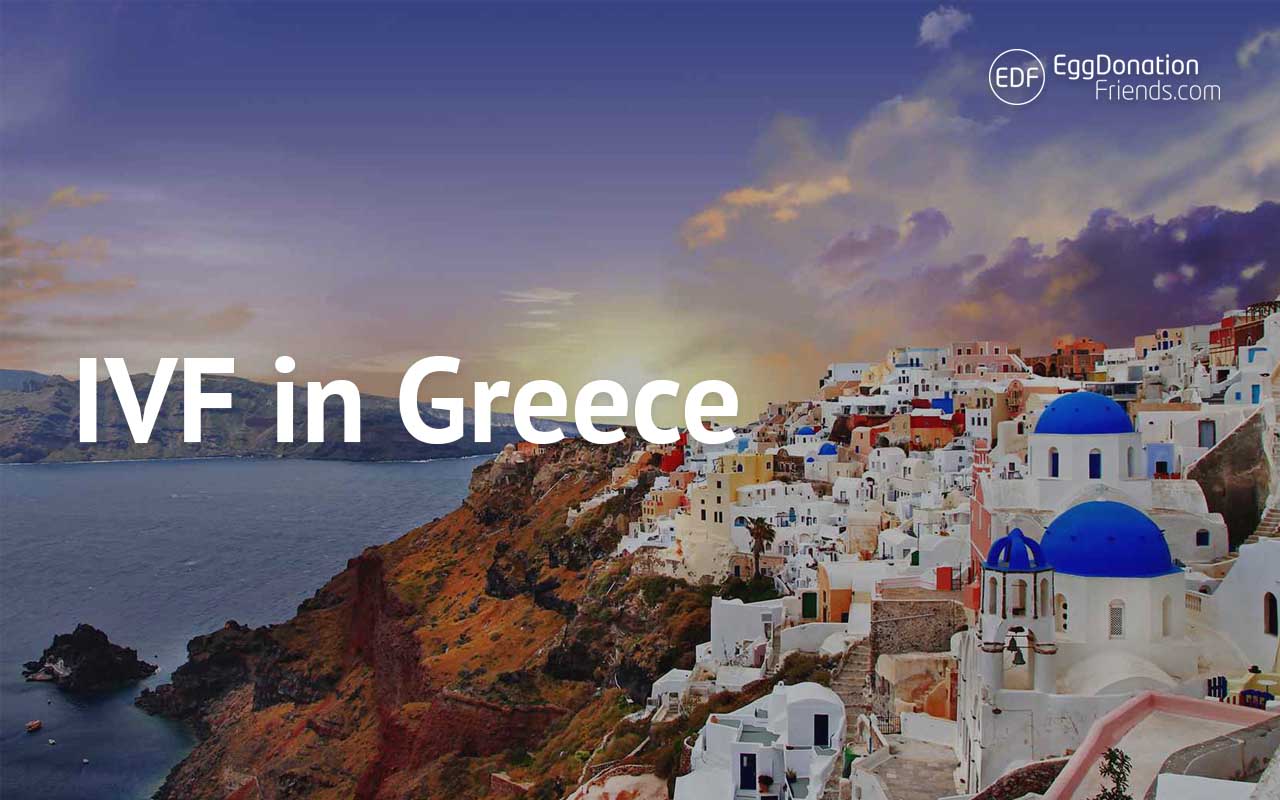 Why should I choose Greece for my IVF treatment?
Greece passed its reproductive health legislation in 2005 – it's widely considered to be one of the most patient-friendly and liberal IVF laws in Europe. And no wonder – nowadays Greece is the perfect combination of innovative medical services and reasonable rates. It is attracting international IVF patients with its highly trained and experienced medical professionals and state–of–the–art technological equipment. High average success rates are a great proof of its clinics impressive experience in IVF treatments.
Find IVF and Egg Donation Clinics in Greece
IVF clinics in Greece
Greece is known for some best egg donor clinics in Europe. Nowadays the country offers over 50 IVF clinics and most of them are located in the biggest Grrek cities: Athens and Thessaloniki. According to the 2014 ESHRE (European Society of Human Reproduction and Embryology) report, 4,622 egg donation and 15,703 own eggs cycles were performed in Greece in that year. Every clinic in Greece reports its results to EIM2, the European IVF Monitoring consortium . The amount of procedures performed and their comparatively high average success rate perfectly demonstrate Greek clinics' experience in IVF treatments.
IVF clinics in Greece - ESHRE1data for 2014 (latest report published in 2018)
Number of IVF clinics in Greece
44
Number of IVF clinics in Greece reporting to ESHRE
44
Own eggs cycles performed in Greece
(2014, ESHRE EIM REPORT)

15,703
Donor eggs cycles performed in Greece
(2014, ESHRE EIM REPORT)
4,622
IVF donor eggs - success rates
(pregnancies/embryo transfer)
51.5%
IVF with own egg - success rates
(aspirations - egg retrievals / embryo transfer)
29.8%
IVF treatment options in Greece
Greece is famous for its tolerant legal framework for IVF services. When it comes to IVF cycles with own eggs and egg donation, Greece makes it available for female recipients below the age of 50 (with no age limit for the partner), along with embryo and sperm donations. Some clinics accept slightly older patients. All IVF treatments are available to both single mothers and women in lesbian relationships. However, in case of the latter, a notary statement is needed, on the basis of which the patient going through the treatment is treated as a single woman.
In all cases the treatment is anonymous – neither the donor nor the patients' identities are released to the other party. Social freezing of eggs and sperm are also permitted; embryo freezing is also an option. Embryos, eggs and sperm can be stored for up to ten years. The amount of embryos that is permitted to be transferred varies with age. Patients under 35 are allowed to transfer two embryos, unless they already had two failed embryo transfers; in that case, those patients are allowed to transfer three embryos. Patients over the age of 40 are also allowed to transfer three embryos.
Fertility patients in Greece have access to genetic testing options, such as PGT-A (also known as PGS), as well as PGD. Sex selection of embryos is permitted, but only for medical reasons, such as when the mother carries a disease transferred through the Y chromosome. Surrogacy is also an option – but only if the patients have medical documentation proving them incapable of having children of their own.
IVF in Greece at a glance
IVF and Egg Donation in Greece - basic information
Maximum patient age
50
(some clinics may accept older patients)
IVF treatments for single women
Allowed
IVF treatments for lesbian couples
Possible, although they are treated as a single woman and they need a notary statement - see above
Maximum number of embryos to transfer
IVF with donor eggs
2
Maximum number of embryos to transfer
IVF with own eggs
Age-dependent: two if under the age of 35, three if over the age of 40, or the age of 35 if two transfers failed previously
Egg donor availability
Very good
Egg donor age
20-32
Egg donation in Greece
The strong anonymity laws regarding egg and sperm donation in Greece makes it a very attractive option for women seeking to donate their eggs; as such, there's a lot of willing donors of multiple ethnic backgrounds. This is good news for patients who decide to receive an egg or sperm donation treatment – there's virtually no waiting list! Additionally, the average cost of IVF with donor eggs is still quite reasonable. All these factors make Greece an attractive option for patients from all over Europe.
Egg donor information available in Greece
Greece offers the full anonymity of egg and sperm donation. Strict regulations prevent clinics from divulging any personal information about donors to patients. However, a comparatively high amount of metrics are available to patients. Apart from the basic information (such as the donor's phenotype, blood type, age and race), patients also have access to the donor's education history, athletic and musical skills and also genetic history. As phenotype matching is obligatory in Greece, patients have full confidence their child will look like them.
Greece's anonymity laws prevent donors from ever contacting the children born through the donation process.
Find Best Egg Donation Clinics in Greece
Egg donor qualifications
Donors in Greece are aged between 20 and 32 and they are allowed a maximum of 10 offsprings. In order to be qualified as a donor, a person has to have regular blood tests and karyotype testing conducted. Aditionally, they are screened for certain serious diseases.
Donor qualification tests required by law:
Blood type and Rhesus
Hepatitis B & C
HIV 1 & 2
Syphilis
Hemoglobin electrophoresis
Sickle cell trait testing
Cystic fibrosis (CF) mutation
Fragile X testing
Conventional karyotype
Some clinics also perform psychological screening of their donors – although not required by law in Greece, clinics perform these tests in order to ensure that donors understand the consequences of the donation.
Embryo donation in Greece
Embryo donation is possible, and usually turns out to be more affordable than egg donation. However, patients interested should prepare for a six to twelve month wait. Some clinics also offer a "double donation" – that is, two separate donations of egg and sperm cells.
IVF and egg donation cost in Greece
As we mentioned earlier, Greece boasts an impressive number of clinics – 50! – for a relatively small country. Taking into account this fact – as well as the high quality of medical services – it must be admitted that the prices of IVF and egg donation treatment there are still fairly low in Greece (travel costs included). When speaking of low cost: egg donor programs in Greece are between €5,000 and €8,000. In case of single IVF cycle with own eggs, patients may pay around €3,200 – €6,200.
Remeber that not all clinics are upfront about the costs associated with additional services. When you contact the clinic of your choosing, make sure their advertised price includes:
the donor's fee, her medications and screening (if you're interested in egg donation)
egg retrieval
sperm collection and sperm preparation
ICSI
assisted hatching (or any other IVF procedures you need)
transfer of blastocysts
vitrification (freezing) and storage of embryos/blastocysts
IVF success rates in Greece
The success rates of own eggs and egg donation IVF treatments are hard to compare, because there is no way to access aggregate data published by a Greek,independent third party. However, patients do have access to Licensed In Vitro Fertilization Units (IVFU)4 & Cryopreservation Banks (CB) in Greece, where clinics accredited by the Greek National Authority of Assisted Reproduction are listed. If you decide to choose Greece for your IVF treatment, make sure your clinic of choice is listed there.
ESHRE is an independent source that publishes data on the success rates of IVF treatments in Greece; however, their reports are published with a large delay. Their report for 2014 was published in 2018. According to their latest report, the success rate for egg donation treatments is 51.5%, which is comparable to the European average. This success rate considers both treatments which use fresh eggs, as well as those which use frozen donations.
IVF Success Rates in Greece (ESHRE 2014)
IVF in Greece average
ESHRE European average

IVF donor eggs - success rates
(pregnancies/embryo transfer)
51.5%
50.3%
IVF with own eggs - success rates
(aspirations - egg retrievals / embryo transfer)
29.8%
27.2%
IVF success rates in Greece as compared to other European countries according to ESHRE. As you can see, Greece enjoys a comparable level of success to the rest of Europe.
Your individual chances for a successful IVF treatment in Greece
Remember that average success rates shouldn't be the primary decider for your choice of clinic. Each patient is different – they have different infertility diagnoses and different medical histories. As such, the prognoses for each patient can differ greatly and usually are different from the presented average success rates of each clinic. If you're concerned with the success rates, call the clinic before scheduling an appointment – describe your medical history in detail, including your age, weight, height, the infertility diagnosis, the number of failed cycles, performed tests and procedures etc. and ask for your individual success prognosis.
IVF in Greece – Law and Clinics Accreditation
IVF treatments in Greece are regulated by the Greek National Authority for Assisted Reproduction. They regulate the way clinics are operate, as well as issue guidelines and perform regular unannounced inspections of clinics and cryopreservation banks in Greece. All accredited assisted reproduction units are listed in the register of Licensed In Vitro Fertilization Units (IVFU) and Cryopreservation Banks (CB). The register by the Greek National Authority of Assisted Reproduction is available here: http://eaiya.gov.gr/en/information/ licensed/
The basic legal framework describing assisted reproduction treatments in Greece is described in two laws: law 3089 ("Medically Assisted Human Reproduction", 2002)6 and law 3305 ("Application of Medically Assisted Reproduction", 2005)7.
Find Best IVF Clinics in Greece
Resources:
1The presented data detailing the number of IVF procedures performed in Greece come from the 2014 ESHRE report, published in 2018. ESHRE reports are usually published with a three to four year delay.
ART in Europe, 2014: results generated from European registries by ESHRE: The European IVF-monitoring Consortium (EIM) for the European Society of Human Reproduction and Embryology (ESHRE)
https://academic.oup.com/humrep/article/33/9/1586/5055580
2The IVF Monitoring (EIM) Consortium is a group of representatives of national registries on assisted reproductive technology (ART), collecting data.
https://www.eshre.eu/eim
3EggDonationFriends.com, data for 2018, own elaboration
4 Licensed In Vitro Fertilization Units (IVFU) & Cryopreservation Banks (CB) in Greece is a list of clinics accredited by the Greek National Authority of Assisted Reproduction.
http://eaiya.gov.gr/en/information/licensed/
5Data comes from 2014 ESHRE report, published in 2018. https://academic.oup.com/humrep/article/33/9/1586/5055580
6Medically Assisted Human Reproduction, Greek law 3089, http://www.bioethics.gr/images/pdf/ENGLISH/BIOLAW/MEDICALLY_ASSISTED_REPRODUCTION/law_3089_en.pdf
7Application of Medically Assisted Reproduction, Greek law 3305, http://www.mednet.gr/archives/2007-6/612abs.html
Last update: 29.04.2018