You have been diagnosed with infertility. You would do almost everything to become a parent and create a happy family. You are looking for IVF treatment with donor eggs. If you are based in Australia you know very well that egg donation treatments in the country can be really difficult and expensive. If you don't think treatment at home is the right option for you, it is time to consider affordable egg donation in Europe and follow hundreds of Australian couples who travel there to make their dreams come true.
COVID-19 and patients from Australia in Europe
IVF clinics in Europe are open and working with international patients ensuring full safety of the treatment during COVID-19 pandemic. Please ask clinics for details as they monitor the situation in their country and they are aware of restrictions and limits for patients coming form abroad.
Why do so many Australians travel to fertility clinics in Europe?
We at EggDonationFriends know that the decision to have IVF treatment with donor eggs is not easy for many couples and the egg donor shortage in Australia makes this even more difficult. Nowadays, 1 in 33 Australian children born each year is a result of IVF treatment. This is approximately 10,000 babies each year. There is a definite demand for more donor eggs for Australian couples and if donor oocytes are not available in Australia, the solution may lie abroad.
The number of patients who travel for egg donation from Australia is increasing by 10-15% every year. As you might know, a few years ago, Australians used to fly to the United States to get IVF treatment. However, nowadays, egg donation costs in the USA are becoming too expensive for many patients and the waiting times are too long. Fertility clinics in Europe are a solution for those Australians who would like to become parents on better terms and without breaking the family budget.
EggDonationFriends have collected some data on some of the most popular destinations for Australian fertility patients.
Top IVF destinations chosen by Australian patients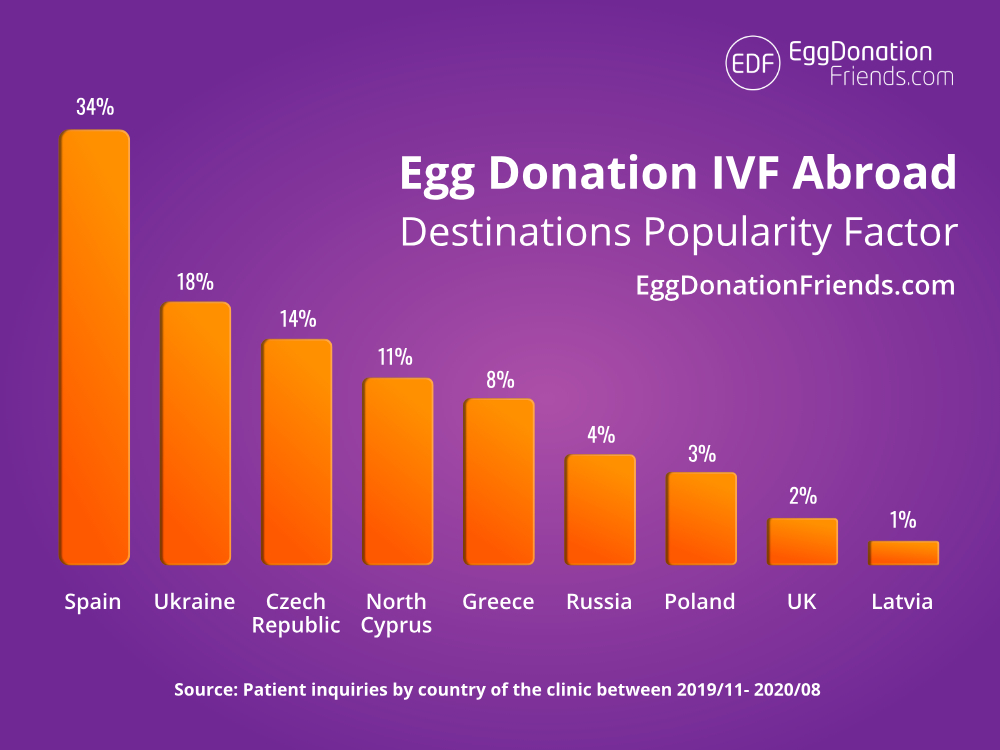 If you haven't heard about the benefits of European fertility clinics, EggDonationFriends are here to help. In the past, high–quality, modern fertility clinics in Spain and the Czech Republic were the best-kept secret of Europe. Nowadays, as so many British, German, Swedish and Australian fertility patients visit European countries for their fertility problems, Europe has become a very popular IVF destination and a common topic on IVF Internet forums such as babycenter.com.au, bubhub.com.au. Egg donation in Europe is affordable, high quality and easily accessible. Compare the costs of egg donation treatment in Europe and the USA.
Czech Republic
Spain
Cyprus
Greece
Ukraine
USA
average egg donation cost per cycle
4,638 EUR
6,226 EUR
4,909 EUR
4,922 EUR
5,252 EUR
16,000 /28,000 EUR
average egg donation success rate
57%
63%
67%
64%
60%
60%
age limit for eggs recipient
48
50
47 (North Cyprus),
50 (South Cyprus)

50
No age limit
No age limit
Bear in mind that the above costs, while including donor fees, medication and legal fees, do not include IVF, insurance, travel or any other unforeseen expenses which may occur.
Why do so many Australians travel for egg donation to Europe?
You might think it too much effort to travel to a different continent for fertility treatment. However, there are 4 good reasons Australians are increasingly choosing European countries for their IVF treatment with donor eggs:
Egg donation treatment in Europe is more affordable. It can be as much as three times lower than in the USA. Egg donation in European fertility centres is more affordable because the cost of living in Europe is much lower compared to the US, and medication, treatment costs and staff expenses are also Important. In the USA, egg donors receive from $8,000 and 15,000 (7,500-14,000 EUR) as compensation, whereas egg donors in Europe receive on average 1,000 EUR.
Anonymous donors and no waiting lists. You can start your egg donation treatment at a date most convenient for you; you can even start immediately. As you may know, egg donors are not anonymous in Australia. According to Australian regulation, egg donors can be legally traced should their future children wish to meet their genetic parents or siblings and, as a result, few Australian donors, female or male, are willing to donate. In Europe, the regulations are entirely different. For instance, in the Czech Republic, Spain, Ukraine, Greece or Cyprus egg donors remain anonymous so many young women and men come forward to donate their eggs or sperm to other couples who dream about becoming parents. Additionally, many larger European fertility clinics have their own egg donor database and most work closely with egg donor banks on a regular basis.
High success rates. Success rates for IVF treatment with donor eggs are high – the average egg donation success rates in European fertility centres varies from 57% to 67%. Moreover, egg donors in Europe are in their prime (usually below 30) and in perfect health.
If you are based in Australia, you can easily fly to any European country. According to Skyscanner, you can travel to Prague from Brisbane, Melbourne, Sydney or Adelaide. Some of the airlines which fly to Europe are British Airways, KLM, Czech Airlines, Korean Air, Emirates, Delta, Qantas, China Eastern, and Sichuan Airlines.
Why is egg donation in Europe more convenient for Australians?
On the whole, European egg donation regulations are slightly more liberal and more convenient for patients than in Australia. That is why smart Australian IVF patients who are determined to become parents choose best IVF clinics in Greece, Spain, the Czech Republic, Cyprus, or Ukraine. Here is what you should know about egg donation in Europe:
Countries which are extremely popular destinations among Australians have different laws. According to regulations in those countries, a woman who gives birth to a child is their legal mother: very straightforward and convenient for egg donor recipients like you.
Recipients and egg or sperm donors are fully anonymous.
Sex selection is not legal in Europe, however some clinics might be able to support patient with test result – report from PGT-A / PGS testing of embryos where the information regarding the sex of the embryo is included e.g. in IVF clinics in Cyprus, and in others only permitted under unique circumstances, for example, to prevent a serious genetic disease. This means that when the doctor discovers that there is a chance of the baby inheriting a genetic disease which is linked to a specific sex, they may advise sex selection to avoid complications.
Depending on the European country, you will receive varying levels of detail in the data about the egg donor. Some countries provide very extensive egg donor profiles: some give fewer data. If you want to know more, go to Egg Donation Friends Guide.
Given the distance between Australia and Europe, many patients question our consultants whether it is possible to arrange treatment in the way that frequent flying back and forth would be eliminated? The answer is – YES, it is possible.
Many European clinics offer an initial online consultation. All the arrangements with tests, medication and check-ups can be done in your home country prior to the physical visit to the clinic and that is limited to one time period of 7 to 16 days (depending on the therapy followed and treatment plan established by doctors). If you are curious how the process of IVF with donor's eggs is being conducted and which aspects are crucial, then you definitely need to read: Donor eggs IVF treatment process abroad revealed – what to know to save time, energy and money. Thanks to this article you will know all about the IVF process with donor's eggs and what is essential in communication with the clinic and what is often missing in such communication.
Keep in mind that your goal when starting the therapy is to be pregnant and not to simply save time or cutting costs. Note that your OB-Gyn is able to help you with preparation for the treatment by cooperating with doctors from the clinic of your choice. Most of the clinics are open to such direct cooperation with local doctors.
Egg donation in Spain
The egg donation clinics in Spain listed on EggDonationFriends.com have an average egg donation success rate of 63%. This is confirmed by statistics from the Spanish Fertility Society. Numerous Spanish IVF clinics offer egg donation programmes which conform to ISO standards. In Spain, IVF costs with your own eggs start from 4,500 Euros. The average IVF cost with donor eggs is only 6,267 Euros, much lower than in Australia. This means you won't break the bank when deciding on treatment in Barcelona, Alicante or Madrid.
IVF clinics in Spain have many patients from overseas, especially Australia. That is why they offer additional services such as online consultation, airport or hotel pickup/drop off or the possibility of contacting the clinic in an emergency.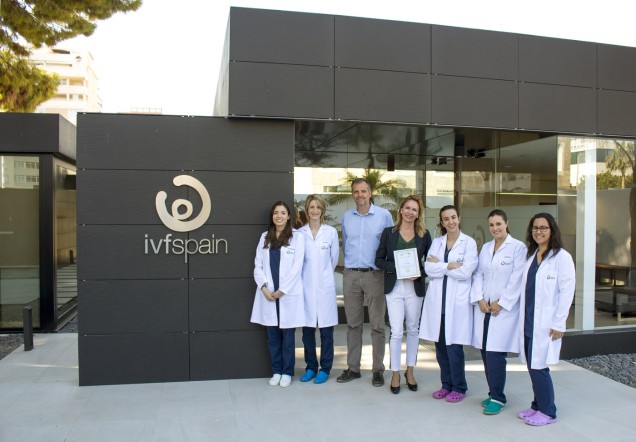 Egg donation in the Czech Republic
Czech fertility clinics are also a popular IVF destination among Australian IVF patients who are searching for egg donation programmes with high success rates at affordable prices. In most Czech clinics you can have IVF treatment with either fresh or frozen eggs. The average IVF egg donation success rate here is approximately 57% and the average egg donation price is 4,638 EUR. Experienced Czech fertility specialists are trained in most recent egg donation procedures and work with state-of-the-art equipment. As mentioned above, according to Czech law, egg donation is anonymous. International patients can receive only basic information about egg donors, without the donor's pictures. Usually, there are no long waiting times for an egg donor, as many Czech infertility clinics have their own banks of donor eggs.
If you are considering undergoing an egg donation procedure in the Czech Republic, you might also visit such beautiful Czech cities as Prague or Zlin. Transport in the country is convenient and comfortable. The Czechs are friendly and there are numerous places worth seeing.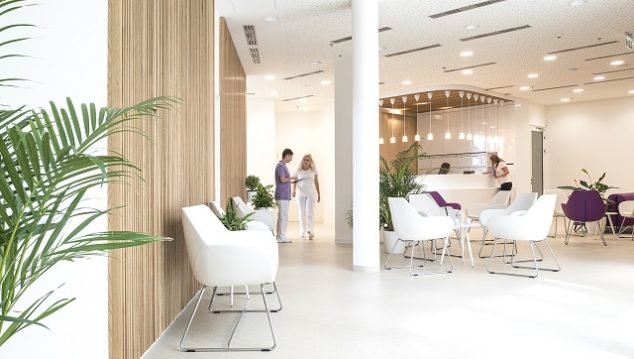 Egg donation in North Cyprus
Fertility clinics in Cyprus boast an average egg donation success rate of 67% and the average cost of egg donation is 4,909 Euros. This cost does not include medication but it may include clinic-hotel transfers and the initial consultation. It is a fertility destination for international patients from the UK, France, Germany and other countries. IVF patients visit egg donation clinics in North Cyprus, not only because of their high-quality treatment, minimal waiting times and a good choice of young healthy egg donors, but also for the sunniest climate in the Mediterranean. Many patients say the warm climate has a positive effect on their mood during this difficult and sometimes stressful time.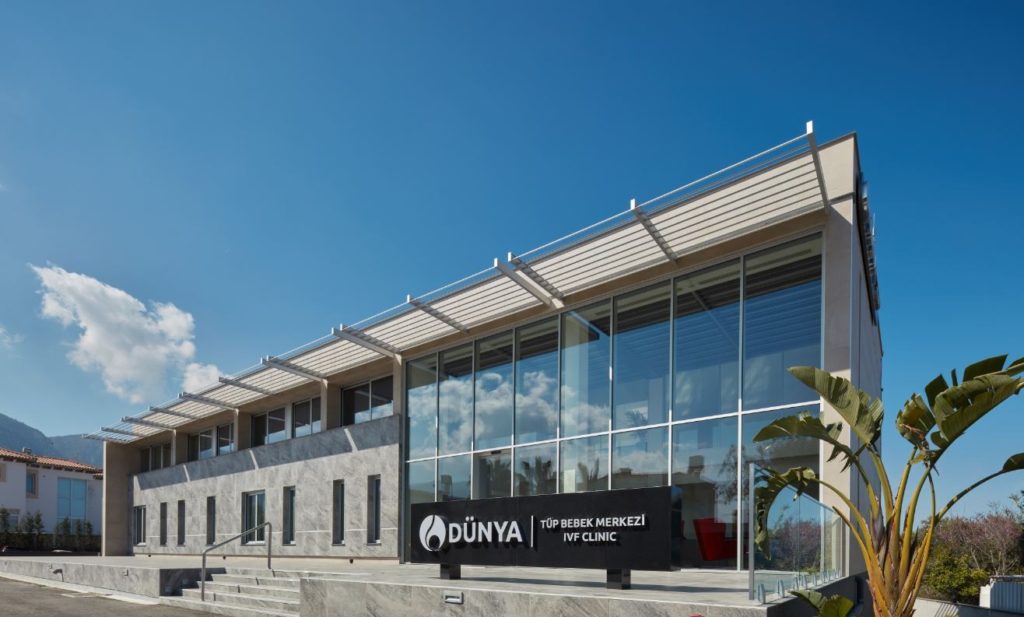 Other frequently chosen IVF destinations
Egg Donation in Greece
Greece is also a great destination for affordable egg donation in Europe, with as many as 60 IVF clinics to choose from. The average egg donation success rate is similar to other European destinations at 64%. Donating eggs is anonymous, and there are no waiting times so you can have your treatment at a time most convenient for you. Egg donors are meticulously screened (hepatitis B, hepatitis C, HIV, syphilis) to ensure patient safety and top quality oocytes. The average cost of egg donation in Greece is 4,839 EUR, making this country one of the most attractive places to have treatment and conceive a child. If you want to save up to 70% on your fertility treatment abroad, check the list of affordable IVF clinics in Greece.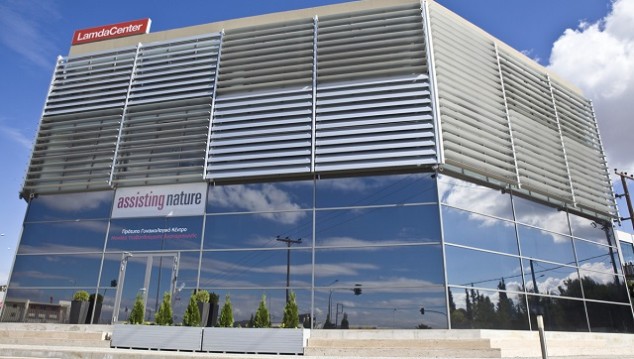 Egg Donation in Ukraine
In Ukraine, surrogacy and other fertility treatments are legal under national law. Ukrainian fertility clinics reach high success rates of IVF with donor eggs at 60%, just above the European average. Australian couples usually go there because of:
affordability – IVF costs start from 1,500 Euro for a single cycle, and, with egg donation, from 3,500 Euro for a single cycle; the average cost is 5,343 EUR
no age restrictions for IVF patients in some clinics
no waiting times.
If you haven't considered travelling to Europe for egg donation before, now you know. It is a common practice among infertile couples in Australia looking for smarter, better solutions, and affordable prices. Let EggDonationFriends help you find price-friendly, high-quality egg donation in Europe. Simply spend 2 minutes completing our Clinic Matching Test and save hours of endless Internet searching. We'll do the legwork for you. After we receive your form, EggDonationFriends consultants will get back to you with the 3 best offers from top rated IVF clinics.
If you're a patient based in the UK thinking about egg donation treatment, you should read this: 
Egg Donation in the UK – costs, law and donor availability