What is the best IVF clinic?
Many patients ask what is "the best IVF clinic" but they struggle to find an answer. Choosing an IVF clinic can be a difficult decision as a clinic which may be good for one patient won't necessary be good for the next. That leads us to ask the questions… what is the best IVF clinic and how do we describe the best IVF clinic? Maybe it is the one where somebody else has had a successful treatment? Maybe it also depends on the treatment type – egg donation, ivf with own eggs or ivf with PGS?
Or maybe it's the one with positive feedback from patients, the best reviews, offering an outstanding customer-centered approach and performing outstanding treatments in their field.
There is not a best IVF Clinic for everyone. The clinic which is best for someone may not necessary be "the best" for you.
As a patient you need to know that successful treatment may depend on many factors including the patient's individual situation including their diagnosis, medical background and treatment history. There are many great, well experienced IVF clinics in Europe – but guess what… they also have patients who do not have successful IVF cycles. It doesn't mean they are "bad clinics". In some circumstances the treatment might be very difficult and the prognosis for the patient may not be good. The "Best IVF clinic" will inform you of the likely success of any treatment and whether there is a possibility that you will require more than one IVF cycle.
A great fertility clinic isn't just one that can give you effective treatment, it's one with compassionate staff, clear pricing, seamless administrative processes and exceptional emotional support. Find out more about how to choose a clinic, preparing for your appointment and what to do if something goes wrong.
HFEA – UK 
What are the best IVF clinics abroad?
Below you'll find a list of clinics which are often chosen by patients across the world for their IVF treatment in Europe. Those are well established IVF centers, with good reputations, backed up by experienced medical and customer service staff and they have expertise working with international patients. As we don't want to solely rely on our own data (enquires sent to clinics via their profiles published on our websites) we have put together a list of the IVF clinics based on the Google Business Reviews. So, if you're looking for the "best IVF clinic in Europe" the chart below provides a good starting point.
The list of clinics below will make it easier for you to navigate through the world of best IVF clinics. We publish the clinic name, country, average rating, the number of reviews, and an example of a review published by a patient.
Best IVF clinics list
IVF Clinic
Country
Reviews
Rating
Example review
Clinica Tambre


Madrid

Spain
199
4.4
Our embryo transfer will take place on March 24th, 2022. We are incredibly excited and hope that we will get closer to our dream soon.
We feel that we are in very good hands at the clinic. All employees are incredibly friendly and our questions are always answered very quickly. In addition, we communicate with us in German, which of course simplifies everything. We can recommend the clinic to everyone who also wants to realize their dream of one day holding their own child in their arms. But let's keep our fingers crossed for now.
--- A. Müller
IVF-Life


Alicante, Madrid, San Sebastian

Spain
124
4.3
You're reading this because you're searching for an IVF Clinic. I was in your shoes. Combing through reviews, stats, treatment options, etc. Let me tell you this: no matter the outcome here, from our very first video call with the doctor I knew we found the right clinic. This clinic is easy to work with, IMO affordable, had a variety of treatment options and what I appreciated is that when the first cycle was a no go, they changed up the plan for better results. For both cycles, I spent several weeks in Alicante so the doctor and staff could support me directly. I did all my bloodwork and scans at the clinic (you can use your own doctor at home though). I was often solo while my husband had to be back in Italy working. I felt so welcome and cared for. When I was scared and stressed, they knew it and helped calm me. They even called me on a weekend after hours when I was panicking. When I was calm and brave, they stood beside me and were genuinely excited with me. From the admins at the desk, my personal assistant, to the nurses, doc H, the lab, and the specialist in the OR, these people cared about our results. They were fighting for us, WITH us. When we got bad news, they even cried with us. I really felt special working with this team. They are very communicative and answered questions quickly; professional and it's evident, they know IVF! I love Dr H and I love my assistant Maria. This clinic truly changed our life. And in the end, after 4 cycles (2 in Italy and 2 with IVF Spain) we had 1 embryo survive, our loan survivor. Our designated survivor! We had a fresh transfer and as of today, we are 6 weeks and 3 days pregnant. I'm 41 years old. Again, no matter the outcome I will still recommend this clinic. Every woman, every story, every journey is so different...no one can guarantee this will work or your dreams will come true. Or that even this clinic is the best one for you. But we CAN tell you to keep fighting and trust the process. I was only going to do 3 cycles. 3. We were encouraged to try 1 last time and here we are pregnant. I can also tell you that working with IVF Spain was the best decision we made through our IVF journey.
--- IMtrigirl
Reproclinic


Barcelona

Spain
75
4.5
I am a Single Mother By Choice and I am very happy that I chose ReproClinic for the most important treatment of my life. My doctor was prepared of my file and medical background from the beginning of the first online no-commitment consultation. My patient coordinator was always available and held my hand even in urgent situations of purchasing medicine abroad by contacting the pharmacy directly. I approached several clinics initially, but this was the only team where I felt that personalised support and attention will contribute to success. And it did.
--- Kata Csiba
UR Vistahermosa


Alicante

Spain
52
3.8
The care and support received through the process was 10/10. I felt so comfortable and informed throughout the process, with the opportunity to talk to a doctor whenever I needed. I travelled from the UK and it was a really easy process and a lot quicker and cheaper than UK clinics. I had some bad experiences with clinics in the UK and couldn't believe the difference in service. I have bouncing boy after one attempt through donation of eggs and sperm. I highly recommend this professional and caring institution.
--- hannah conroy
Equipo Juana Crespo


Valencia

Spain
183
4.0
After a diagnosis of low ovarian reserve where I was directed almost directly towards egg donation (I am 31 years old) and a failed stimulation due to medication errors in another center, I arrived at juana crespo. Here they were very clear, we were going to need several stimulations to achieve our objective and thus be able to have frozen embryos for the future, also not all the cycles were going to be the ideal ones to do a stimulation. I also needed a revitalize cycle to improve the response of my ovaries. But after less than a year, today I can say that I am 8 weeks pregnant and I have frozen embryos for the future. Eternally grateful to the entire team, especially Dr. de Prados, to dr. Juana Crespo and my Anita.
--- Marina
Barcelona IVF


Barcelona

Spain
262
4.5
I am grateful to and positively impressed by Barcelona IVF team and facilities for our in vitro fertilization process.

I reached the fertility clinic around five months ago. I was appointed to the clinic by my gynecologist after a salpingectomy treatment —which was never expected, you know.

Throughout the process, I learned so much and I feel fortified. I also feel lucky for counting with the best maternity journey I could have had. Because it is the only one I know 🤞🏽

We are thankful to Barcelona IVF & cherish the whole team!! Special kudos to the many caring professionals at BCN IVF that helped us: Dra. Serra, Dra. Ximena, dear Fred & Cristina, the assistants Laura and Karina, many others, & at last Iris, Alex and the laboratory.

My partner and I are super happy! And even happier THIS WEEK when we discovered we are pregnant. 💛
--- Alessandra Schmidt
iGin


Bilbao

Spain
198
4.7
My wife Elena and I were looking for a clinic to be able to realize our dream of becoming mothers, after numerous interviews via Skype we met the staff of the igin clinic and we immediately felt at ease.
Along our path, despite the difficulties due to Covid, they have always been available to answer our thousand questions and to reassure us at every stage. Knowing that at any time of the day there is always someone ready to help you is in my opinion a decisive factor for those who take this path, especially thousands of km away.
Now we hold our little prince born a month ago in our arms and we couldn't be more grateful to them.
In addition, Bilbao is a beautiful and welcoming city, which makes this adventure even more enjoyable.
A heartfelt thanks to Erika, Nicholas, Stefania and all the medical staff for making this possible. Soon…
--- Eleonora and Elena
Eugin Barcelona


Barcelona

Spain
323
4.0
It was our last try after many unsuccessful IVFs. As we tried for 15 years to get pregnant and my age of 45 my hopes were not very high, however I got pregnant with their program of blood-thinners additional
Progesterone injections and hormones. The pregnancy was perfect no issues and I delivered a healthy baby boy. I am really grateful to the team.
--- Uta I
Institut Marquès


Barcelona

Spain
232
4.2
Without mincing words, this has to be the best fertility clinic there is (there, I said it. You're free to disagree with me, it still doesn't change anything). I call them the FC Barcelona of fertility clinics. But, unlike the other FC Barcelona that have only one Messi, this particular FC Barcelona have a team made up of many Messis, both at their branch in Clane and at their headquarters in Barcelona.

I and my partner owe our twin baby boys to their efficiency and professionalism.

Our profound gratitudes go to these "Messis" who played one part or the other to make sure our dreams become a reality; Dr. Edgar Mocanu, Dr. Osman Shamoun, Dr. Veronique Moens, Dr. Trigas, to mention but a few.

Our thanks also go to the several other unsung "Messis" who contributed their own quota behind the scenes in actualisation of these dreams. People like Florence, Anissa, Katie Cassidy and Sonya Johnson at Clane. Not forgetting the very efficient and professional lab technicians and staff who always go about their duties with a smile on their faces.

I can't thank you guys enough and I also cannot recommend this clinic highly enough.
--- VCE The SSA
Instituto Bernabeu


Alicante, Madrid

Spain
148
4.4
After many failed IVF attempts my husband and I decided to try one last protocol with our own eggs before moving ahead with egg donation. Our interest in Bernabeu Madrid was strong from the beginning because they seem to be the only institute with a department that specializes on low ovarian response and because we heard great success stories.After a first consultation with Dr Romero online we decided to go for Bernabeu Madrid. Dr Romero's proposal was the most agressive treatment wise and sounded the most plausible to achieve success and since we only wanted to do one more round we decided to go all in with her proposal. Dr Romero also gave us a good solid and professional impression from the beginning, and god were we right about our choice!!! The major plus point for me of this clinic is their staff (doctors, personal assistants, and embryologists!) The whole team is entirely composed of strong, intelligent, high qualified, modern, worldly and empathetic women, starting with Dr Romero. She is unbelievably knowledgeable, modern in her medical approach( she has read all the studies and new recommandations, and participates actively in the future of IVF practices in conferences), she is extremely gifted in her gynecological manipulations(I never had any pain under her care). She is a strong woman who truly understands what infertile women go through. Where she impressed me the most is through her immense emotional intelligence. She knew how I was feeling at all times, she knew exactly what to say to me in times of sadness, loss and dispair. She always believed in our project and motivated me so many times when I didn't have the strength to go on anymore with believing. Additionally to her great medical knowledge she treats patients with her intuition and gut feeling, she knows when to push and when to stop. She is the major reason of our pregnancy's success and my husband and I literally owe her our family.
(the same can be said of Dr Herencia who replaced Doctor Romero twice on my case, I felt exactly the same amount of talent, humanity and trust in her too :-). The second reason for our success was the quality of their embryology department. They were the only one of all of our fertility centers to achieve Blastocysts. They have the most advanced lab and best culture conditions. The quality of the embryology department is almost as important as the choice of the protocol if not more.It is a major point for this clinic.
This whole process was facilitated by the kindest personal assistants Ángeles Cuesta mainly and Laura Lopez. The personal assistant is the person you are most in touch with during the treatment and it is important that they have the capacity of calming you down, manage crisis and stay positive at all times. Ángeles and Laura have both of those qualities. They are true angels and answered all of my questions with patience and matronly care.
If I have to point out little negatives it's the connections between the medical team, the personal assistants and the financial team. It is often quite slow, information about your file never circulate quite well, they tend to loose forms, and you sometimes get different informations from different sources depending of who is in charge of you that day, it can be frustrating. Sometimes like in my case if your protocol spreads over many months, they change your personal assistant and/or your doctor during treatment last minute which can be frustrating and unreassuring but I guess doctors and personal assistants are also allowed free time, and as I said the whole staff is absolutely lovely and you are in good hands no matter what. Lastly it is expensive, and it ended being more than we expected but it is a high-end clinic, so that has a price but we never regretted as it gave me our family.
Choosing this clinic was the best choice I made in my life and my husband and I owe them our twins and happiness. Birth of our twins planned for March! Gracias de corazon Bernabeu, I would choose you again with my eyes closed!
--- Solen Mainguené
(URE) Centro Gutenberg


Malaga

Spain
174
4.8
We came to the clinic as a last resort at 43 years of age. They immediately made us feel part of their family. We had an initial visit with Dr Sanchez, who put me at ease. He took all our needs into consideration and we decided after researching many clinics to proceed with Ure Guttenberg.
The communication with the team is consistent and helpful. I never felt that my many emails and questions were a bother.
Unfortunately Covid put our plans on hold for nearly 2 years but as soon as we could travel they contacted us to book our flights. They had matched us 2 years prior and kept the Embryo safe for us.
We have been completely blessed with the most beautiful baby boy who is now 7 months old and perfect in every way. We cannot recommend this clinic more. Dr Sanches is a true miracle worker but the experience would not have been so wonderful without the ladies that support him.
Thank you so much for everything you have done for our little family here in Wales. UK.
--- Hayley Lewis
CRA Barcelona


Barcelona

Spain
79
4.6
We are beyond grateful to Dr. Herrero and his team for guiding us on this amazing journey.
We were a very hard case, both in our 40s with bad numbers. The process was not easy, but with the expertise, great patience and experience, Dr. Herrero lead us to success. He gave us care, advice and guidance that made all the difference. He left no stone unturned and made sure that everything was absolutely perfect for our one precious viable embryo to get implanted-and it did! Also, a huge help in this whole process, and a guardian angel was Susanna Gallen, the coach that gave me strength and hope. Thank you all from the heart!
--- Veronika Rudez
Next Clinics Prague (formerly ProCrea Swiss IVF Center)


Prague

Czech Republic
51
3.3
We have two daughters from Procrea, one from 2017 - a successful 1st attempt by IVF and the other a successful 1st attempt at FET born in 2021. Thank you!
---Gabika Durdiaková
UNICA CLINIC


Prague, Brno

Czech Republic
251
4.5
Me and my husband had Very Very Pleasant experiences at the UNICA Clinic in Prague. Thank God that He had made us find this clinic online and brought us there to try one more treatment!
Well, we had a long journey to have babies until we got there; 4 IUIs and 4 IVFs for 6years. Nothing worked for us and we had very disappointing experiences with other clinics. It seemed like they did not care about patients; their unkindness, carelessness, and indifference made the journey more challenging and tough. And they never give you clear answers when you ask questions especially about cost of individual items you do.
When we first saw the UNICA's website, however, everything was extremely clear and straightforward. We were very impressed by that. And they responded to our emails quickly for the time difference. They are 7 hours ahead of us.
They sent us the treatment plan, the itemized price list, etc. and we could understand how it would go and how much we would pay right away.
They assign you a coordinator to help you with everything, A to Z. Our coordinator was Klara and we were SO SO BLESSED to have HER!
She was always SWEET and KIND and willing to help us in small or big matters. She was so smart and thoughtful. There was another lady, named Pavla who responded to our emails at the beginning and she was also very kind and helpful. I really appreciate her, too, even though we did not get to meet her there.
Anyways, there was no hassle or problem for us to enter Prague, Czech Republic though it was during the pandemic time thanks to the very detalied explanations and documents provided by Klara.
When we first got to the UNICA Clinic, everyone at the reception desk was kind. Klara interpreted for us when we met the doctor Cepelak.
We really liked the doctor Cepelak because he always had this big warm smile on his face. He makes the atmosphere very light and joyful by speaking in a caring way, smiling brightly.
And we could see he knows what he's doing. After he checked my TSH level, he told me to take the thyroid medicine immediately to make the hormone level the most ideal to have babies.
No previous doctors mentioned that to me. They would say, it is normal and that was it.
Yes, it was in a normal range, but on the higher side of that normal range.
I would always feel cold, fatigued, and my skin was too tough and dry/itchy, etc.
Dr. Cepelak said, it is good to have TSH level lower than 2.5. By the time, I had taken the thyroid medicine for about 2 weeks, I started feeling very sharp in mind, had no brain fog anymore, my body felt warm, and the skin dryness was gone. WOW! I FELT JUST GOOD!
The transfer went very smoothly too because the doctor was very skilled and experienced! He did not have any issues putting the catheter in like the previous doctors had.
It was just quick and simple for him to do the transfer.
The quality of the embryo was best - AA.
I guess it was 5AA0.
Best of Best!!!
Well, Klara told me to use the urine pregnancy tester on day 14th, but being so impatient ...or if you have tried IVFs, you would understand how it feels to wait ...after you get the transfer done...that 14 days feel FOREVER!
I tested on the 7th day; at first, i did not see the test line...waiting...waiting...I started seeing a faint line!! How HAPPY!! The reason why I wanted to test that day was that I saw implantation blood that morning.
I continued testing each morning to see the test line getting darker each day...On 14th day, I got my lab done; and me and my husband were so thrilled to get the result!!! It was 559! I was Pregnant for sure!!
I am now almost 5weeks pregnant...waiting to see my OB-Gyn for ultrasound.
I just cannot believe this...I AM PREGNANT!
All my family members are partying...THANK GOD!
It was ALL GOD who opened our eyes and hearts to find UNICA and go to UNICA to try this last time!!!
UNICA IS BEST of BEST.
THEY KNOW WHAT THEY ARE DOING!
I WOULD RECOMMEND UNICA TO EVERYONE WHO WANTS TO HAVE BABIES! THANK YOU SO MUCH, UNICA! GOD BLESS YOU!
--- Sarah Landis
GYNEM Fertility Clinic Prague


Prague

Czech Republic
70
4.4
I have been in contact with GYNEM for a few months and had the pleasure to visit Prague twice, once for the consultation and the second time for the actual treatment. Even though right now I am in the two week wait and I have no clue if I am pregnant or not, I cannot praise enough the staff, the doctors and my coordinator Antonia who made me feel so welcomed and supported throughout the whole process. Prague is a wonderful city and even though I mainly visited for the purposes of a fertility treatment, it also felt like a mini holiday and I managed to enjoy my time walking and visiting around. Thank you GYNEM for making this such a pleasant experience for us.
--- Elaine Drago
IVF CUBE


Prague

Czech Republic
198
4.8
I am forever grateful for having chosen the clinic IVF CUBE in my challenging process of trying to get pregnant. My biggest dream ever came true in December when I gave birth to an adorable baby girl. I am extremely happy and thankful! IVF CUBE is a very clean and modern clinic, with highly educated, professional and friendly staff. They answer e-mails very quickly and give you the best of help, information and guidance when it comes to medication and giving you a well-functioning plan and they also contact you by phone when necessary. If you choose this clinic you can also combine your treatment there with a nice holiday in beautiful Prague. I give IVF CUBE my highest recommendations.
--- Tone Nordhagen
Repromeda s.r.o.


Brno

Czech Republic
53
4.5
When I learned that I would have to undergo IVF, my colleagues at work, who had been through this, but already a long time ago, scared me with hyperstimulation syndrome and how they felt sick after the egg collection and immediately went to this in a few days fertilization, which then failed many more times. What a relief I was when they individually determined the dose of hormones for me before the stimulation, so there was no hyperstimulation sy. It is true that the person was not at his best, so I greatly appreciated that the embryos were allowed to be genetically tested for 6 weeks and I recovered in the meantime. Everything went right the first time. When I told my colleagues, they were amazed at how time went by. Unfortunately, this week I met a woman with experience from another clinic, where everything was still going on like it was with my colleagues about 15 years ago. She received a lot of hormones and IVF failed. So, in retrospect, I appreciate how lucky I was that I didn't have to go through this and I am grateful to Repromeda for their modern and individual approach.
--- Jitka Minarikova
Europe IVF Prague


Prague

Czech Republic
133
4.5
We highly recommend the clinic! Beautiful, kind, professional people who told us step by step everything we were going to do, from treatments to risks. I did an embryo transfer on February 6th, and on the 15th I ran out of patience and took a test: positive! I didn't believe it, I did 3 more: positive! In 16 february, I did Beta HCG and it came out positive, pregnancy: weeks 4-5! We hope that everything will continue well from here on, but we recommend the EUROPE IVF Clinic! Thank you from the bottom of our heart to Dr. Tomilova Marina and of course to Alexandra Luchian who was always there for any question we had! You deserve 10 stars!
--- Sabina Alexandra Petruț
North Cyprus IVF Centre


Nicosia

North Cyprus
23
3.6
We wholeheartedly recommend IVF treatments at the North Cyprus IVF Center. The hospital has a professional and friendly atmosphere. The treatment is always pleasant while taking into account the woman's feelings. We also want to specifically recommend Hana Shashaa, patient coordinator. Hana is always available to answer any question, by phone, email and WhatsApp. Hana always welcomes us with joy and a smile. Hana helped us with everything from providing information about the COVID restrictions to finding a taxi to the border crossing.
To our great joy, now we can even report success because we got pregnant!!
Many thanks to the whole team!!
--- Nuray Usku
Dunya IVF Center


Kyrenia

North Cyprus
128
4.5
I can't recommend Dunya IVF enough! Their coordinator Daniela is an angel and went above and beyond to make sure everything happened, even though my situation was kind of a challenge. She is very caring and professional and without her I wouldn't be pregnant today! Infinite gratitude. The clinic itself is very modern and top notch. The doctors and nurses are all great. I traveled from the US because I read good reviews and I'm glad it's my turn to write one. Can't wait to meet my sweet DUNYA baby in May. Good luck to all the prospective parents.
--- Luiza
Gynolife IVF Center


Nicosia

North Cyprus
19
4.4
First time was a success! Everything went perfect and our healthy baby girl was born on September1st! I can't thank everyone enough. From our coordinator, the staff and to Dr. Murat Onal. Everyone was 100% accommodating in every way and was only a phone call away for any questions we had during the 3 week IVF process. I highly recommend Gynolife for your Journey.
--- Stephanie M
emBIO Medical Center


Athens

Greece
483
4.5
After several trying months of unexpected delays and barriers, we upped our odds with [medication] and conceived our amazing daughter, Maria!! I remember that my first thought, after the nine days of shots, the trips to the Athens for ultrasounds, the anxious readings, and the agonizing two-week wait, was that it had been ridiculously easy. That was five years ago. We have a son on the way now. I can feel him squirming around in there, poking at my bladder as I write this. We suffered many losses and deep disappointments to get to this point, and I have three sharps containers full of needles to prove it.

I can't imagine what it must be like for women who breeze through conception and pregnancy, but I know I have benefited from the difficulty of my experience. I have gained a profound sense of wonderment about the entire miracle of pregnancy. I have an appreciation for the life I've brought into this world, and the one on its way, that I could never have found with any other path. I have developed a depth of sensitivity for those struggling to do what comes so easily to others that has enabled me to support them in a way I could never otherwise have done..."
Thank you Dr Paraschos !!!
--- Armando Dyrmishi
Newlife IVF Greece


Thessaloniki

Greece
277
4.9
I found New Life clinic through the internet, and I am glad that I made a good decision to start the process with them, knowing that choosing a clinic for IVF journey can be rather difficult. Staff is very kind, clinic is easy to find, communication was easy and always prompt. They are very patient, very thorough. Thank you for existing and making people dream come true. I am pregnant on my first try thank to the amazing people from this clinic. Extreme gratitude to Jelica Bukvic and Dr. Athanasis Pantelis that made me and my husband Alexander the happiest people. Cheers and all the best from the heart.
---Julie Lester
IVF Pelargos Fertility Group


Athens

Greece
22
5.0
I have so many positive things to say about Pelargos! The results from my retrieval were much better than I expected, and I am currently pregnant from my first FET 😊. Dr. Karpouzis and his staff were super responsive to all my questions along the way, and I had complete trust in his judgment. I also felt my transfer protocol was comprehensive and gave me the best chance of success. I have already recommended him to several people! The hospital is also super clean/nice. Overall, the Pelargos team made a difficult situation as easy to get through as possible, and I'm just so grateful to them for making my pregnancy possible!
--- Emily Worthington
EmbryoClinic


Thessaloniki

Greece
68
4.7
I had literally tried everything over the span of 10 years to get pregnant in the US, to include donated eggs, without success. And, I went to what were supposed to be high end (read: priciest reproductive endocrinologists with name recognition) IVF clinics (yes, multiple).

When I first met Dr. Tsakos, I was exasperated and hopeless. I only decided to try IVF one more time after stumbling across a medical conference presentation he gave on fertility tourism where I learned that Greece is a preferred destination for IVF treatment.

I would 100% recommend Embryoclinic. If Dr. Tsakos can't help you get pregnant, then it isn't meant to be because you are not going to get better results anywhere else in the world (no exaggeration). When IVF is the next step in your journey, skip the US clinics and go to Greece.

Embryoclinic is located in Thessaloniki which is smaller than Athens, as the second largest city in Greece, and it's easy to find flights (I researched a bunch of clinics throughout the country). Maria was my international coordinator and she was patient in helping with all accommodations and logistics.

Even with the cost of travel, you will save (A LOT of money, time, and emotional expenditures). If I was able to do it all over again from the beginning (and had I known earlier about overseas options), I would have planned to go to Embryoclinic for my first attempt at IVF and eliminate the years of heartache experienced at expensive US clinics.

If you are reading this, you have been given the first step to a miracle. Baby dust to you. xoxo
--- Amy Perez
Assisting Nature


Thessaloniki

Greece
131
4.5
After receiving a recommendation for Assisting Nature from an international medical coordinator (Medistella), we had a wonderful experience with the clinic. Dr. Chouliara, Veatriki, Dr. Papanikolaou and all the other team members we worked with put lots of thought into our treatment plan, and treated us with so much kindness and honesty. Coming all the way from the USA was a challenge, but all the staff made us feel welcome and like we could rely on them. And we had much more success with achieving blastocysts than our previous cycle in the US! Plus we were able to explore the lovely city of Thessaloniki and the beautiful Halkidiki area when not at the clinic.
--- Joanna Winter
Mediterranean Fertility Institute


Chania

Greece
39
4.6
I cannot recommend this clinic any more highly. I have just put my 2 month old baby to sleep, a baby we wouldn't have without the support and relentless determination of everyone at the clinic. From the very first contact via email, everything was made very easy, clear and the support was like nothing we experienced in Australia, after 3 cycles and contact with two different clinics. They were available 24/7 and saw me any day of the week that I needed-which was incredible as I was alone in Chania for five months undergoing treatment-they made me feel like one of their team.
Dr Giakoumakis, Mr Daphnis, Shirley, Ilias and the team went above and beyond and were so invested in making our dreams come true. There was no waiting for treatment, and they gave us innovative treatment at very affordable prices that would not have been possible at the clinics we tried at home.
The personalised experience was also something unique, having experienced and heard from others that clinics in large cities make you feel like just a number and have you waiting all day.
I would tell anyone who needs fertility treatment to work with the Mediterranean fertility institute, who make what is a very difficult journey a little easier and are with you every step of the way.
--- charlioko
Reproduction Center "Parens-Ukraine"


Lviv

Ukraine
78
3.7
I did a lot of research about IVF in Ukraine and I was looking for personalized clinic with good success rates where I would feel confidence and warmth. And I did. I highly recommend Parens Ukraine clinic for people who seek IVF with egg donation! I had multiple failed IVF in US and it was absolutely worth to come over and undergo procedure! Huge thanks for your highly professional help and personal care, now I am pregnant and wait for miracle happen next month. Rachel and Patrick New Jersey
--- Rachel Feldman
ISIDA Clinic


Kyiv

Ukraine
39
4.3
Three years of infertility treatment in Portuguese clinic did not bring the desired result. Accidentally, we found out about Isida from my colleague at work. After talking to my husband, we decided to undergo an examination. It was nice when at the airport we were met by a manager who spoke English really good. In the clinic work very attentive staff members, qualified doctors, who in every possible way helped us with absolutely everything. The treatment was successful. Now we are waiting for our first child))) I recommend Isida to everyone!
--- Cesarina Belloni
Next Generation Clinic


Saint-Petersburg

Russia
45
4.0
NGC in St Petersburg was successful for my attempts using a donor egg and I am now 20+ wks pregnant. I can highly recommend Dr Diana who is excellent (she's also bilingual and speaks English). NGC have English speaking staff to help English speaking patients through their journey. Russia allows more flexible donor choices than UK or Australian clinics, you can see exactly what your donor looks like and their full medical profile. For me personally it took 5 implant cycles because I'm 40+ yrs but NGC have very good statistics in all areas. It took a little extra planning with flights and visas, but an organised person can do this easily to help save money vs the price tag of expensive UK/USA/Aus clinics! Yes I can recommend NGC.
--- Loop Kids TV
Ferticentro


Coimbra

Portugal
58
3.5
For us the best Fertility Clinic in the Universe... because they never gave up on us and together with TVI they offered us 9 treatments. It has excellent professionals who have always helped us. They fought with us until our last embryo and in the last one where no one believed, our dear and beloved Manuel arrived. The Ferticentro clinic and all its professionals are eternally grateful for making our dream of becoming parents come true. Eternally grateful for all the happiness we experience.
--- Luzia Maia
Clinic EGV


Riga

Latvia
15
3.3
Top level service. All the staff are very kind and professional. Easy 5 stars ☆☆☆☆☆
--- Ligita Dambite
Anatolia IVF Center


Ankara

Turkey
143
4.4
a year ago
We are from Pakistan living in Ireland. Anatolia IVF is the best fertility treatment centre around the Globe.Here is my honest review. We chose 3 renowned IVF centers around the Globe and finally picked Anatolia IVF based on their good response and expertise and it was amazing experience and beyond our expectations. Dr. Prof. Hakkan, Dr. Prof. Mehtap, Dr. Isra, Irem (embryologist) and Faryal (Chief Nurse) are amazing people and reflect as outstanding team. I forgot the name of Urologist (sorry). They know their work and very professional in their approach. Our first transfer went well and Alhumdulillah we got success. I highly recommend this fertility hospital. Well done all Doctors. Dr. Manzoor Hussain.
--- Dr. M. Hussain Sahi
Trianglen Fertility Clinic


Hellerup

Denmark
24
4.3
It is the best place you can choose to support your dream of becoming parents. You meet staff who are competent but especially with heart in hand ready to welcome everyone. Heart recommendation. It is the best place you can find to achieve your dream of being parents. They treat you respectfully with love and understanding. This clinic is the best in Denmark.
--- Caroline Andrade Sommer
Barbados Fertility Centre


Bridgetown

Barbados
65
4.8
Very long over due but if i hadn't discovered them on my fb feed, I don't think we'd be parents. I was blessed to have them get us started on our parent journey, Vivian was our nurse, Dr Skinner was our dr but the whole staff there was wonderful and answered all our concerns in a timely manner. Made it as easy as it can be to travel with covid restrictions and gave lots of tips being in a different country. We loved that we felt our ivf team was on our side and not just a number. I have an autoimmune disease, pcos and over 35 and with also healthy lifestyle changes, we got preggy 1st time. Very glad to report I gave birth to a healthy baby boy earlier this month. If our cycle didn't work I'd still go back because their care was still above than what I dealt with at local ivf practices. We love you BFC!!
--- Kat
Nova Vita Clinic


Tallinn

Estonia
12
4.5
Excellent clinic with highly professional staff. Dr Viirmaa was wonderful & very kind - and so were other staff members as well. My dream of having a child came through thanks to people at this clinic. I highly recommend this place to anyone. Thank you Nova Vita!
--- D G
Gyncare


Košice

Slovakia
31
4.4
They made our dream come true. Great professional team, nice approach. I am grateful to them for the rest of my life and I don't know how I would compensate them for what they have done for us, thanks to them they have already made a family of three 👍
--- Tomi Tóth
S.I.S.Me.R.


Bologna

Italy
27
4.1
Here we are, a few months after the birth of our Princess, we want to dedicate a little thought to all the wonderful Staff of the SISMER Clinic in Bologna, from the Medical Director to the last telephone operator where we have found very high professionalism, availability and courtesy. But above all humility on the part of everyone without distinction that in other health facilities is very lacking!!! Many had advised us to go abroad but we found Italian excellence in Sismer, in fact when you enter the clinic for the first time you feel a serenity, efficiency and cleanliness that makes you understand that you are in the right place!! ! But a special thanks goes to our Doctor Balicchia who followed my wife with the highest professionalism, availability and courtesy with a considerable moral support that is needed a lot in these circumstances!! I conclude by wishing you the best for your professional and private life and to continue to give this great joy to many other families!!! A big hug to all of you!!! Thank you with all my heart!!!
--- Luigi
Cyprus IVF Hospital


Famagusta

North Cyprus
52
4.7
We thoroughly enjoyed our experience with Cyprus IVF Hospital, we started our journey back in March 2022 and had embryos frozen. We had the pleasure dealing with the lovely staff at the clinic and would highly recommend. They sorted out our airport transfer, hotels and the entire process was seamless. They are also LGBTQ friendly which made us feel very comfortable. Would highly recommend!
---Simon & Eric
Next Fertility Nordic


Tallinn

Estonia
25
5.0
My husband and I traveled from the US to seek help with our fertility issue and after doing three unsuccessful rounds of treatment at a local clinic in Colorado, working with Next Fertility Nordic was a godsend and a gulp of fresh air. Needless to say, as foreigners in Estonia we were apprehensive about the language gap and the level of service but from day one, we were put at ease by the professionalism, compassion and knowledge of the entire staff at the clinic. Samantha, the embryologist, was amazing in helping put together all the necessary information even before arrival into the country, always timely in her responses and forthcoming in getting the answers. Working with her before and after coming to Estonia made my experience as an aspiring would-be-mother so much easier and put my mind at ease knowing how much the entire staff was so caring about patients. Inna, as part of the donor team, was very instrumental in helping us with donor selection and her one-on-one sessions helped me overcome the emotional and psychological aspects of the ordeal. Dr. Siiak, the andrologist, worked with my husband to increase the chances of a successful treatment and is very knowledgeable in his field. His input affected the quality of the sperm sample used for the final procedure and undeniably played role in the successful outcome of the treatment. Dr. Aluri was present in every major procedure including, ultimately the transfer, and with her guidance and oversight I can happily say that I'm currently pregnant. Unlike in the US, where in most cases major steps of the treatment are performed by nurses, Dr. Aluri performed all procedures personally which attests to the level of care and professionalism of Next Fertility Nordic. Although, we paid out of pocket - the cost of the treatment is cheaper than that in the United States but more importantly, patients receive true care of the highest quality with increased chances of success. My husband and I feel very fortunate to have found this clinic and experienced first-hand the personalized attention, compassion and ultimately, professionalism that any couple deserves in their quest to become parents. We highly recommend Next Fertility Nordic to anyone from overseas seeking fertility treatment because every person from administrative staff, lab worker to the doctors are there to help you achieve your dream of becoming parents.
--- D R
Fertility and Assisted Reproduction IREMA


Alicante

Spain
91
4.7
So happy to say I'm 7 weeks pregnant after our first Donor egg transfer with Irema Alicante. After 3 long years doing IVF in the UK we decided to look abroad using donor eggs. I looked all over Europe at clinics and emailed lots of clinics but we decided on Spain, we love the country and its cheap to get there etc. As soon as I had contact from Lauren, Irema's patient coordinator I knew this was the clinic for us. She was so amazing answering all my questions, whatever time of the day, she never minded me WhatsApping her with my mad, worried thoughts! We found the clinic very clean and all the staff very friendly and really liked our Doctor, it felt like Dr Cummins really cared. It took 3 months and 3 visits to get pregnant, amazing! Even now Lauren checks on me, and last week when I had a scare, she was the one calming me down and telling me what to do. We really love this clinic but having a patient coordinator like Lauren has made it all so easy.
--- Zoe Alexander
IVF Turkey


Istanbul

Turkey
75
4.6
After many failed attempts in the UK wanted to try one last time. IVF Turkey have been very informative from day 1 and everyone here takes care of you. We visited first in May to meet Dr Meric and we decided to go ahead as it was based in a hospital which gave me the confidence in the case of an emergency. Dr Meric and his team are wonderful. Either Jemal or Keradelan have attended all appointments with us to ensure we understand everything and explain medication in detail leaving no ambiguity. Even informed me that if having issues with injections, I could come to clinic so nurse could administer (no charge) or go to any hospital in turkey and a nurse there would administer (small charge £1).
Communication has been brilliant cannot fault the team everyone has been lovely. Thank you 😊
--- Subha Akhtar
Silk Medical


Tbilisi

Georgia
75
4.3
Silk Medical and Dr. Oksana created a miracle out of a difficult situation. I had started treatment at a clinic in Ukraine, but due to the war, had to switch last minute. A friend recommended Silk Medical in Tbilisi, Georgia, and it ended up being the best decision ever and I am now 28 weeks pregnant. The clinic is brand new- even smells new! The staff is kind and speaks English. The front desk clerk called me a taxi after my procedure. Dr. Oksana even gave me her personal cell phone number to call in case I needed anything after hours or urgently. My coordinator Anastasia was always available to answer questions. In addition, I got to tour Tbilisi, which is a beautiful city with wonderful food. I had a successful and smooth journey and highly recommend Dr. Oksana and Silk Medical.
--- Caitlin Maloney
IVI


Alicante, Barcelona, Bilbao, San Sebastián, Las Palmas, Madrid, Málaga, Mallorca, Murcia, Sevilla, Valencia

Spain
751
4.6
Very positive experience with the IVI Clinic in Valencia. I am an international patient living in France and I had the project of becoming a parent since a while. Despite the distance, I did not have any problems in communicating with the team. The Clinic is welcoming and the international team is very professional, attentive and caring. Thanks to the guidance and the well-thought program with the IVI Valencia I am pregnant with my first child at the age of 40! I thank sincerely the whole team (Dr Celada, Nuria and others) for taking me in charge and helping me realise the most important project in my life.
--- Nastassia S.
IVOX IVF Hospital


Lefkoşa

North Cyprus
12
4.3
What is worth waiting for! A few attempts and a few years later it finally worked, even in a double pack. A really great clinic, very friendly staff and everyone always tries their best!

Dear Monika, always helpful and available around the clock. The good soul of the house and interpreter for the German patients. Sometimes you just can't give up and have to fight for your dreams so that you don't blame yourself afterwards for not trying everything.

Even if it doesn't work on the first, second or third try! You get an all-round carefree package here. Starting with the trip to the airport, booking the hotel, driving to the clinic and the medication.

Miss Dr. Mürüde is a very empathetic doctor who responds to her patients and, in my opinion, is up to date. The clinic itself is new and perfectly organized. You feel very well looked after here. Thank you very much for your patience and always competent treatment!
--- Silvia Prodinger
Centro de Fertilidad Barcelona


Barcelona and Bilbao

Spain
30
4.7
We had a wonderful experience with Centro De Fertilidad Barcelona from the moment we chose this clinic and spoke to them a view times via Skype before flying from United states till when we got there and made our in person visit down to our last days in Barcelona. If we had to do it all over again, we will still pick Centro De Fertilidad every time. The staff make you feel like family especially Mireia and Dr Gauthier. You guys are amazing. Besos from USA!
--- Carmela Joy
Cayman Fertility Centre


Grand Cayman

Cayman Islands
9
5.0
We never thought our dream of becoming parents would come true when my husband was diagnosed with cancer. We approached CFC and there was hope! The team of Dr. Davis, Dawn and Ken are just phenomenal. They are extremely professional and caring. They make you feel completely hopeful and they are very thorough in taking you through each step of the way.
I wish all medical professionals were like them. It is with great pleasure for me to recommend CFC as world class facility that help many people all over the world to realise their dream of having a baby. I am forever grateful to CFC!
--- Andrene Levy
Best IVF Clinics Worldwide, Sources: Google Business Reviews, EggDonationFriends.com,
Last updated: June, 2023
Best IVF Clinics of 2023 by the GCR
According to GCR – Global Clinic Ranking based on the GCR Quality Score the top 10 IVF clinics in the world are from Europe.
Sanatorium Helios – Czech Republic (4.5 GCR Quality Score)
Instituto Bernabeu – Spain (4.5 GCR Quality Score)
Dunya IVF – North Cyprus (4.5 GCR Quality Score)
Newlife IVF Greece – Greece (4.5 GCR Quality Score)
IVF-Life Alicante – Spain (4.5 GCR Quality Score)
Clinica Tambre – Spain (4.5 GCR Quality Score)
IVF Riga – Latvia (4.5 GCR Quality Score)
GATJC Fertility Center – Italy (4.5 GCR Quality Score)
North Cyprus IVF – North Cyprus (4.5 GCR Quality Score)
Embryolab – Greece (4.5 GCR Quality Score)
It must be taken into account that the above ranking is developed on the basis of frequently chosen IVF clinics abroad – in popular countries chosen by patients. The exception in the list above is a clinic from Italy. Italy is not a frequently chosen destination by foreign patients.
Best IVF Clinics – 2023 – by the European Fertility Society
According to Fertility Care Awards organized by the European Fertility Society there are a few IVF clinics awarded in 2023:
Institut Marquès – Spain (Outstanding Patient Experience During Fertility Treatment)
UNICA Clinic – Czech Republic (Best Patient Care and Support)
Clínica Tambre – Spain (Best Patient Care and Suppor)
EmbryoClinic – Greece (Best Innovation in Fertility Care)
EmBIO Medical Center – Greece (Best Fertility Social Media Channel)
The Fertility Care Awards are based on applications submitted by clinics, assessed by an international, independent jury.
Best IVF Clinics of 2020
Every year in November, fertility clinics, egg banks and/or IVF agencies were awarded IVF AWARDS given by IVF Media Ltd. Being recognized with it, is beneficial not only for the IVF clinics. The awards also act as a guiding beacon for fertility patients who are willing to travel abroad in search of the best IVF treatment in the world.
In order to promote those clinics which provide their patients with the best care and comfort during the treatment, easy and transparent access to the information we grant the IVF Award. Faced with the dynamic growth of the IVF market, we wish to appreciate those clinics, agencies and gamete banks that pay particular attention to the well-being of their patients in day-to-day operations and stand out in this field's key areas.
The best IVF clinics of 2020 were revealed during the IVF AWARD Online Gala Ceremony. The jury consisting of 16 jurors have chosen five IVF AWARD 2020 winners and three highly commended clinics. We proudly present the results as well as some comments from our Jury Panel.
Transparency and Collection of Treatment Outcomes:
The project involved all staff at the clinic and was planned and implemented in realistic stages – very very thorough explanation of project roll out.
This answer was more detailed and pointed to the use of a comprehensive Customer relationship management platform which seems very well thought out and planned.
Outstanding Patient Experience during the Treatment:
IVF AWARD 2020 winner – UNICA, the Czech Republic
Unica's approach is uniquely "east meets west" – combining to create a holistic approach. Many people on an IVF journey seek out the support in psychology, nutrition and yoga but through Unica – they are providing this all in-house as a core part of their service. I also particularly liked their response to COVID-19 and taking these resources online, including online yoga videos, doctor Q&As and the Ambassador program which is in itself an excellent concept.
Find Top Egg Donation Clinics Abroad
Best Customer Care & Support:
The clinic has evolved to manage the uncertainty of the pandemic. Their website answers all FAQs and gives a sense of security. I like the inclusion of an ethics committee and the fact that their empathy and warmth extends beyond the positive result where families return with their babies and know their staff by name and are not simply a number.
The clinic addressed some of the main issues patients experience when travelling abroad for treatments – fear, communication issues, high financial expense, and travel challenges.
Best IVF Clinic Website:
Functionality was very good – very transparent prices were easily found, able to accept payments and good educational content. Superb!
Realistic images, sets out the clinic's vision perfectly, provides a good patient experience.
Best Fertility Blog:
IVF AWARD 2020 winner – UNICA, the Czech Republic
UNICA clinic has a very good internet presentation with a potential to grow to become one of the best ones in the field. Great work!
Best IVF Clinics of 2019
The IVF CLINIC AWARDS 2019 were given to clinics that excel in the field of assisted reproduction. The awards were granted in the following eight categories:
Personalized Treatment
Customer Service & Communications
Intimacy & Care
IVF PGD/PGS Programme
IVF Programme
Egg Donation Programme
Innovations.
See the full list of winners and their overviews below.
PreGen (UR Vistahermosa), Spain
IVF AWARD for Personalized Treatment – the clinic's motto is "We don't work with patients; we work with people and families." PreGen (UR Vistahermosa) offers a range of services that make patients feel they benefit from a truly personalized treatment:
24/7 International Department and services of nutritionists and psychologists, offering support from day one,
doctors and nurses are available in the clinic 24/7, not only on call like in other clinics,
accommodation and transport can be arranged at no extra cost to ensure patients have a stress-free experience,
in-house pharmacy. Medication can be sent directly to the patients' home address.
PreGen (UR Vistahermosa) has experienced patient coordinators on board. Your first point of contact will likely be with Ema, the lovely UK patient manager, who has over 18 years of experience working with patients. She has the perfect experience to help and assist you, from your first point of contact to your last
Check IVF cost, treatment options and PreGen (UR Vistahermosa) reviews
---
IVF PGD/PGS Programme – The clinic offers full Preimplantation Genetic Testing with 3 modalities: PGT-A (PGT for Aneuploidy), PGT-M (PGT for Monogenetic diseases), PGT-SR (PGT for Structural Rearrangement). The PGT cycles are done in the genetics laboratories, located within its Reproduction Unit which allows a perfect interaction between all the professionals involved (gynaecologists, embryologists, and geneticists). Biopsy at blastocyst stage and new techniques of massive sequencing (NGS) combined together allow higher success rates than standard rates. The clinic's team has implemented NGS technology (Next Generation Sequencing) of massive sequencing and biopsy by laser, both in morula and blastocyst stage. Patients can also benefit from the detection of chromosomal abnormalities (type CNV: Copy Number Variation) of small size.
"A big thank you. This was the only clinic where guaranteed euploid fresh embryos in the same cycle, without the necessity to freeze them."

Feedback from a UR Vistahermosa's patient
---
Find Top Egg Donation Clinics Abroad
IVF Spain – Alicante

Check IVF cost, treatment options and IVF Spain reviews (Alicante)
Customer Service & Communications – IVF Spain excels in communication with patients through their entire fertility journey. From the moment a patient is searching for a fertility solution at home, through patient meetings, until ongoing pregnancy with close follow-up even after they have completed treatment. Patients are provided extra services such as free taxi transfers to/from the airport and can benefit from partnerships the clinic has with nearby hotels. In order to alleviate the fears of going abroad for treatment, IVF Spain organizes patient meetings. A personal assistant follows the patient's entire treatment and is in touch with them on a daily basis if necessary, in the patient's native language. The clinic facilities match the clinic's philosophy of putting the patient first: quiet private areas and "spa-like" settings are available to patients.
---
Intimacy & Care – Enhancing patient experience. The vast majority of the clinic's patients travel from abroad. That is why the clinic's priority is to provide them with a safe environment, not only in terms of human support but also through the latest technologies: GERI Plus for Time-Lapse, Gidget™ robotic system for sample tracking, success rates and quality certifications like ISO9001:2015 & UNE179009:2013, in-house laboratories, 24/7 helpline, and online support.
The entire clinic has been designed to conform with the principles of Feng Shui and is aimed to provide an intimate and calming environment for the patients. IVF Spain has four private waiting rooms where patients can discuss their treatment in privacy or with their coordinator. There are also seven private recovery rooms where patients can rest before and after their embryo transfer or egg retrieval. Personal coordinators are fully trained to provide emotional support for any difficulties a patient may face during the treatment.
---
ProcreaTec (IVF Spain Group)
Check IVF cost, treatment options and ProcreaTec reviews (IVF Spain Group)
IVF Programme – The newest addition to the clinic's portfolio is the IVF+PGD package which has shown to improve pregnancy rates from 11.5% in women over 40 to about 50% when performing PGD. When patients decide to do PGD, the IVF price is discounted. The success rates ProcreaTec reports are always indicative of first embryo transfer (vs. cumulative) and they only report clinical pregnancy rates (gestational sac and heartbeat). The clinic is proud of the pregnancy rates which is higher than the Spanish national average:
for women under 35 = 61.1%
women aged 35-39 = 47.2%
women aged 40 and above = 33.3%.
ProcreaTec's recommendations for treatment are always based on patient's individual circumstances in order to improve their chances of success. The clinic's pregnancy rates are audited and verified by the Spanish Fertility Society and are published on the Spanish Fertility Society website.
---
Clinica Tambre – Spain
Check IVF cost, treatment options and Clinica Tambre reviews (Spain)
Egg Donation Programme – What makes the egg donation Programme different at Clinica Tambre? The clinic had the first in-house egg and sperm bank in Spain, there are no waiting lists, the egg donor DNA is carefully stored and grouped according to blood type and extensive selection of phenotypes. What's worth noticing is that Clinica Tambre has one of the lowest multiple pregnancy rates of Spain, thanks to single-embryo-transfer protocol that minimizes the risk for the patient and the baby. The success rates reported by the clinic are higher than the Spanish and European average. They are the only private fertility clinic in Madrid with a recognised Healthcare Ethics Committee which ensures the ethical practice in an evidence-based manner and multi-disciplinary decisions to work towards maintaining high success rates using ethical and non-risky treatments.
---
Innovations – Besides having the most advanced incubation equipment, Clinica Tambre stands out with the reliable security technology used for handling biological samples. The clinic also uses specialized facial biometric recognition software, Fenomatch, to ensure the resemblance between the egg donor and the egg recipient which is legally required by the Spanish legislation. Tambre was the first IVF clinic in Madrid to use such technology. This enables the clinic to select a donor that most resembles the recipient mother. The whole matching takes just a few seconds: donors are sorted by facial resemblance and the one with the highest matching score is selected.
Fenomatch is available to all patients who decide to have treatment at Tambre. The technology has been receiving very positive feedback from both patients and clinic staff who are happy to inform the patients that the maximum effort was put to make sure their baby will look like them.
---
Best IVF clinics of 2017
The fourth edition of IVF CLINIC AWARD 2017 has come to an end. We have received many applications from top IVF clinics in the world, the best IVF agencies and the best Egg Banks offering some of the top IVF and Egg Donation programs worldwide.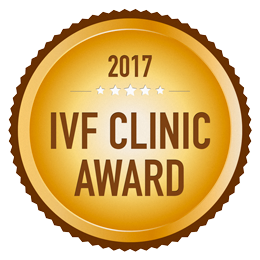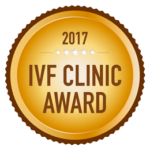 The IVF CLINIC AWARDS 2017 were given in nine categories to infertility centres and egg banks that receive positive feedback from patients and are considered by our experts the best clinics to have fertility treatment. The winning clinics have proved that their offer and services are characterized by complexity, efficiency, patient-oriented approach and innovative methods of infertility therapy.
The EggDonationFriends jury panel carefully studied and assessed each application and selected the winners in each category:
IVF Agency of the Year
Egg Bank of the Year
Intimacy & Care
IVF PGD/PGS Program
IVF Program
Innovations
Personalized Treatment
Customer Service & Communications
Egg Donation Program
Find Top Egg Donation Clinics Abroad
Top 9 Best IVF clinics in the world – 2017
Medistella – IVF Agency of the Year
Due to many years of experience in the infertility field, the specialists at Medistella are able to anticipate patients' needs and questions, going that extra mile to make the treatment as smooth as possible. Brilliant customer service, professional and patient-friendly approach to IVF treatment process make them stand out.
---
Invimed – Intimacy & Care – Invimed brand is based on security. The clinic has implemented Ferti Proof security system that works with a code assigned to couples diagnosed and treated at the clinic. The unique identifiers contain complete information about the type and stage of the treatment. Ferti Proof is also integrated with cell labelling system which ensure total safety at every step of the treatment.
---
Instituto Bernabeu – IVF PGD/PGS Programme – The clinic specialises in genetic testing of the intended parents and PGD/PGS embryo testing. The embryo biopsies are analysed in the molecular biology laboratory at Instituto Bernabeu in order to find out if the embryos are free of any genetic disorder. The aim of the fertility specialists at Instituto Bernabeu is to transfer only healthy and viable embryos that will lead to a healthy pregnancy.
---
iVF Riga – IVF Programme – The IVF Program at the clinic is accompanied by a number of methods which help improve IVF results and increase the chances of pregnancy, for instance assisted embryo hatching, PICSI, blastocyst culture or EmbryoScope (the first new generation incubator used by the Baltic countries clinic).
---
Assisting Nature – Innovations – The IVF clinic from Greece does not cease to innovate. The clinic's state-of-the-art EmbryologyLaboratory operates in a class I Clean Room environment using IVF Witnessing for all procedures. Some of the innovations at Assisting Nature include quality control within the laboratory that strictly adheres to ISO standards and laboratory parameters such as temperature, gas concentrations and ph levels that are controlled daily. Quality control and management systems, with continuous monitoring and alarm systems over SMS and e-mail guarantee uninterrupted optimal culture conditions for the patients' embryos.
---
Reprogenesis – Personalized Treatment – Recognized for considering each patient case individually and cooperating with medical facilities and physicians outside the Czech Republic which ensures that patients are also supported in their home country while undergoing treatment at Reprogenesis.
---
GYNEM fertility clinic – Customer Service & Communications – GYNEM's team is highly experienced in customer service. Every patient is allocated their own personal coordinator who assists them from the moment of their arrival to departure from Prague. The communication with patients is fast and efficient. The coordinator sat GYNEM speak English, German, Serbian, French, Russian, Spanish and Italian.
---
IVF Spain – Egg Donation Programme – The clinic has an excellent Egg Donor Management service which allows for quick, personalized phenotype matching. The unique feature of the egg donation Programme at IVF Spain is the guarantee of embryos or blastocysts (not only egg guarantee). The cumulative pregnancy success rate per ED cycle is 93%.
Congratulations to all winners! EggDonationFriends believe that the recognition gained by IVF CLINIC AWARDS 2017 will help clinics in terms of motivation; help them maintain and develop services for the ultimate benefit of the patient.
---
Top 8 IVF clinics in the world – 2016
The IVF AWARD 2016 was given in eight categories to infertility centres and egg/sperm banks that were considered by patients and our experts the best places for IVF in the world – they have shown that they offer effective treatments; are efficient; patient focussed and continually innovate to ensure they offer patients the best chances of success.
The winners of the IVF CLINIC AWARD 2016 were:
Instituto Bernabeu – The Spain-based institute was awarded IVF Agency of the Year in recognition of its high ethical standards practiced in the doctors' daily work.
Ferticentro – This Portuguese clinic has won the hearts of patients and EggDonationFriends experts by their out-of-the-box approach to patient intimacy & care. The clinic accepts single women and same sex parents and exhibits exceptional commitment of its staff.
British Cyprus IVF Hospital – Recognized by EggDonationFriends for their IVF Programme where if the pregnancy is not achieved after 3 IVF egg donation cycles, the hospital refunds the treatment costs borne by the patient.
Assisting Nature – The IVF clinic from Greece was honoured for its innovative solutions in IUI, ICSI, time-lapse embryo culture and many others.
ReproGenesis – Awarded for Personalized Treatment. The clinic's focus on the patients' needs bore fruit in better treatment results.
Barcelona IVF – The Spanish clinic was honoured for their high levels of customer service and communication standards. Having on board an impressive number of staff (customer service and midwifes) the centre provides smooth and flawless doctor-patient communication and care
IVF Spain – Was honoured in two categories: for best Egg Donation programme and affordable, low-risk and accurate PGD/PGS services. The doctors' motto is "minimal harm to the embryo."
Find Top Egg Donation Clinics Abroad
---
How to choose the best IVF clinic abroad?
Patients base their research for the clinic on popularity, the cost of the treatment and success rates if they are thinking about an IVF abroad. Is that an entirely correct way of making a decision? Given our experience, we really doubt that and would like to stress the importance of other factors. Patients need to remember to ask correct questions before they choose the overseas IVF clinic. See graphics below: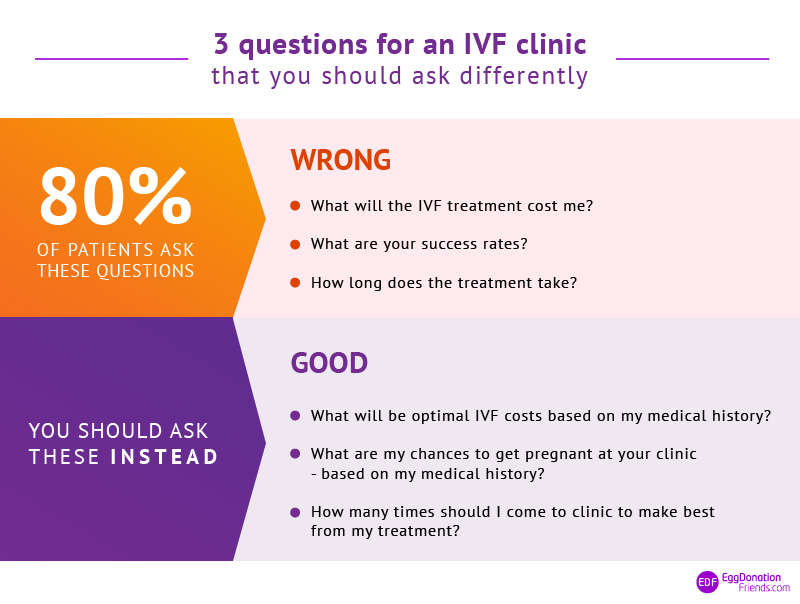 In Europe, there are clinics that specialize in some fields of IVF therapy such as treating patients over 40 or over 50. Other focus on patients who have already had a number of failed IVF cycles for different reasons. Some give more importance to genetic screening or other aspects of the therapy. So don't choose the clinic based solely on costs, treatment time and success rates. It might be wrong – as you can see from the graphics below.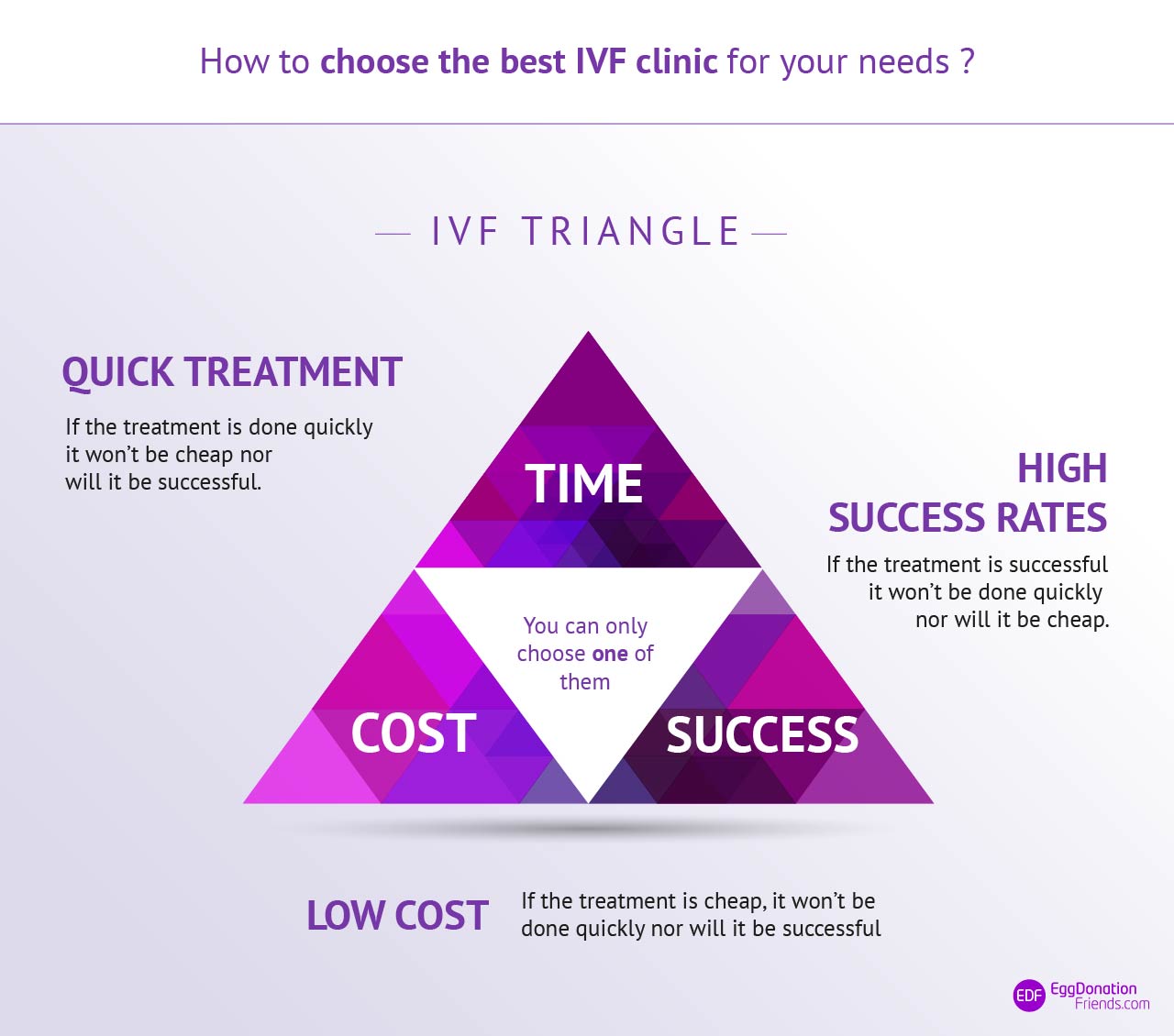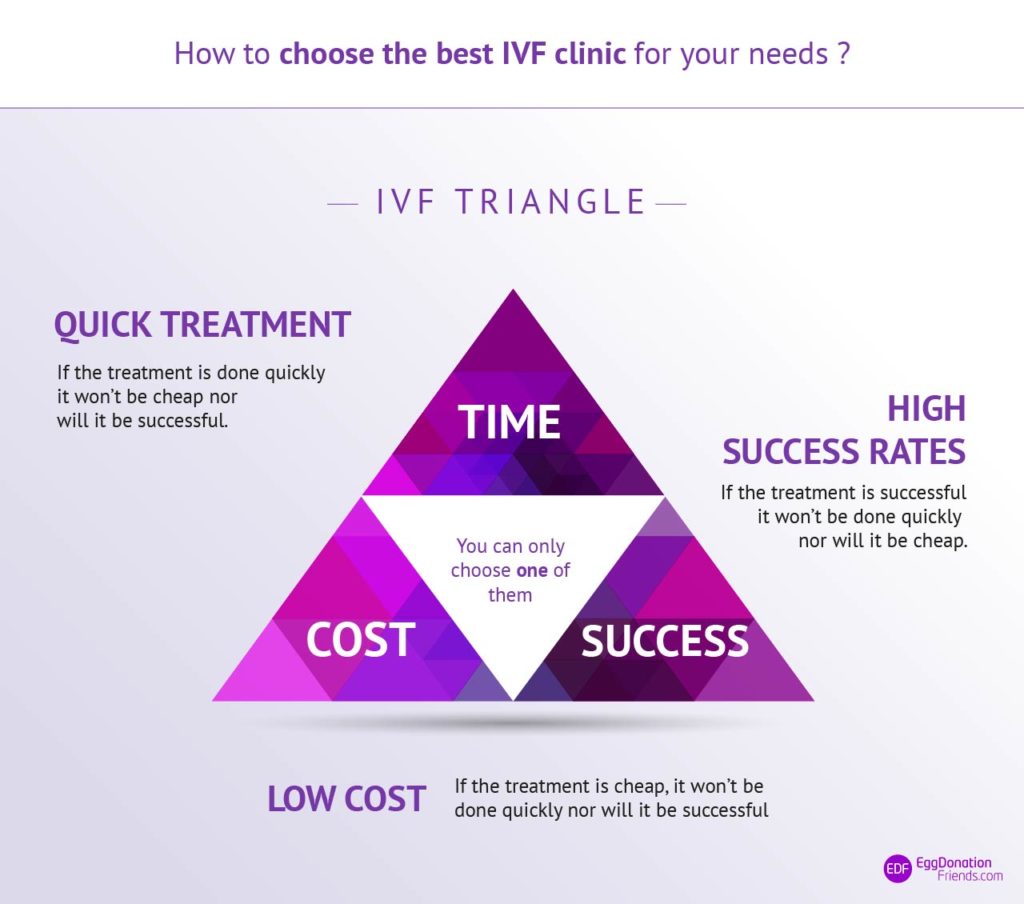 To find affordable and efficient fertility treatment, you can browse the most popular IVF destinations in Europe and choose the best place for IVF in the world which suits your needs and budget. The more thought and research you put into selecting and analysing the clinics' offer the more relaxed you will feel during the entire treatment process. If your decision is well-thought-out and well-researched, you may feel calmer about your future fertility treatment journey.
If you need help choosing an IVF Clinic Abroad
Spare 3 minutes of your time. You will save at least a few hours.
If you are looking for an egg donation clinic abroad, use the EggDonationFriends unique patients tool – Clinic Matching Test. We analyse your needs and choose 3 overseas clinics that match your expectations. Our database of IVF centres includes only trusted fertility clinics that have experience in providing high-quality services to international patients. The suggested IVF centres will contact you directly within 3 working days. Spare 3 minutes of your time – you will save at least a few hours! Our assistance is free of charge.