What is the IVF CLINIC AWARD?
IVF Media Ltd. is known for organizing multichannel fertility information campaigns and taking action and facilitating infertile couples in the process of choosing an IVF clinic and treatment. Our goal is also to promote good practice among fertility centres and stimulate healthy competition that leads to high-quality services that benefit patients. That is why we established the IVF AWARD.
Every year in November, fertility clinics, egg banks and/or IVF agencies are awarded IVF AWARDS given by IVF Media Ltd. Being recognized with it, is beneficial not only for the IVF clinics. The awards also act as a guiding beacon for fertility patients who are willing to travel abroad in search of the best IVF treatment in the world.
In order to promote those clinics which provide their patients with the best care and comfort during the treatment, easy and transparent access to the information we grant the IVF Award. Faced with the dynamic growth of the IVF market, we wish to appreciate those clinics, agencies and gamete banks that pay particular attention to the well-being of their patients in day-to-day operations and stand out in this field's key areas.
The award is given only to the best fertility centres. What do we mean by "best"?
By "best" we mean clinics, agencies and egg banks that have positive feedback from patients, best clinic reviews, offer an outstanding customer-centred approach and perform the best treatments in their field.

A great fertility clinic isn't just one that can give you effective treatment, it's one with compassionate staff, clear pricing, seamless administrative processes and exceptional emotional support. Find out more about how to choose a clinic, preparing for your appointment and what to do if something goes wrong.
HFEA – UK 
Best IVF Clinics of 2020
The best IVF clinics of 2020 were revealed during the IVF AWARD Online Gala Ceremony that was held on Nov 4, 2020. The jury consisting of 16 jurors have chosen five IVF AWARD 2020 winners and three highly commended clinics. We proudly present the results as well as some comments from our Jury Panel.
Transparency and Collection of Treatment Outcomes:
The project involved all staff at the clinic and was planned and implemented in realistic stages – very very thorough explanation of project roll out.
This answer was more detailed and pointed to the use of a comprehensive Customer relationship management platform which seems very well thought out and planned.
Outstanding Patient Experience during the Treatment:
IVF AWARD 2020 winner – UNICA, the Czech Republic
Unica's approach is uniquely "east meets west" – combining to create a holistic approach. Many people on an IVF journey seek out the support in psychology, nutrition and yoga but through Unica – they are providing this all in-house as a core part of their service. I also particularly liked their response to COVID-19 and taking these resources online, including online yoga videos, doctor Q&As and the Ambassador program which is in itself an excellent concept.
Best Customer Care & Support:
The clinic has evolved to manage the uncertainty of the pandemic. Their website answers all FAQs and gives a sense of security. I like the inclusion of an ethics committee and the fact that their empathy and warmth extends beyond the positive result where families return with their babies and know their staff by name and are not simply a number.
The clinic addressed some of the main issues patients experience when travelling abroad for treatments – fear, communication issues, high financial expense, and travel challenges.
Best IVF Clinic Website:
Functionality was very good – very transparent prices were easily found, able to accept payments and good educational content. Superb!
Realistic images, sets out the clinic's vision perfectly, provides a good patient experience.
Best Fertility Blog:
IVF AWARD 2020 winner – UNICA, the Czech Republic
UNICA clinic has a very good internet presentation with a potential to grow to become one of the best ones in the field. Great work!
Watch the IVF AWARD Online Gala Ceremony that was held on Nov 4, 2020.
Best IVF Clinics of 2019
The IVF BANK AWARD 2019 has gone to the Egg Bank of the Year – First Egg Bank.
The IVF CLINIC AWARDS 2019 were given to clinics that excel in the field of assisted reproduction. The awards were granted in the following eight categories:
Personalized Treatment
Customer Service & Communications
Intimacy & Care
IVF PGD/PGS Programme
IVF Programme
Egg Donation Programme
Innovations.
See the full list of winners and their overviews below.
PreGen (UR Vistahermosa), Spain
IVF AWARD for Personalized Treatment – the clinic's motto is "We don't work with patients; we work with people and families." PreGen (UR Vistahermosa) offers a range of services that make patients feel they benefit from a truly personalized treatment:
24/7 International Department and services of nutritionists and psychologists, offering support from day one,
doctors and nurses are available in the clinic 24/7, not only on call like in other clinics,
accommodation and transport can be arranged at no extra cost to ensure patients have a stress-free experience,
in-house pharmacy. Medication can be sent directly to the patients' home address.
PreGen (UR Vistahermosa) has experienced patient coordinators on board. Your first point of contact will likely be with Ema, the lovely UK patient manager, who has over 18 years of experience working with patients. She has the perfect experience to help and assist you, from your first point of contact to your last
Check IVF cost, treatment options and PreGen (UR Vistahermosa) reviews
---
IVF PGD/PGS Programme – The clinic offers full Preimplantation Genetic Testing with 3 modalities: PGT-A (PGT for Aneuploidy), PGT-M (PGT for Monogenetic diseases), PGT-SR (PGT for Structural Rearrangement). The PGT cycles are done in the genetics laboratories, located within its Reproduction Unit which allows a perfect interaction between all the professionals involved (gynaecologists, embryologists, and geneticists). Biopsy at blastocyst stage and new techniques of massive sequencing (NGS) combined together allow higher success rates than standard rates. The clinic's team has implemented NGS technology (Next Generation Sequencing) of massive sequencing and biopsy by laser, both in morula and blastocyst stage. Patients can also benefit from the detection of chromosomal abnormalities (type CNV: Copy Number Variation) of small size.
"A big thank you. This was the only clinic where guaranteed euploid fresh embryos in the same cycle, without the necessity to freeze them."

Feedback from a UR Vistahermosa's patient
---
IVF Spain – Alicante

Check IVF cost, treatment options and IVF Spain reviews (Alicante)
Customer Service & Communications – IVF Spain excels in communication with patients through their entire fertility journey. From the moment a patient is searching for a fertility solution at home, through patient meetings, until ongoing pregnancy with close follow-up even after they have completed treatment. Patients are provided extra services such as free taxi transfers to/from the airport and can benefit from partnerships the clinic has with nearby hotels. In order to alleviate the fears of going abroad for treatment, IVF Spain organizes patient meetings. A personal assistant follows the patient's entire treatment and is in touch with them on a daily basis if necessary, in the patient's native language. The clinic facilities match the clinic's philosophy of putting the patient first: quiet private areas and "spa-like" settings are available to patients.
---
Intimacy & Care – Enhancing patient experience. The vast majority of the clinic's patients travel from abroad. That is why the clinic's priority is to provide them with a safe environment, not only in terms of human support but also through the latest technologies: GERI Plus for Time-Lapse, Gidget™ robotic system for sample tracking, success rates and quality certifications like ISO9001:2015 & UNE179009:2013, in-house laboratories, 24/7 helpline, and online support.
The entire clinic has been designed to conform with the principles of Feng Shui and is aimed to provide an intimate and calming environment for the patients. IVF Spain has four private waiting rooms where patients can discuss their treatment in privacy or with their coordinator. There are also seven private recovery rooms where patients can rest before and after their embryo transfer or egg retrieval. Personal coordinators are fully trained to provide emotional support for any difficulties a patient may face during the treatment.
---
ProcreaTec (IVF Spain Group)
Check IVF cost, treatment options and ProcreaTec reviews (IVF Spain Group)
IVF Programme – The newest addition to the clinic's portfolio is the IVF+PGD package which has shown to improve pregnancy rates from 11.5% in women over 40 to about 50% when performing PGD. When patients decide to do PGD, the IVF price is discounted. The success rates ProcreaTec reports are always indicative of first embryo transfer (vs. cumulative) and they only report clinical pregnancy rates (gestational sac and heartbeat). The clinic is proud of the pregnancy rates which is higher than the Spanish national average:
for women under 35 = 61.1%
women aged 35-39 = 47.2%
women aged 40 and above = 33.3%.
ProcreaTec's recommendations for treatment are always based on patient's individual circumstances in order to improve their chances of success. The clinic's pregnancy rates are audited and verified by the Spanish Fertility Society and are published on the Spanish Fertility Society website.
---
Clinica Tambre – Spain
Check IVF cost, treatment options and Clinica Tambre reviews (Spain)
Egg Donation Programme – What makes the egg donation Programme different at Clinica Tambre? The clinic had the first in-house egg and sperm bank in Spain, there are no waiting lists, the egg donor DNA is carefully stored and grouped according to blood type and extensive selection of phenotypes. What's worth noticing is that Clinica Tambre has one of the lowest multiple pregnancy rates of Spain, thanks to single-embryo-transfer protocol that minimizes the risk for the patient and the baby. The success rates reported by the clinic are higher than the Spanish and European average. They are the only private fertility clinic in Madrid with a recognised Healthcare Ethics Committee which ensures the ethical practice in an evidence-based manner and multi-disciplinary decisions to work towards maintaining high success rates using ethical and non-risky treatments.
---
Innovations – Besides having the most advanced incubation equipment, Clinica Tambre stands out with the reliable security technology used for handling biological samples. The clinic also uses specialized facial biometric recognition software, Fenomatch, to ensure the resemblance between the egg donor and the egg recipient which is legally required by the Spanish legislation. Tambre was the first IVF clinic in Madrid to use such technology. This enables the clinic to select a donor that most resembles the recipient mother. The whole matching takes just a few seconds: donors are sorted by facial resemblance and the one with the highest matching score is selected.
Fenomatch is available to all patients who decide to have treatment at Tambre. The technology has been receiving very positive feedback from both patients and clinic staff who are happy to inform the patients that the maximum effort was put to make sure their baby will look like them.
---
First Egg Bank
IVF BANK AWARD 2019 – First Egg Bank is not an ordinary egg bank. They offer patients a broad choice of egg donors across a list of worldwide IVF clinics where patients can have treatment using oocytes from First Egg Bank. Their offer includes online egg donor database, anonymous and open ID egg donors, the possibility of embryo creation, VIP egg donors choice; availability of fresh egg donors, ready to travel for egg retrieval to the patient's clinic; guarantee policy and compensation scheme.
---
Best IVF clinics of 2017
The fourth edition of IVF CLINIC AWARD 2017 has come to an end. We have received many applications from top IVF clinics in the world, the best IVF agencies and the best Egg Banks offering some of the top IVF and Egg Donation programs worldwide.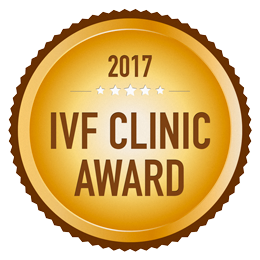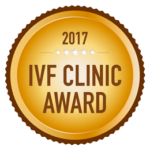 The IVF CLINIC AWARDS 2017 were given in nine categories to infertility centres and egg banks that receive positive feedback from patients and are considered by our experts the best clinics to have fertility treatment. The winning clinics have proved that their offer and services are characterized by complexity, efficiency, patient-oriented approach and innovative methods of infertility therapy.
The EggDonationFriends jury panel carefully studied and assessed each application and selected the winners in each category:
IVF Agency of the Year
Egg Bank of the Year
Intimacy & Care
IVF PGD/PGS Program
IVF Program
Innovations
Personalized Treatment
Customer Service & Communications
Egg Donation Program
Top 9 Best IVF clinics in the world – 2017
Medistella – IVF Agency of the Year
Due to many years of experience in the infertility field, the specialists at Medistella are able to anticipate patients' needs and questions, going that extra mile to make the treatment as smooth as possible. Brilliant customer service, professional and patient-friendly approach to IVF treatment process make them stand out.
---
First Egg Bank – Egg Bank of the Year – First Egg Bank caters to the needs of all donor egg recipients. Its offer includes biomaterial (donor eggs & sperm) from identifiable and anonymous donors since it is known that each country may have different legislation norms related to donor anonymity.
---
Invimed – Intimacy & Care – Invimed brand is based on security. The clinic has implemented Ferti Proof security system that works with a code assigned to couples diagnosed and treated at the clinic. The unique identifiers contain complete information about the type and stage of the treatment. Ferti Proof is also integrated with cell labelling system which ensure total safety at every step of the treatment.
---
Instituto Bernabeu – IVF PGD/PGS Programme – The clinic specialises in genetic testing of the intended parents and PGD/PGS embryo testing. The embryo biopsies are analysed in the molecular biology laboratory at Instituto Bernabeu in order to find out if the embryos are free of any genetic disorder. The aim of the fertility specialists at Instituto Bernabeu is to transfer only healthy and viable embryos that will lead to a healthy pregnancy.
---
iVF Riga – IVF Programme – The IVF Program at the clinic is accompanied by a number of methods which help improve IVF results and increase the chances of pregnancy, for instance assisted embryo hatching, PICSI, blastocyst culture or EmbryoScope (the first new generation incubator used by the Baltic countries clinic).
---
Assisting Nature – Innovations – The IVF clinic from Greece does not cease to innovate. The clinic's state-of-the-art EmbryologyLaboratory operates in a class I Clean Room environment using IVF Witnessing for all procedures. Some of the innovations at Assisting Nature include quality control within the laboratory that strictly adheres to ISO standards and laboratory parameters such as temperature, gas concentrations and ph levels that are controlled daily. Quality control and management systems, with continuous monitoring and alarm systems over SMS and e-mail guarantee uninterrupted optimal culture conditions for the patients' embryos.
---
Reprogenesis – Personalized Treatment – Recognized for considering each patient case individually and cooperating with medical facilities and physicians outside the Czech Republic which ensures that patients are also supported in their home country while undergoing treatment at Reprogenesis.
---
GYNEM fertility clinic – Customer Service & Communications – GYNEM's team is highly experienced in customer service. Every patient is allocated their own personal coordinator who assists them from the moment of their arrival to departure from Prague. The communication with patients is fast and efficient. The coordinator sat GYNEM speak English, German, Serbian, French, Russian, Spanish and Italian.
---
IVF Spain – Egg Donation Programme – The clinic has an excellent Egg Donor Management service which allows for quick, personalized phenotype matching. The unique feature of the egg donation Programme at IVF Spain is the guarantee of embryos or blastocysts (not only egg guarantee). The cumulative pregnancy success rate per ED cycle is 93%.
Congratulations to all winners! EggDonationFriends believe that the recognition gained by IVF CLINIC AWARDS 2017 will help clinics in terms of motivation; help them maintain and develop services for the ultimate benefit of the patient.
---
Top 8 IVF clinics in the world – 2016
The IVF AWARD 2016 was given in eight categories to infertility centres and egg/sperm banks that were considered by patients and our experts the best places for IVF in the world – they have shown that they offer effective treatments; are efficient; patient focussed and continually innovate to ensure they offer patients the best chances of success.
The winners of the IVF CLINIC AWARD 2016 were:
Instituto Bernabeu – The Spain-based institute was awarded IVF Agency of the Year in recognition of its high ethical standards practiced in the doctors' daily work.
First Egg Bank – This Ukrainian egg bank has one of the broadest collection of frozen eggs from donors of various phenotypes and egg donors ready immediately for fresh cycle. Apart from that, the bank offers cryo-shipment of biomaterials such as oocytes or sperm samples.
Ferticentro – This Portuguese clinic has won the hearts of patients and EggDonationFriends experts by their out-of-the-box approach to patient intimacy & care. The clinic accepts single women and same sex parents and exhibits exceptional commitment of its staff.
British Cyprus IVF Hospital – Recognized by EggDonationFriends for their IVF Programme where if the pregnancy is not achieved after 3 IVF egg donation cycles, the hospital refunds the treatment costs borne by the patient.
Assisting Nature – The IVF clinic from Greece was honoured for its innovative solutions in IUI, ICSI, time-lapse embryo culture and many others.
ReproGenesis – Awarded for Personalized Treatment. The clinic's focus on the patients' needs bore fruit in better treatment results.
Barcelona IVF – The Spanish clinic was honoured for their high levels of customer service and communication standards. Having on board an impressive number of staff (customer service and midwifes) the centre provides smooth and flawless doctor-patient communication and care
IVF Spain – Was honoured in two categories: for best Egg Donation programme and affordable, low-risk and accurate PGD/PGS services. The doctors' motto is "minimal harm to the embryo."
---
How to choose the best IVF clinic abroad?
Patients base their research for the clinic on popularity, the cost of the treatment and success rates. Is that an entirely correct way of making a decision? Given our experience, we really doubt that and would like to stress the importance of other factors. Patients need to remember to ask correct questions before they choose the overseas IVF clinic. See graphics below: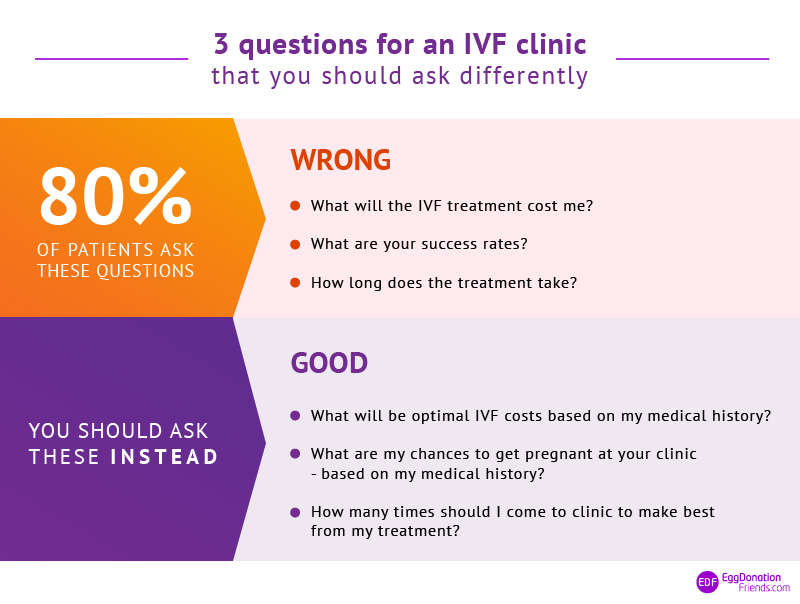 In Europe, there are clinics that specialize in some fields of IVF therapy such as treating patients over 40 or over 50. Other focus on patients who have already had a number of failed IVF cycles for different reasons. Some give more importance to genetic screening or other aspects of the therapy. So don't choose the clinic based solely on costs, treatment time and success rates. It might be wrong – as you can see from the graphics below.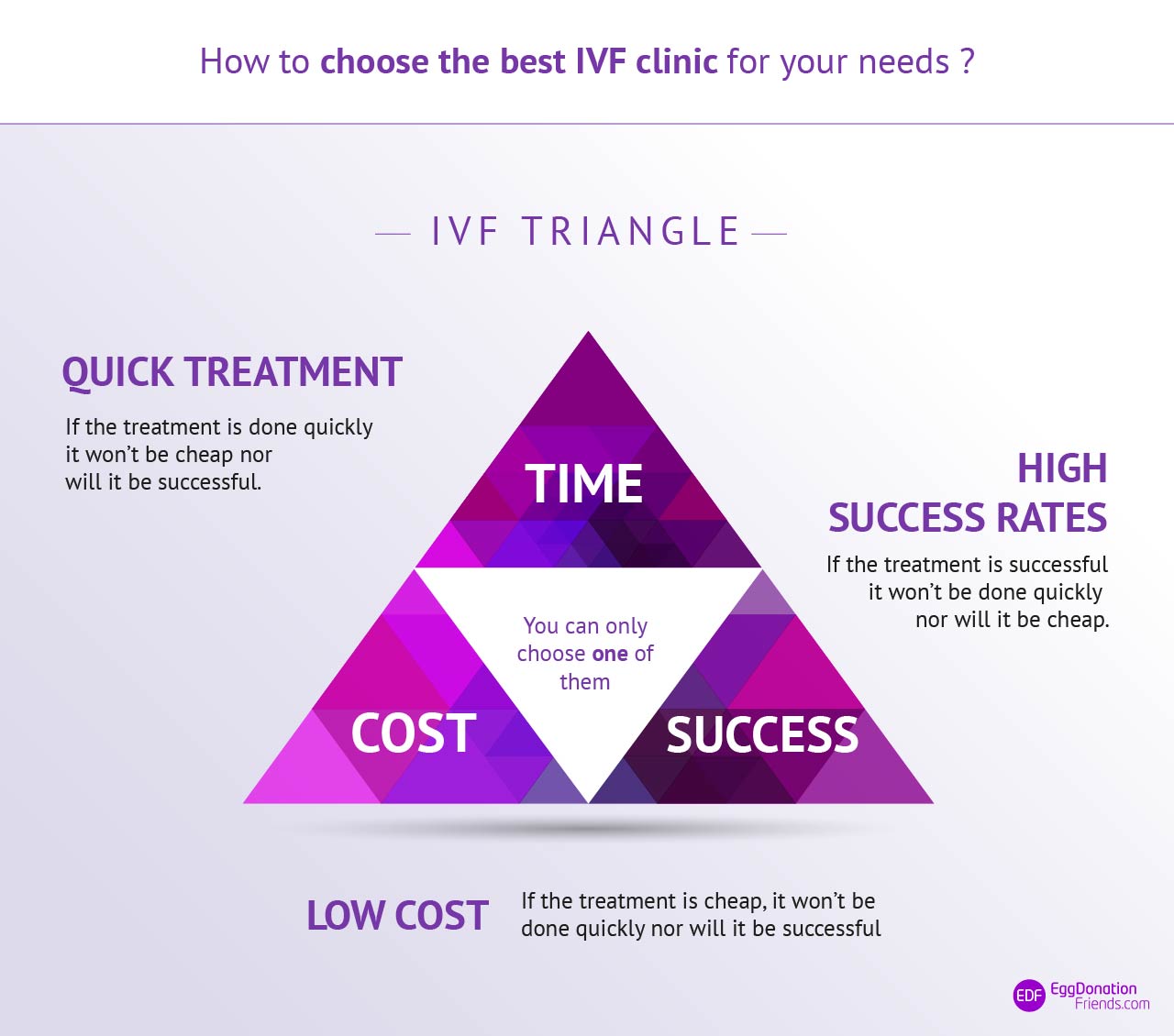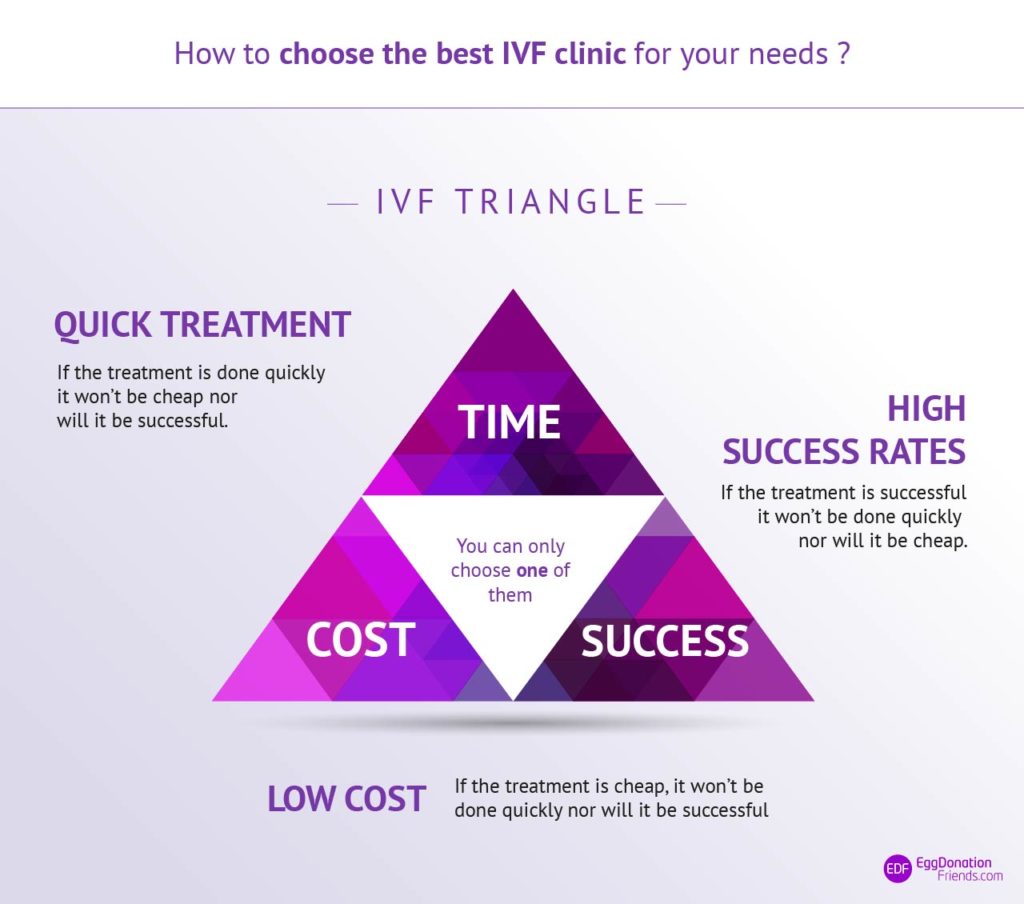 To find affordable and efficient fertility treatment, you can browse the most popular IVF destinations in Europe and choose the best place for IVF in the world which suits your needs and budget. The more thought and research you put into selecting and analysing the clinics' offer the more relaxed you will feel during the entire treatment process. If your decision is well-thought-out and well-researched, you may feel calmer about your future fertility treatment journey.
If you need help choosing an IVF Clinic Abroad
Spare 3 minutes of your time. You will save at least a few hours.
If you are looking for an egg donation clinic abroad, use the EggDonationFriends unique patients tool – Clinic Matching Test. We analyse your needs and choose 3 overseas clinics that match your expectations. Our database of IVF centres includes only trusted fertility clinics that have experience in providing high-quality services to international patients. The suggested IVF centres will contact you directly within 3 working days. Spare 3 minutes of your time – you will save at least a few hours! Our assistance is free of charge.