What are the most popular Egg Donation Abroad destinations for donor egg IVF treatment – Spain or maybe the Czech Republic or Portugal? Or maybe Greece, Poland or Ukraine?
How can you compare the different destinations and overseas IVF clinics – based on price, treatment quality, or success rates? How many eggs are guaranteed and is that it really important? What are the cheapest countries for IVF? Let us help you with these questions. These questions are addressed below.
Increasing numbers of international patients are considering undergoing high-quality and successful fertility treatments at overseas clinics and fulfilling their dreams of having a baby.
9 most popular countries for egg donation IVF in 2023
Spain
Chosen by over 44% of patients.
Greece
Chosen by over 20% of patients.
Czech Republic
Chosen by around 14% of patients.
North Cyprus
Chosen by around 11% of patients.
Portugal
Chosen by around 2.5% of patients.
Latvia
Chosen by less than 2% of patients.
Estonia
Chosen by less than 2% of patients.
Poland
Chosen by less than 2% of patients.
Denmark
Chosen by less than 2% of patients.
*The list above is based on more than 8,000 unique patients inquiries sent through our websites in 2022. Russia and Ukraine are not included they are difficult to reach by international patients.
The vast majority of them are patients who travel overseas to undergo IVF or IVF with donor eggs. Below you will find the information you should take into consideration when choosing the Country and clinic in which you will undergo treatment.
Why do patients travel abroad to undergo IVF with donor eggs?
The national law restricts access to egg donors and egg donation programmes
The age limit of egg recipient can be higher in countries abroad – offering treatment even for patients at the age of 55
Types of egg donor IVF arrangements. Many patients search for IVF clinics abroad because of non-anonymous egg donation policies and practices in their home country
The high costs of IVF, IVF ICSI or IVF with donor eggs in their home country
Fertility clinics abroad offer high-quality treatment and achieve higher IVF success rates
IVF abroad – countries comparison
IVF law restriction comparison
IVF country
Age limit for patient
Single woman
Lesbian couples
IVF Spain
50 (some clinics may support patients up to 52)
Yes
Yes (ROPA)
IVF Portugal
49 (+364 days)
Yes
Yes
IVF Czech Republic
48 plus 12 months
No
No
IVF Greece
54 (over 50 additional qualification is required)
yes
Yes (only if they are treated as a single woman - a notary statement is needed)
IVF North Cyprus
58 (over the age of 55, the approval of the ethics committee is required, over 45 - the Ministry Of Health approval is required)
Yes
Yes
IVF Ukraine
No limit (not specified by legislation, decided by each clinic individually)
Yes
No
IVF Poland
No limit (not specified by legislation, decided by each clinic individually)
No
No
IVF Russia
51 (some clinics may treat older woman at their own risk)
Yes
No
IVF Latvia
No limit (not specified by legislation, decided by each clinic individually)
Yes
Yes (only if they are treated as a single woman)
Find Top Egg Donation Clinics
IVF with donor eggs abroad – which country shall I choose?
Countries with the greatest number of egg donor programs and which are the most popular destinations according to international patients. Based on patients inquiries at eggdonationfriends.com and other websites – in 2022.
As we can see Spain remains the number one choice for patients looking for an IVF abroad – 44% inquiries were generated for Spain as a destination country. Greece gained a popularity and around 20% of patients declared that Greece was their first choice country for an IVF. Czech Republic have been chosen by 14% of patients which is similar to previous years. There are around 11% of patients who choose North Cyprus as their IVF destination.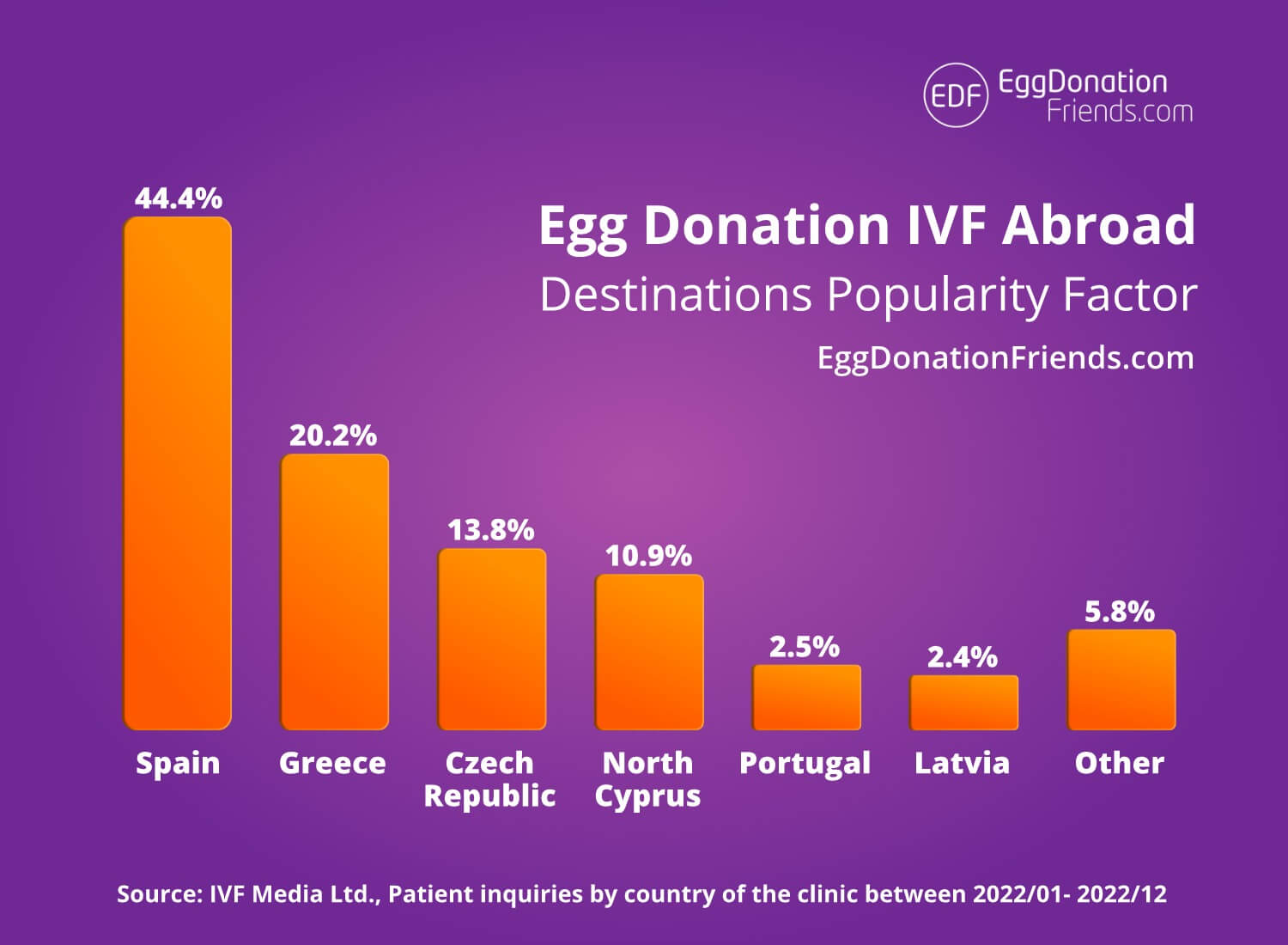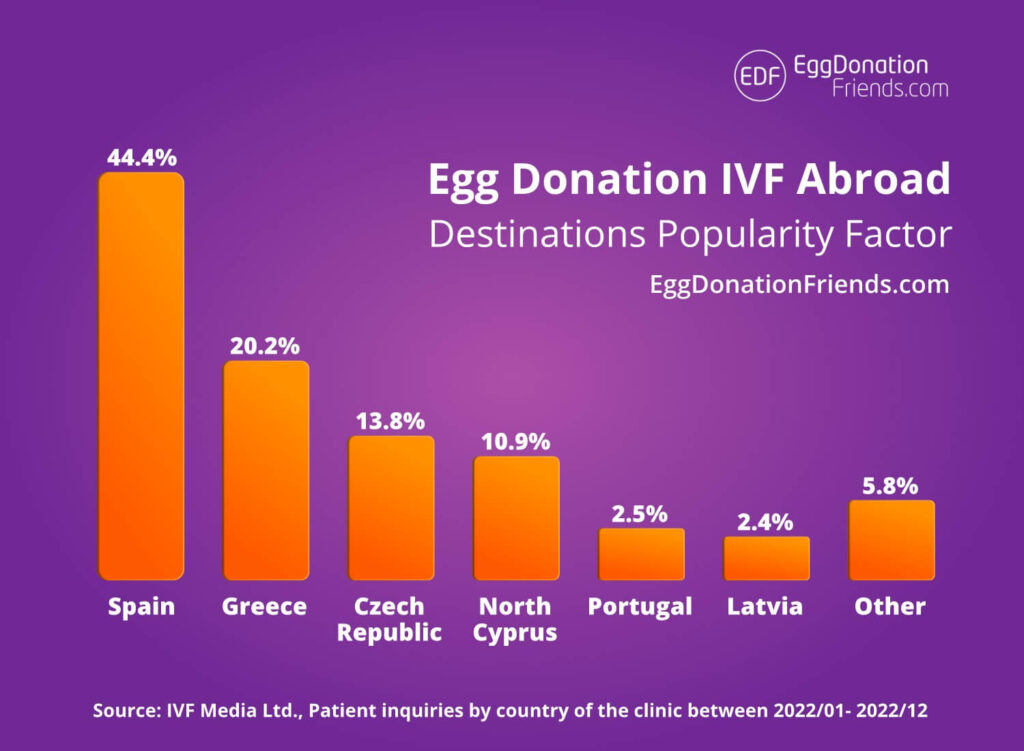 Find Top Egg Donation Clinics
Should I be aware of treatment quality and customer care levels abroad?
No, not at all. International clinics provide high levels of treatment and customer care. Patients from abroad often constitute up to 50% of all patients. Fertility clinics abroad offer various additional services such as transfers to and from the airport, online/skype consultations, travel and accommodation, bespoke personal services and so on.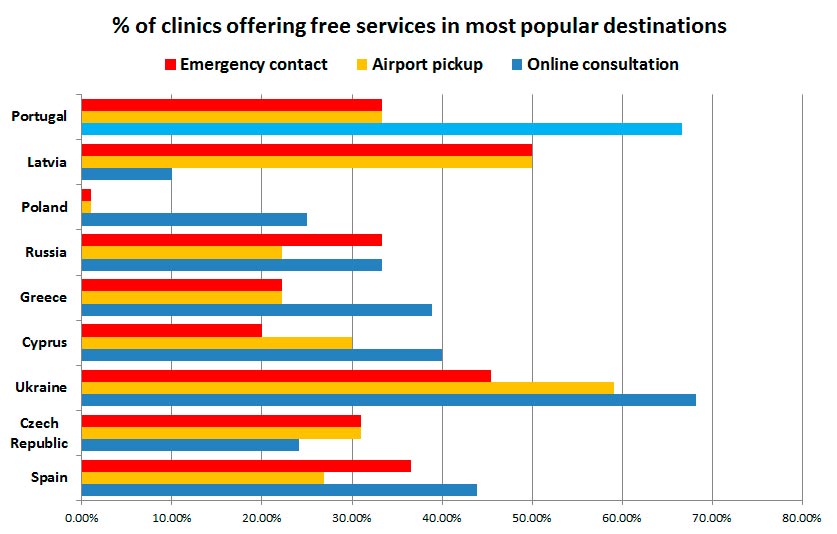 The choice of the destination depends mostly on personal preference in addition to legal restrictions on donor egg use, donor matching processes and the cost of egg donor IVF as these can all vary country by country. If you are considering undergoing egg donation in Europe, what you should pay attention to?
Professional IVF centres from various countries offer fertility treatments for international patients. Below you can find a list of the most popular destinations which allow for IVF treatment using eggs from an anonymous donor.
Choosing an egg donor abroad
In most countries (e.g. Poland, Greece, the Czech Republic or Spain) the selection of egg donors is based on a phenotype matching with the recipient. This means a donor resembles the recipient in terms of eye, hair and skin colour wherever possible. These rules stem from legal requirements. This also means that in these countries patients will not be able to select "any donor". In other countries (e.g. in Ukraine), a patient can choose a donor who looks similar to the recipient or otherwise.
According to international medical associations (ESHRE, ASRM), selecting an egg donor who shares some characteristics with a recipient is recommended -"phenotype matching". This resemblance should at least cover the colour of hair, eyes and skin, height and a blood type.
Anonymous vs. non-anonymous egg donors
Information shared with the recipient about the egg donor
Various clinics grant access to different amounts and types of information about an egg donor. For some patients, this may be an important factor affecting their choice of destination or an overseas IVF clinic. In Ukraine, Russia and the United States, in addition to donor's standard features (height, weight, and hair colour), patients will get additional information including the donor's adult/childhood photos and others. If you look for the non-anonymous egg donation cycle where they are non-anonymous because of the law – Portugal, USA and the UK are the best choices. As you can find extended  information about the egg donors in Russia and Ukraine – they are still anonymous in terms of possibilities of contacting the donor.
The donor's race
In Ukraine, Russia and Poland IVF clinic databases are dominated by egg donors of Caucasian origin. If you are looking for a donor with darker skin, your natural choice would be IVF centres from Spain, Cyprus or Greece. African-American or Afro-Caribbean donors are most often available in the USA or Barbados.
The number of guaranteed eggs which you will receive from the donor
The number of oocytes received from a donor varies from clinic to clinic. It is a generally accepted practice that you should receive at least 6 eggs, that may result in 2 embryos, on condition that your partner's sperm parameters are satisfactory. Some overseas IVF clinics offer all donor eggs no matter how many eggs have been retrieved (so-called exclusive donor).
Please bear in mind, however, that it is not the number of oocytes, but their quality that matters in determining how successful the egg donation program would be.
IVF with frozen eggs at overseas clinics
Before you visit a clinic abroad, check out whether the IVF centre uses frozen or fresh eggs. In the case of frozen eggs, most overseas IVF clinics offer 6-10 oocytes. Crucially, this number usually refers to frozen eggs – such oocytes need to be thawed first – before fertilisation. Statistically, approximately 50-80% oocytes are successfully thawed, and this means that the number of eggs intended for fertilisation will be smaller. Please ask the IVF clinic about the oocytes survival rates – as it may vary from clinic to clinic. That will let you estimate the number of oocytes that will be ready for fertilisation.
Your age – the maximum age of an egg recipient
In most countries, the law limits the maximum age for IVF (recipients) to 49 or 50. For egg recipients who are 50 and older, there are only a very few available destinations including North Cyprus, Ukraine, Latvia, Russia (in Europe) and the USA.
IVF clinics for patients over 40
In Europe, there are no restrictions on the treatment of patients over 40 years of age. Legal restrictions start at the age of 49-50. If you are between 40 and 49 years old, you can easily find a clinic that will legally treat patients using IVF techniques.
IVF clinics for patients over 50
If you are looking for an IVF clinic for patients over 50, your treatment options may be limited. Below you will find a list of countries that allow the treatment of patients over 50 years of age. Treatment options for patients over the age of 50 do not always follow the law. In some countries, clinics themselves decide whether to treat, for example, a patient aged 55. In this case, clinics usually require, among others: additional tests and a certificate from a gynaecologist that there are no contraindications for pregnancy.
IVF with donor eggs abroad for married couples and single woman
If you have a husband or a partner, the egg donor IVF programme is open to you in any country of your choice. However, if you are single, the list of overseas clinics that offer IVF or IVF with donor eggs is narrowed down to:
Find Egg Donation Clinics Abroad
IVF with egg donation programs for lesbian and same-sex couples
If you are interested in undergoing IVF with donor eggs for same-sex couples, your choice of overseas destinations will be limited to:
Same-sex couples and single woman IVF treatment is not allowed in:
IVF abroad – costs
Fertility treatment costs vary from country to country but you shouldn't assume high costs necessarily mean better care services and higher success rates.
Read more about Egg donation success rates.
The most popular destinations chosen by patients from all over the world offer safe fertility treatment and high success rates of IVF with donor eggs. IVF cost abroad is usually lower than in the home country – and this is one of the reasons patients are travelling for an IVF treatment.
The average cost of an IVF donor egg cycle in countries that are most often chosen by international patients
The cost of IVF treatment abroad also varies between clinics in a given country. The differences in treatment costs can be significant. They may result from many factors, e.g. the services that the egg donation program includes, e.g. the number of eggs from the donor, additional techniques performed in an in vitro laboratory, guarantees or other. In every country you will find clinics that are very cheap and those that are very expensive. Our recommendation is to focus on the average priced clinics.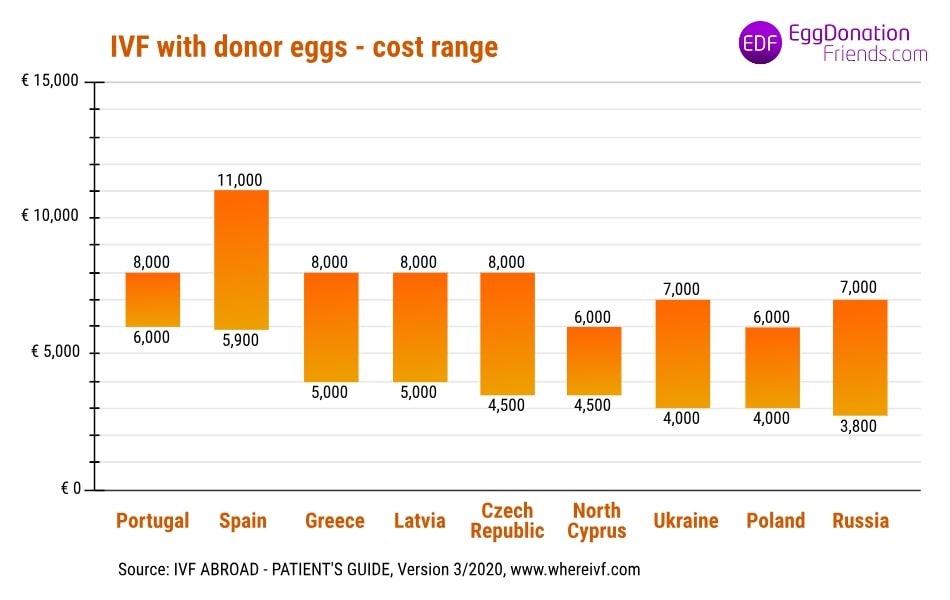 IVF with donor eggs - cost comparison
Egg Donation IVF in Spain
€5,900 – €11,000
Egg Donation IVF in Czech Republic
€4,500 – €8,000
Egg Donation IVF in North Cyprus
€4,500 – €6,000
Egg Donation IVF in Greece
€5,000 – €8,000
Egg Donation IVF in Ukraine
€4,000 – €7,000
Egg Donation IVF in Latvia
€5,000 – €8,000
Egg Donation IVF in Portugal
€6,000 - €8,000
Egg Donation IVF in Russia
€3,800 – €7,000
Egg Donation IVF in Poland
€4,000 – €6,000
Find Affordable Clinics Abroad
Country comparison for patients who need egg donation abroad
For international patients who are planning to undergo egg donation abroad, eggdonationfriends.com have specially prepared a detailed comparison of the most popular destinations. Below you can find countries which offer full anonymity and infertility treatment safety.
The most often chosen destinations for IVF egg donation abroad based on the patient's country of residence:
| Patient's home country | The most often chosen destinations | Other frequently chosen destinations |
| --- | --- | --- |
| UK | Spain, Czech Republic, Cyprus | Greece, Ukraine, Russia |
| Ireland | Czech Republic, Spain | Cyprus, Greece |
| Australia | USA, Czech Republic | Ukraine, Greece |
| Germany / Austria / Switzerland | Czech Republic, Spain, Portugal | Ukraine, Cyprus, Greece, Portugal |
| Netherlands / Belgium | Spain, Czech Republic | Cyprus, Greece |
| Norway | Ukraine, Latvia | Cyprus, Greece |
| Sweden | Czech Republic, Russia, Ukraine | Poland, Cyprus, Greece |
| Finland | Latvia, Russia, Ukraine | Czech Republic |
| Italy | Spain, Czech Republic | Italy, Portugal, Cyprus, Greece |
| France | Spain, Czech Republic | Cyprus, Greece |
| Spain | Spain, Portugal | |
| Poland | Czech Republic, Latvia, Poland | Spain, Greece |
| Russia | Ukraine, Latvia, Spain | Spain, Czech Republic, Poland |
| Canada | Spain, Czech Republic, Ukraine | Cyprus, Greece |
---
Estonia, country of choice for many Scandinavians and Baltic region residents for fertility travel should be added to the list of popular destinations for IVF in Europe. If you wonder why this should be so, you should know that there are many egg donors available and the clinics' high standards speak up for themselves. Quality of the treatments have their price and you are looking at 3,000 Euro charge for treatment with own eggs and between 5,000 to 6,000 Euro with donated ones.
The other destination for patients from the U.S. to consider is Mexico. Our opinion is based on the number of positive patient reviews we receive from the U.S. and specific follow up investigations we have undertaken. So, why would anybody choose Mexico for treatment? One of the main reasons is logistics – it is simply more convenient to fly to Mexico rather than Europe; however the second reason is the price range which is on average 50 to 60% lower than in any U.S. clinic.
---
If you need help choosing an IVF Clinic Abroad
Spare 3 minutes of your time. You will save at least a few hours.
If you are looking for an egg donation clinic abroad, use the eggdonationfriends unique patients tool – Clinic Matching Test. Our consultants will analyse your needs and choose 3 overseas clinics which match your expectations. Our database of IVF centres includes only trusted fertility clinics which have experience in providing high quality services to international patients. The suggested IVF centres will contact you directly within 3 working days. Spare 3 minutes of your time – you will save at least a few hours! Our assistance is free of charge.
Fertility Forums and Support Communities
When searching for overseas clinics many international patients access resources that are available on the Internet. You can visit national or international infertility support communities to check out reviews and comments. Here are a few:
While visiting national and international forums and support groups you will find dedicated threads and discussions about IVF with donor eggs, IVF in Europe, success rate of fertility clinics and patients' experiences. There are discussions about cost, IVF or infertility treatments abroad. You may also find reviews and experiences of international patients who have undergone IVF or donor egg IVF at IVF centres across Europe and other countries.
You are welcome to visit eggdonationfriends.com a site that is used by international patients who search for trusted overseas clinics offering successful donor egg IVF programs. The site gives insights into top IVF clinics abroad and you will also find reviews written by international patients. For those who are starting their infertility journey we highly recommend visiting the egg donation FAQ section where you will find lots of content regarding the egg donation process and legal aspects. For those who have undergone a few IVF procedures and are still struggling to have a baby, we suggest looking at IVF Webinars – the IVF topic orientated videos by top IVF experts.
IVF abroad – Frequently Asked Questions (FAQ)
What is the best IVF clinic in Europe?
The best IVF clinic in Europe is the one that will meet your expectations, giving you professional treatment options within your budget. In each of the popular IVF countries, you will find clinics that have both broad experience and great medical teams. There is no "best IVF clinic" for all patients. Each patient has different expectations and a different medical situation – that is why choosing an IVF clinic is a very individual matter. What does the term "best IVF clinic" mean? Most patients, when using this term, mean the clinic that will enable them to have children. However, remember that IVF treatment is not 100% effective – but in good clinics, a failed IVF cycle is treated as a diagnostic stage from which conclusions can be drawn for the future.
Which country is best for IVF?
The best country for IVF is the one where you can undergo IVF treatment legally and, at the same time, the one that meets your budget expectations in terms of treatment, travel and accommodation costs.
Different countries regulate IVF treatment options differently – therefore not all patients can benefit from the treatment in all popular countries. In particular, pay attention to the maximum age of the patient who can be treated with IVF methods and the patient's marital status. There are restrictions in this regard in various countries and there may be different possibilities for married couples, single woman or lesbian couples. The budget is also an important aspect as the costs of IVF in popular countries and clinics can vary significantly. For example, in Europe the costs range from 3,000 EUR to even 10,000 EUR. Besides, you should pay attention to the availability of flight connections from your country. It is worth remembering that IVF treatment is a long process and it may require several visits to the clinic abroad.
For the patients who wish to undergo IVF with donor eggs, the availability of specific type of egg donors will be an important factor. You have to remember that the availability of eggs donors varies considerably between countries.
Which country has the highest IVF success rate?
According to the ESHRE report (ART in Europe, 2016: results generated from European registries by ESHRE) which includes the data on treatment effectiveness in Europe, pregnancy rates ranged from 13.2% to 57.1% in fresh cycles after IVF or ICSI. For egg donation cycles – most cycles were carried out in Spain, Russia, the Czech Republic and Greece. Pregnancy rates per embryo transfer for cycles with fresh oocytes from a donor are 49.4% on average and for thawed oocytes – 41%. There is a high variability in outcomes for the different countries, ranging between 9.7% and 66.5% for fresh donor eggs and between 29.5% and 67.4% for frozen donor eggs.
The ESHRE report shows IVF treatment effectiveness per country – but remember that these are only statistics. In each country, there are clinics that are either more or less effective in terms of IVF treatment.
How do I choose an IVF clinic abroad?
Choosing an IVF clinic abroad is a challenge for most patients. Most of them choose the clinic basing on the opinions of their friends and acquaintances. Others are looking for information available on the Internet, e.g. on websites with clinic profiles, forums or other patients' reviews. Regardless of how you are looking for the best clinic for you, it is worth paying attention to the following factors:
What experience does the clinic have in treating patients with similar problems to yours?
How many IVF cycles does the clinic perform every year?
What is the experience of doctors and embryologists in the clinic?
How easy it is to contact the clinic – is the clinic responsive or is the contact difficult?
And then, if you find the clinic that meets your expectations, always ask what success rates you can expect in your individual case, taking into account your treatment history and the cause of infertility. In case of Europe, patients most often choose IVF clinics in Spain, the Czech Republic, Greece, Cyprus, Ukraine and Russia.
Where is the most successful IVF clinic in the world?
In each of the popular IVF destinations, there are IVF clinics which have high treatment effectiveness for certain groups of patients. You can find clinics offering good treatment results in Spain, Greece, Czech Republic, Cyprus, Ukraine, Russia and many other IVF destinations abroad. However, there is no single best IVF clinic with the highest treatment effectiveness for all patient groups.
Which clinics offer IVF treatment for patients over 50?
IVF treatment in popular countries is regulated by law. Patients over 50 can be treated in North Cyprus (up to 58 years of age). In Ukraine, Latvia and Poland – there are no legal provisions regulating the maximum age of a woman so IVF clinics independently decide up to what maximum age they offer IVF treatment-  usually until around 55 years of age. In other popular destinations, IVF treatment is usually limited to the age of 49-50.
Find Egg Donation Clinics over 50
The number of international patients on our platform has been increasing every month. In 2022 eggdonationfriends helped over 8,000 couples from the UK, Ireland, Australia, Canada, Germany, Austria, Switzerland, and the Netherlands, amongst others to find the right IVF clinic abroad and to complete the dream of having a child.