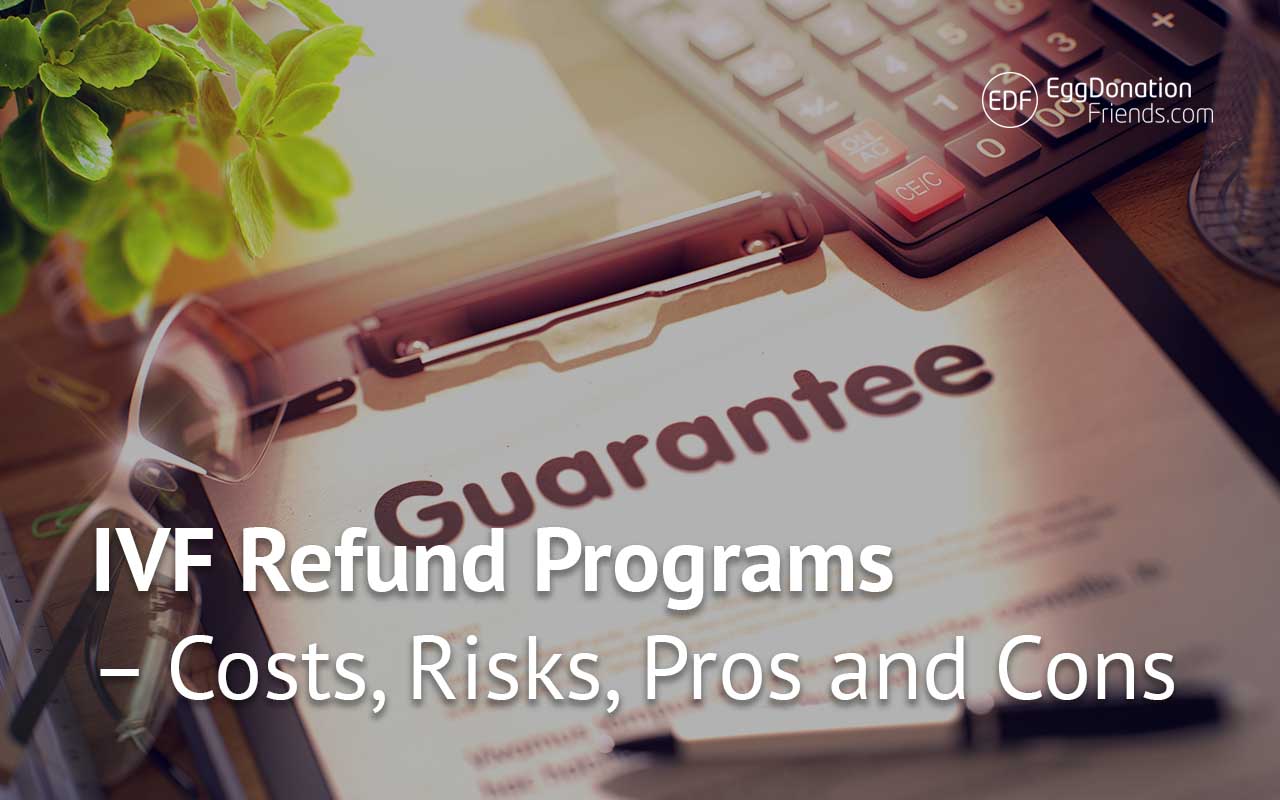 What are

IVF Refund

or

IVF Money Back Guarantee

Programmes?
IVF Refund Programme is a term used for financial IVF programs. They give the patient access to two or three IVF cycles for a single payment. Usually fresh embryo transfers and extra frozen embryo transfers are included in the price. Cost of IVF Refund programmes in Europe ranges from €10,000 to €20,000 depending on the type of programme and the country.
A multi-cycle IVF refund programme means that the treatment continues until the desired result. It may refer to either a clinical pregnancy or a live birth – or until all of the program's cycles are completed. If the IVF programme ends successfully, the clinic will not return your money. However, if you don't achieve your goal, you can count on a partial or full refund of the costs.
IVF Money Back Guarantee programme specification and cots:
IVF Refund / IVF Money Back Guarantee in Europe
Average cost of IVF Refund programme
€17,000
Average no of cycles included in the package
3
Expected success rate average
85-99%
Services included in the package
visits, ICSI, Blastocyst culture, embryo freezing, frozen embryo transfer
IVF Refund Programme qualification restrictions
BMI
Expected outcome
pregnancy / 12th week or live birth
Refund amount
100%
IVF Refund or IVF Money Back Guarantee – what exactly is guaranteed?
Programmes with a "guarantee" are becoming more common. It is, however, worth noting that despite their increasing popularity, the terms and conditions attached to such programmes can sometimes be complicated and sometimes confusing. As we all know, there are no "guarantees" in medicine – every doctor can attest to that fact. Thus, the only guarantees we can talk about are financial in nature, that is, a refund guarantee in case the IVF programme does not end with the desired result.
Clinics don't advertise IVF guarantee programmes using the phrase "success guaranteed" anymore. These days, you're more likely to encounter these types of treatment under any of the following terms:
IVF Guarantee – this name is the most misleading and shouldn't be used
IVF Refund
IVF Money Back Guarantee
IVF Shared Risk/

Shared IVF Success Programme
Why are IVF Refund programmes increasing in popularity?
There are many reasons why IVF refund programmes are becoming increasingly popular. Reasons include:
the possibility of detailed treatment cost planning on the part of the patient
and the possibility or a "guarantee" of receiving a full or partial refund in case of failure.
Both are valid reasons to consider an IVF Refund programme.
Types of IVF Refund and IVF Money Back Guarantee programmes
IVF Refund and IVF Money Back Guarantee programmes can be further divided into:
Programmes which aim to achieve a clinical pregnancy, usually defined as reaching the sixth, seventh or twelfth week of pregnancy
Programmes in which the main goal is the live birth of a child
IVF Refund programmes in which the patient doesn't receive a refund if the treatment is successful
IVF Refund programmes in which the patient receives a partial refund if the treatment is successful
It is also worth noting that refund programs for IVF are available both for treatment using the patient's own eggs, as well as donor eggs.
IVF Refund Programme – is it for me?
Remember that no matter what the programme offers and whatever it's called, what the clinic actually offers is a refund "guarantee" in case the treatment does not conclude with satisfactory results. Should you then use such a programme? Simply put – if finances are an important aspect of your IVF treatment and you can afford it, then yes – you definitely should consider an IVF Refund programme.
Find IVF Refund Programes in Europe
Pros and Cons of IVF Refund programmes
IVF Refund Programme – Pros
A full or partial refund in case of an unsuccessful IVF treatment, which can be put towards further treatments
The clinic is motivated to achieve a success as quickly as possible – after all, a money refund is on the line
If you use all of the IVF cycles within the programme, the overall cost becomes cheaper than if you were receiving the same number of cycles outside the programme, oftentimes the "ivf guarantee" option turns out to be cheaper
You can focus on your treatment instead of your finances – because you're covered by a programme and have more cycles available
Every cycle assigned to your programme will be performed at the same clinic. Often patients switch clinics after a failed attempt. That's not always the smartest choice, as sticking with one clinic allows staff to hold more of an insight into your medical history.
Financial planning of your treatment is easier, since it's easier to estimate the total cost of the programme.
IVF Refund Programme – Cons
If you achieve your desired result during the first cycle, you'll end up paying more than you would when paying for a single cycle outside of any programme (that's why we're talking here about 'IVF shared risk' finance programmes).
Not every patient qualifies for an IVF Refund programme. When it comes to treatments using donor eggs, the qualifications for the patients are relatively lax. If you're set on using your own eggs, it becomes much harder to qualify, as the financial risk for the clinic becomes higher
Higher entry cost for such programmes
You may check the list of clinics offering IVF Refund programes here.
IVF Refund Programme qualification
Patients considering signing up for an IVF Refund programme will need to pass medical tests in order to qualify for treatment. Couples where men have low quality sperm, for instance, are disqualified from partaking in such programmes. Different clinics have their own criteria for judging sperm quality. Some use the latest WHO directives, while others have their own standards dictated by their own experience.
Some clinics also require a karyotype test, which isn't cheap (average prices: Spain €300, Greece €250, Britain €600). It only needs to be performed once during a patient's lifetime. In egg donation treatments, the female doesn't need to undergo karyotype testing – genetic material from the donor is used.
Is the patient age's and BMI a factor when qualifying for an IVF Refund programme?
In the case of IVF treatments using donor eggs your age doesn't play a role. However, many countries have different legislative and statutory guidelines limiting treatment based on a patient's age – usually this is around 50. In the case of treatments using your own eggs, however, your age will be the basic qualifying factor. Usually the maximum age is 39 years. It also needs to be noted that patients aged 37 to 39 receive smaller refunds. Sometimes as low as 50% – when compared to younger patients using IVF Guarantee programmes.
An important requirement for an IVF Refund Programme is an appropriate BMI (Body Mass Index). In IVF with donor eggs programmes, maximum acceptable BMI is 35. In cases of higher BMI values, around 35 for instance, the clinic may recommend performing additional tests.
Sample terms and conditions for an average Donor Egg IVF Refund programme in a Spanish clinic include :
Hormone tests
Endometrium quality test (transvaginal ultrasound scan)
Male partner: semen analysis and karyotype
Maximum patient age: 50 (due to Spanish law)
Tests take place at the clinic. While the qualifying tests aren't free of charge, their cost may be deducted from the total cost of the programme if you qualify.
IVF Refund programme cost
The total costs of an IVF Refund Guarantee programme can range from €10,000 to €25,000. It does not fall within the definition of affordable fertility treatment, does it? When compared with the price of a single donor egg IVF treatment, it's in fact much more expensive. What drives the price of such a programme?
The type of treatment – IVF using your own or donor eggs (egg donation)
The desired result – clinical pregnancy or live birth; programmes aimed at achieving a live birth are more expensive, since the success rates aren't as high
The number of IVF cycles, frozen embryo transfers and additional IVF Laboratory techniques covered by the programme
Additionally, the IVF Refund Programme cost is affected by the same elements that dictate the price of a one-off IVF treatment. This includes the number of donor eggs received by the patient and additional procedures in an embryological laboratory (such as ICSI, developing blastocysts etc.). Clinics which offer such programmes often include additional services and procedures. Techniques which may increase the success rate of treatment in order to minimize the risk of failure (or the risk of a refund, if you prefer).
The cost of medications for the patient is sometimes not included into the programme's costs. These medications, which help prepare the uterus to receive the embryo, can cost up to €400, depending on the country.
Another additional cost would occur if you use donor sperm which can cost between €1,200 and €1,500 on average.
PGT-A, or as it used to be known, PGS diagnostics, are often not included in programme prices either. If you're considering signing up for such a programme, make sure you ask if these additional costs are factored into the programme price.
The total cost of an IVF Refund programme is also influenced by the country the clinic is located in. Programmes in Spanish clinics are more expensive than those in Greek, Chech or Ukrainian IVF clinics, because the treatment costs are higher in Spain.
IVF Refund and IVF Money Back Guarantee Programmes in Europe
IVF Refund programmes are often offered by external companies which work directly with IVF clinics. The external company offers financing for IVF costs, while the clinic provides the treatment. While this sounds unusual, you can be assured that companies providing patients with fertility treatment financing opportunities are sufficiently experienced and enjoy a solid reputation. Once you make your payment to the external company, no further payments need to be made at the clinic itself.
Below you can find the costs of IVF Refund programmes with donor eggs in Europe, North America, India and Malaysia with the expected outcome – a live birth:
IVF Refund Programme cost using donor eggs, with live birth as the stated goal
Country
IVF Refund Program Costs
using donor egg
Spain
€18,000
Czech Republic
€16,000
Greece
€16,000
Cyprus
€16,500
Portugal
€16,500
Georgia
€12,000
Mexico
€16,500
Nicaragua
€16,000
India
€17,000
Malaysia
€20,000
United Kingdom
€24,000
USA
€45,000

As you can see, the United States and the UK are definitely the most expensive destinations for such treatment. For this reason, a lot of American and British patients choose to sign up for IVF Refund programmes in Europe. More about IVF Refund programmes in the US is available here. If you're looking for IVF Refund Programme in the UK – read this article in the Guardian regarding IVF Money Back options in the UK.
Who pays for the IVF Refund programme?
If we take a closer look at the financial model upon which egg donor programmes with money back guarantees are based, we may come to a conclusion that it's a 'Shared Risk' solution.
What this means in practice is that patients who quickly achieve success in their treatment finance the treatment of those who need more time. They also cover the risk of the clinic offering such treatment. This is exactly how any shared risk programme works and is acceptable as long as you, the patient are fully informed of the process.
I'm interested in a refund guarantee IVF prograe – where to start?
Are you interested in signing up for an IVF Refund Guarantee programme (aka Shared Risk IVF Programme) and aware of the costs associated with such treatment? Please check a list of clinics offering IVF Refund programs here >>>