EggDonationFriends have had the pleasure to interview Dr. Uliana Dorofeyeva, the Medical Director of First Egg Bank and Dr. Ruslan Chervak, the Managing Director. We talked about First Egg Bank history of creation, egg donor selection criteria, oocytes and embryos survival rates, problems of non-anonymity for egg donors, about growing demand for frozen donor eggs from IVF clinics and infertile couples.
First Egg Bank – European Bank of Oocytes
First Egg Bank is a trusted European egg donor bank, located in Belgium that was launched in 2008 and is a part of Medicover Fertility Family.  Over the 8 years of intensive work 20 international partnerships with key fertility clinics on 5 continents were established. They supply the highest quality vitrified donor oocytes and sperm samples.
EggDonationFriends: The first and logical question would be about the history of the egg bank and your cryoshipping offer. Please, tell us about the idea for creating this kind of business.
Dr. Ruslan Chervak: We understood that patients often need to travel for their fertility treatments. The idea of cryoshipping followed naturally together with First Egg Bank's rapid development on international. At present, we provide services for fertility patients all around the globe.
We have analyzed legislative bases of different countries and found out that most of the countries have a possibility to import biological materials. That was good news for us and for many fertility patients in various countries. We also spent a lot of time developing good business strategy. We approach international clinics with offers to import biomaterials obtained from First Egg Bank – it is beneficial both for clinics and for intended parents. Thanks to the technology of cryoshipping patients do not have to travel themselves to deliver the samples. It is extremely convenient.
EDF: Frist Egg Bank offers frozen donor eggs of high quality. Can you please describe in details your product line and your criteria of quality evaluation?
Dr. Uliana Dorofeyeva: We have 17 years of experience in IVF field and 15 years of experience working with donor materials. Our first international cooperation started in 2006. All our patients and customers can be sure that donor selection is performed really carefully and we know all the factors that influence quality.
How do we select our egg donors? All First Egg Bank egg donors are young, healthy, medically fully screened and we constantly monitor the clinical and embryological statistics of oocytes used by our bank.
The last stage of selection starts when the oocytes and sperm gets to the embryologist where the final selection of the material of highest morphological quality and its cryopreservation are performed.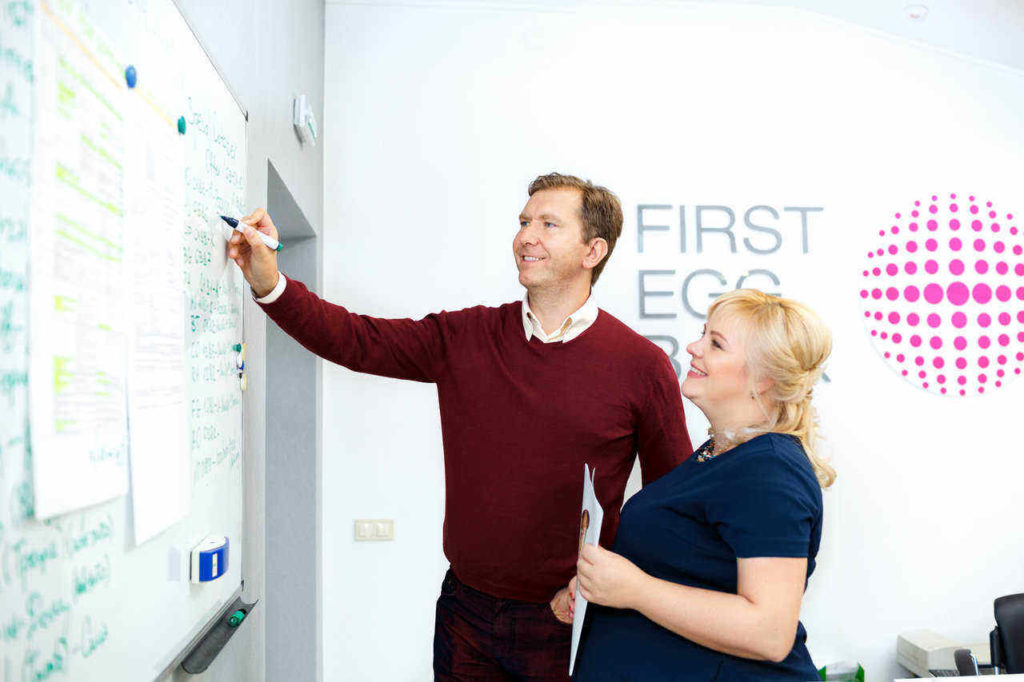 EDF: How does your bank solve the problem of non-anonymity for egg donors required by legislation of some countries?
Dr. Uliana Dorofeyeva: First Egg Bank works with clinics where there are also various legislative frameworks in respect of egg donor candidates and their anonymity or non-anonymity. One of our clinical bases has legally non-anonymous egg donors. These women, despite the signing the contract and undergoing all the necessary tests and screenings, sign consent on the potential and possible disclosure of their anonymity to a child born as a result of using their eggs. There are more than 75% of donors who are non-anonymous in our egg donor database; that is why there are no restrictions for us to provide such services.
EDF: What success rates can you guarantee to your customers?
Dr. Uliana Dorofeyeva: We can provide guarantees to our partners because we are confident in the quality of our material. We guarantee no less than 80% of survival rates for vitrified oocytes, and there are also schemes of compensation according to the number of oocytes in the set and the guaranteed number of embryos of a certain day of cultivation. It is always a guarantee of the embryo transfer for patients. Depending on the number, it can be cycles in which we count not only the percentage of pregnancy and transference, but also the percentage of the cumulative pregnancy, since we often have several embryo transfers from one ordered set.
EDF: If eggs don't survive, do you have any compensation schemes?
Dr. Uliana Dorofeyeva: It is really important for us to receive the results of First Egg Bank's oocytes survival in other partnering clinics. Our professionals can analyse stable plan and a document called "efficiency report" where each procedure performed on oocytes is described in details.
We also look at cryotolerance and most of our donors in First Egg Bank's data base are tested when we have the results of vitrification of their oocytes. The donors can donate several times. If we know that previously the eggs were successfully thawed, fertilized and developed fine and we had embryos of good quality, it means that there might be another problem in the lab, sperm or on the embryologist's side. That is why, when oocytes do not survive we offer our compensation scheme.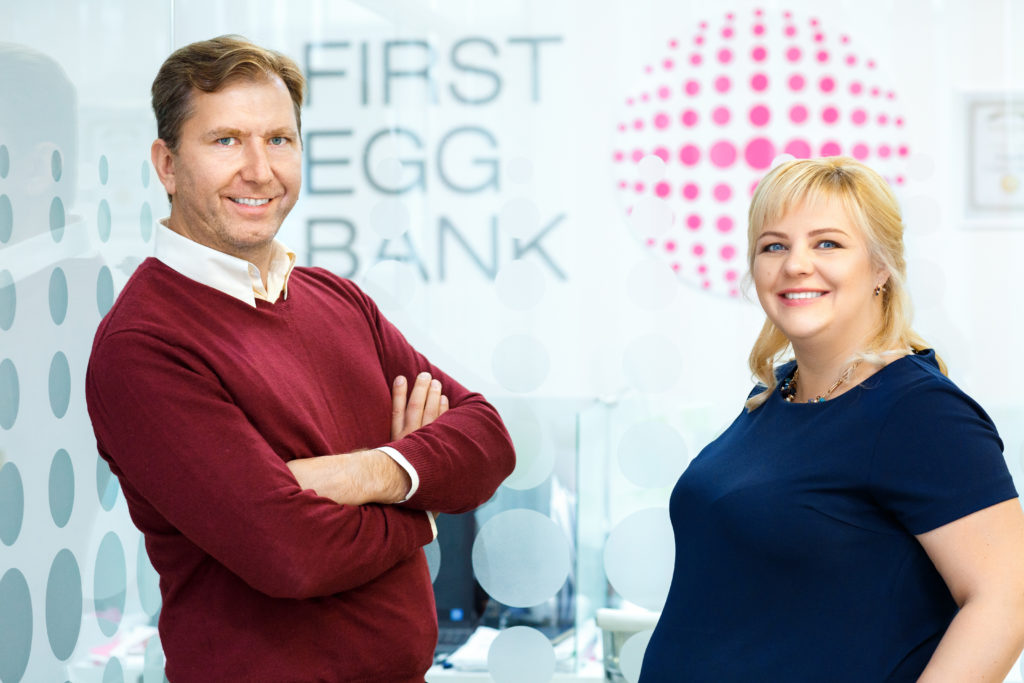 EDF: First Egg Bank offers door-to-door delivery. What service do you use for such cryoshipments? What are your guarantees for transportation survival rate?
Dr. Uliana Dorofeyeva: First Egg Bank guarantees high survival rates and the final result for a partner clinic. We understand that many factors such as control systems of the environment, dewars (cryoshipers), nitrogen level, temperature, level of gases and etc. can affect the quality of eggs, their secure storage and their transportation.
When biomaterial is transported from our clinic to the clinic where it will be used, we prefer to use our own delivery of biological material. We have our own team of specially trained IVF couriers, who have all the information in order to ensure the fact that there will be no violation of temperature regime during the flight, aviation security control and can deliver this material to its destination safely.
EDF: What are your plans for development on the international market in the next 5-10 years?
Dr. Ruslan Chervak: Today we can be proud of the best experts in the field of embryology we work with and our collaboration with institutions without any special requirements and regulations, such as Israel or Macedonia and with clinics accredited by HFEA and EU directives. We work with clinics from 5 continents.
We are in compliance with most of the legislation of our partner clinics' countries. First Egg Bank development continues to acquire new certifications. This helps us actively cooperate with the clinics in Europe and Great Britain.
We believe we, together with the clinics, are all working to create new lives.
If you are looking for an egg donor for your IVF treatment, go to EggDonationFriends Egg Donor Database to find your match.