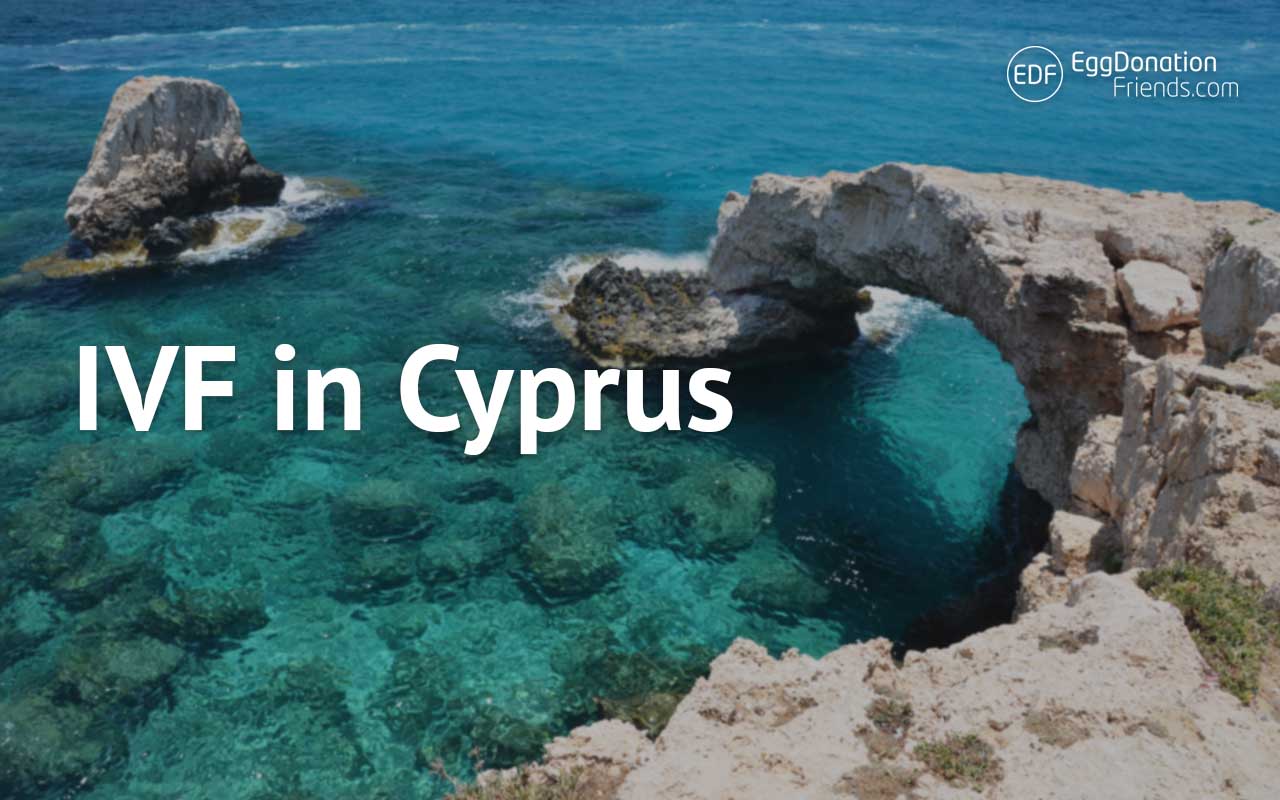 Why should I choose Cyprus for my IVF treatment?
Cyprus is one of the most favourite holiday destinations for many Europeans and also a very popular place for fertility treatment. Affordable prices, accessible and high quality healthcare, liberal laws and a broad range of IVF treatment options are an undeniable advantage for people who want to fulfill their dreams of creating a family.
It is worth mentioning that the island has been divided politically into North (the Turkish Republic of Northern Cyprus) and South (the so-called 'Greek' Cyprus, officially the Republic of Cyprus) for over 40 years. While it does not have much influence on the quality of fertility services, it is important in terms of laws and regulations. The Republic of Cyprus belongs to the European Union and as such, it falls within all the regulations and legal proceedings common for all the member states. Because of that it might be more willingly chosen by EU residents.
Cyprus vs Nort Cyprus – please note:
Most patients who are thinking about treatment in Cyprus – in fact go to Northern Cyprus. This is due to the fact that the majority of people communicating treatment in Northern Cyprus (e.g. on Internet forums) use the name "Cyprus". Another element that makes Northern Cyprus popular is much lower IVF treatment costs than in Cyprus.
[button linking="default" link="https://www.eggdonationfriends.com/ivf-egg-donation-country-north-cyprus/?gsource=cyprus" align="left" size="medium" type="standard" style="solid" icon="" title="Read more about IVF in North Cyprus"]Read more about IVF in North Cyprus[/button]
IVF treatment options in Cyprus
Cyprus is surely one of the most attractive destinations for IVF patients, both in terms of quite liberal regulations and the availability of treatment options. Heterosexual couples and single women can be treated and the upper age limit for IVF treatment is 50. Surrogacy is allowed as well as egg freezing. Embryos, eggs and sperm can be stored for 10 years and then renewed if required. Similar to other European countries, sex selection is allowed only for medical reasons and not for family balancing purposes.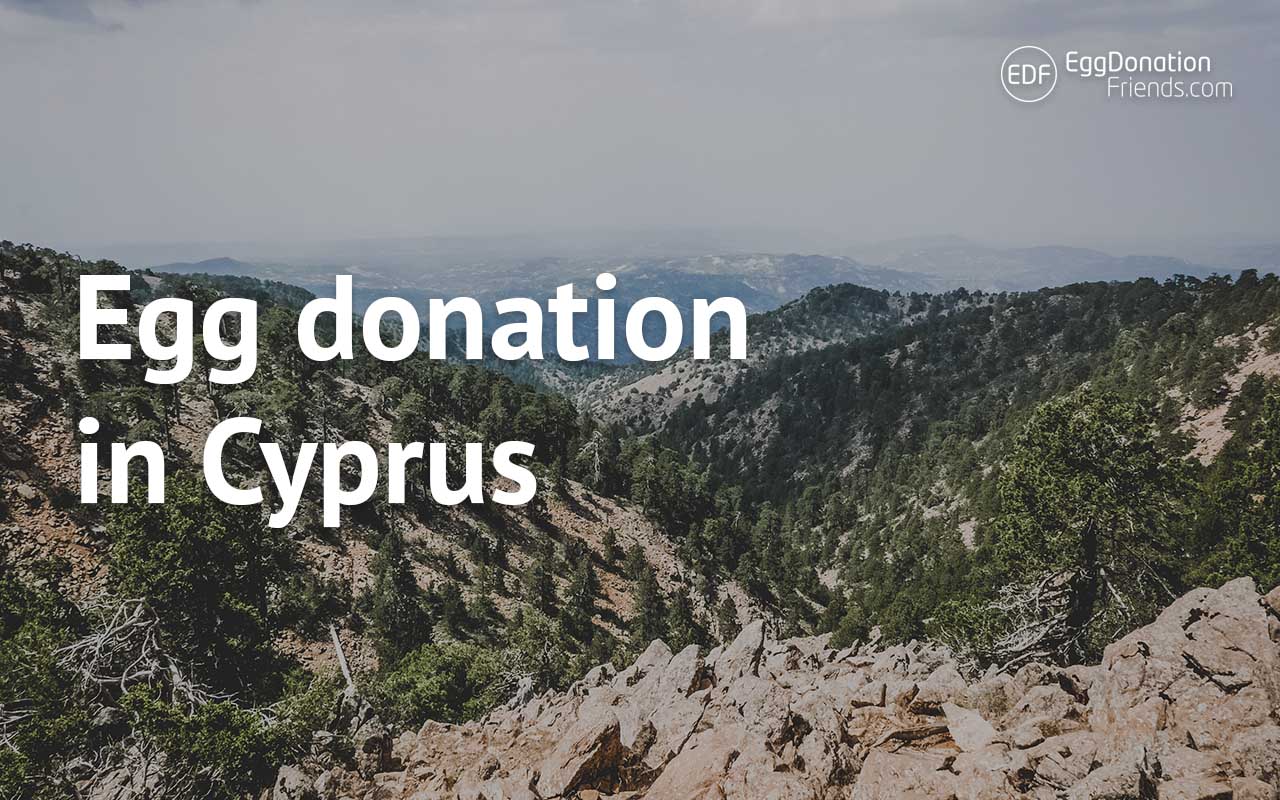 Egg donation in Cyprus
In Cyprus egg donation is still anonymous which means that there are a good number of donors and no waiting lists.
In southern Cyprus, the Ministry of Health runs a central register of egg donors who are not able to donate more than once in Cyprus. However, they can still donate to non-Cyprus residents according to the donation restrictions imposed in their country of residence.
Egg donor information available in Cyprus
In Cyprus, egg donation allows for the full anonymity of its donors. They may keep their personal information private for the rest of their life. Egg recipients, on the other hand, still get access to a lot of important information that may be helpful in making decisions concerning their future families. Patients often want to know the nationality, height, skin, hair and eye colour of the donor in order to be able to imagine how their future child will look like. In Cyprus this all this information is made available to them, as well as important facts like donor's age, weight and blood type. Besides, it is also possible to learn what donors' educational background and occupation are and one can access their previous donation history, too.
Egg donor qualifications
In South Cyprus the maximum allowed age for an egg donor is 35. By law, both egg and sperm donors have to be tested for sexually transmitted Diseases (STDs), such as HIV 1&2, Hepatitis B surface antigen (HBsAg), Hepatitis B core antibody (anti-HBc IgM), Hepatitis C (HCV), Syphilis (VDRL) and Cytomegalovirus antibody (CMV IgM). They are also screened for genetic conditions such as Thalassemia trait (Hb Electrophoresis) and undergo tests for the quantitative measurement of luteinizing hormone (LH), follicle-stimulating hormone (FSH) and estradiol (E2). Unfortunately, karyotyping is not universally offered but it is available in some clinics.
Apart from all above, the donor qualification process includes a general psychological and hematological check-up as well as a standard interview. In order to ensure that a donor meets medical requirements and general eligibility criteria, a potential candidate has to answer questions regarding his or her immediate family history, medical history and gynaecologic health issues including previous donations and pregnancies. They are also asked about basics such as education, work and hobbies as well as sensitive information regarding drinking, smoking and using illegal substances.
Embryo donation in North Cyprus
Embryo donation, known as the IVF treatment option with the highest success rates, is allowed in Cyprus. The maximum number of embryos permitted for a single transfer is 2.
IVF and egg donation cost in Cyprus
In Cyprus, egg donation treatments are affordable but yet pricey – especially when looking at other European destinations. You can compare the average costs of egg donation treatment in Cyprus and other countries on the graph below.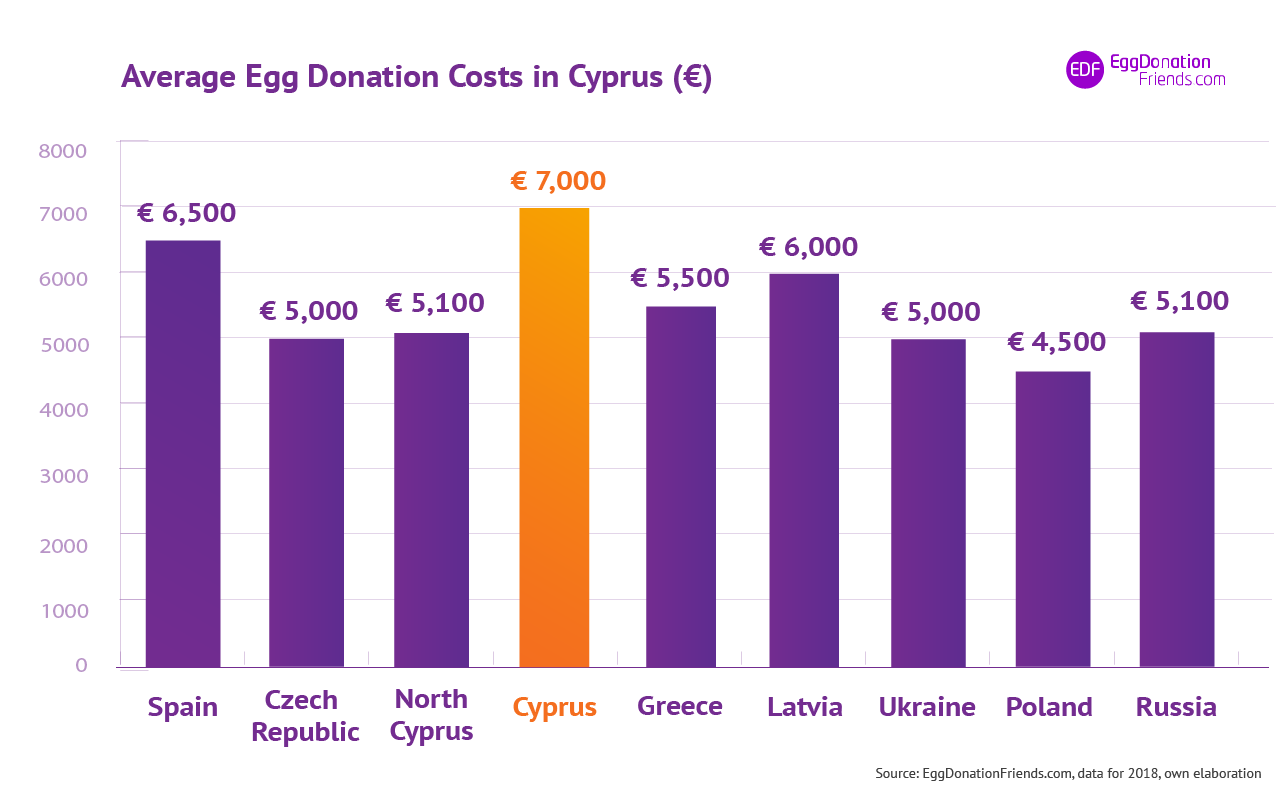 Remember that you should not be misled by the prices advertised by IVF clinics. Always ask about hidden costs and additional services in order not to be surprised by the total payment amount. We highly advise you to enquire if the presented price includes the following components:
the donor's fee, her medications and screening (if you're interested in egg donation)
egg retrieval
sperm collection and sperm preparation
ICSI
assisted hatching (or any other IVF procedures you need)
transfer of blastocysts
vitrification (freezing) and storage of embryos/blastocysts
IVF Law and success rates
Unlike North Cyprus, Cyprus has both the Assisted Reproductive Technology (since May 2015) legislation in place and a competent governing body that gathers information on infertility clinics in the country and their results.
Because of the latter, the success rates of IVF treatments in Cyprus can be found in ESHRE2 report. ESHRE is an independent European authority that collects and publishes data about fertility treatments in member countries. The only thing you have to bear in mind is that their reports are published with a few-year delay. According to their 2014 report (published in 2018), Cyprus can boast the highest success rate for egg donation treatments – 59.40%.
Such an impressive result may be one of the crucial decisive factors for patients considering IVF treatment in the southern part of the island.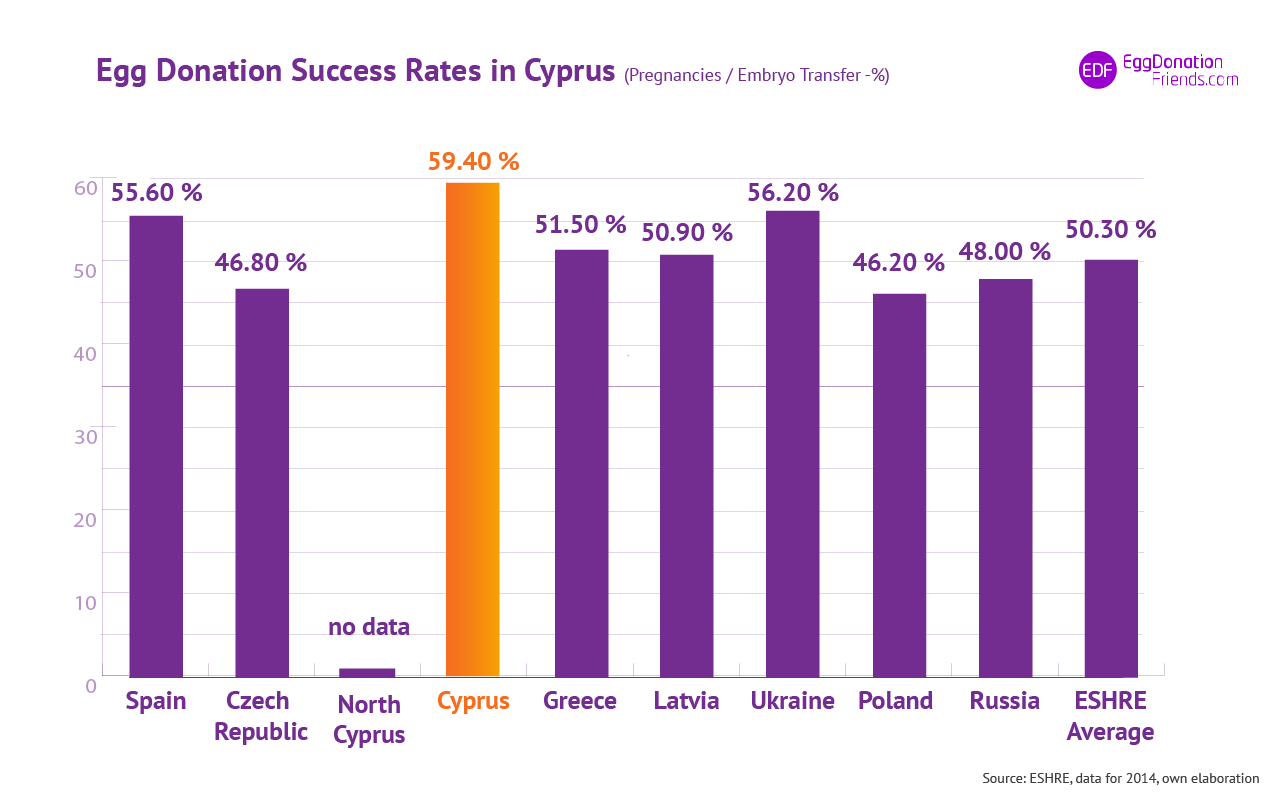 [space]
Your individual chances for a successful IVF treatment in Cyprus
Remember that average success rates shouldn't be the primary deciding factor for your choice of clinic. Each patient is different – they have place different emphasis and importance on infertility diagnoses and medical histories. As such, the prognoses for each patient can vary greatly and usually are different from the presented average success rates of each clinic. If you want clarification about a clinic's success rates, call the clinic before scheduling an appointment – describe your medical history in detail, including your age, weight, height, the infertility diagnosis, the number of failed cycles, performed tests and procedures etc. and ask for your individual success prognosis.
[space]
Resources:
1Eggdonationfriends.com, own elaboration, data for 2018
2The IVF Monitoring (EIM) Consortium is a group of representatives of national registries on assisted reproductive technology (ART), collecting data.
3Data comes from the 2014 ESHRE report, published in 2018.
https://academic.oup.com/humrep/article/33/9/1586/5055580