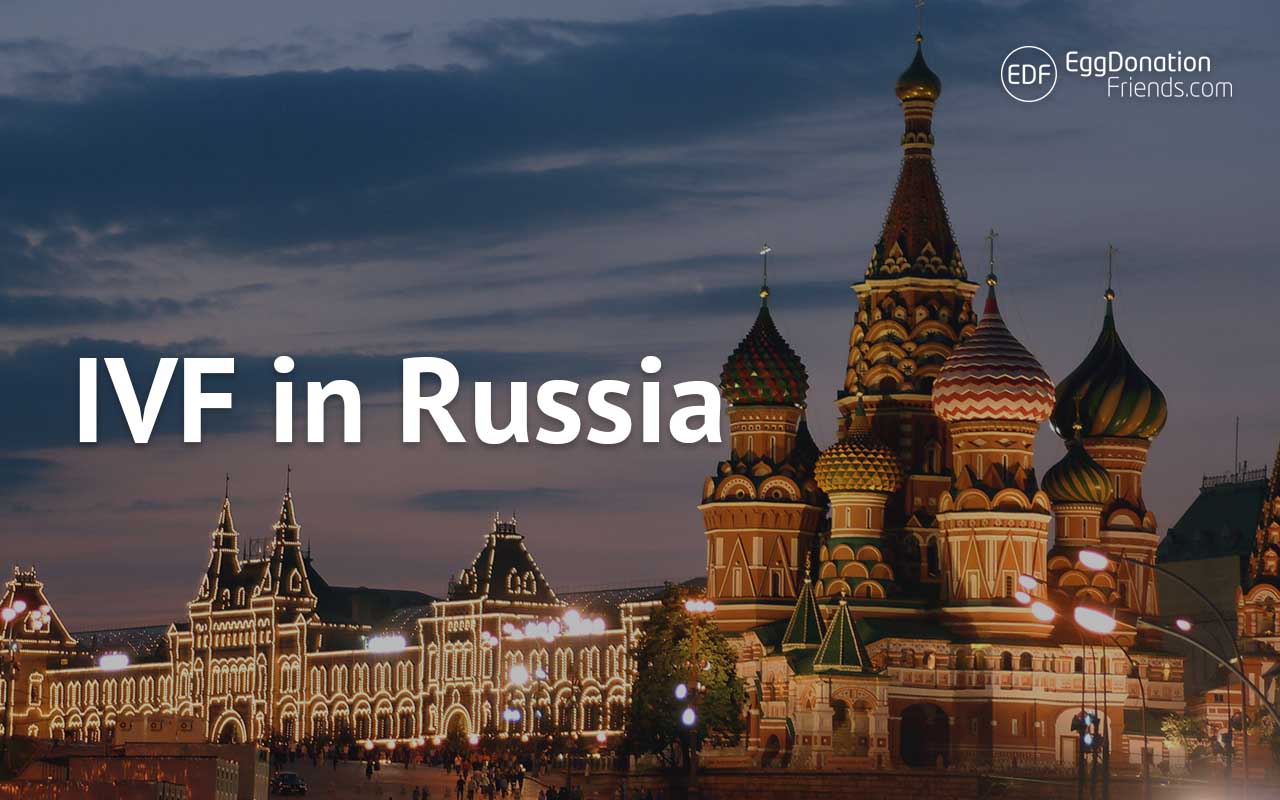 Why should I choose Russia for my IVF treatment?
Russia – famous for its rich history, proud culture and one of the world's top economies, the country is also home to one of the most extensive healthcare systems on the planet. Ever since the fall of the Soviet Union, private clinics and medical centers have opened their doors to foreign patients, attracting medical tourists from all over the world with attractive prices and good standards of care.
Find Best IVF Clinics in Russia
IVF Clinics in Russia
According to the 2014 report by the European Society for Human Reproduction and Embryology (ESHRE), there were 167 fertility clinics offering IVF treatments in Russia in that year, of which 133 reported the results of their treatments to ESHRE. These clinics are located mainly in large cities such as Moscow and St. Petersburg.
These clinics don't just serve domestic patients, however; due to a combination of rather flexible legislation and cheaper prices, Western fertility tourists often pick Russia for their treatment. As a result, English is widely spoken and foreign patients are well accommodated.
Most – but not all – Russian clinics submit data about their treatments to ESHRE, which in turn aggregates the results into yearly reports. Unfortunately, these reports come out with a significant delay – for instance, the report detailing the year 2014 came out in 2018. Below, you can view the most important data concerning Russian IVF treatment efficacy for the year 2014, as taken from that year's ESHRE report1.
IVF clinics in Russia- ESHRE data for 2014 (latest report published in 2018)
Number of IVF clinics in Russia
167
Number of IVF clinics in Russia reporting to ESHRE
133
Own eggs cycles performed in Russia
38,334

Donor eggs cycles performed in Russia
5,619
IVF donor eggs - success rates
(pregnancies/embryo transfer)
48.0%
IVF with own egg - success rates
(aspirations - egg retrievals / embryo transfer)
27.5%
The Russian Association for Human Reproduction also publishes its own annual reports, which are released slightly more often than their ESHRE counterparts. The latest such report details the year 2016 – according to it, 113,976 own egg cycles and 9205 donor egg cycles were performed in that year. Their success rates (calculated based on live births) were 21.3% (24282 live births from 113976 own egg cycles) and 24.59% (2264 live births from 9205 donor egg cycles), respectively.
IVF Treatment options in Russia
Basic information about IVF treatment in Russia – read before you go!
Russian clinics cater to a wide variety of patients. Single women are allowed to undergo treatment – the standing legislation, however, does not recognize same-sex relationships. As such, treatment may be denied to such couples. Unlike most other European countries, Russia does not have a set age limit for treatments. Because of this, clinics often resort to implementing limits recommended by international advisory bodies, such as ESHRE. When choosing a clinic, make sure you ask about their age limits.
Russian law differs from that in other European nations, as it allows for "non-anonymous" donation treatments. Don't let the name fool you, however – you're not going to meet your donor or learn their name or address. You can, however, receive access to their pictures – both as an adult and as a child – along with their physical characteristics, and other supplementary information, such as a recording of their voice. The precise amount and type of information, however, varies between clinics.
Anonymous treatments are also available, and these work similarly to how the process is conducted in European clinics; donors are matched based on the patient's phenotype. There is no nationwide donor registry, however; clinics keep their own donor records.
Modern diagnostic techniques are available to patients – PGS and PGD are widely offered to patients. Sex selection is allowed, although only in cases in which the child would be likely to inherit a genetic disorder carried through sex chromosomes.
Unlike most other countries, Russia also offers surrogacy services.
IVF and Egg Donation in Russia - basic information
Maximum patient age
51 years regardless of gender

IVF treatments for single women
Allowed
IVF treatments for lesbian couples
Not allowed
Maximum number of embryos to transfer
IVF with donor eggs
2
Maximum number of embryos to transfer
IVF with own eggs
2
Egg donor availability
Good
Egg donor age
18-35
Egg Donation in Russia
Egg donation treatments are available in Russia; the country's large population makes for a diverse pool of donors. European and Asian phenotypes are available, with a slight dominance of the former, reflecting the ethnic makeup of the country.
Like some other countries, Russia does not have a national registry of donors; instead, each clinic maintains its own database.
Find Best IVF Clinics in Russia
Egg donor information available in Russia
Russia's rather liberal laws don't enforce anonymity in donation treatments. Despite this, many clinics still perform treatments anonymously. Because of the way the laws are worded, different medical centres interpret anonymity slightly differently; for instance, at some Russian clinics, the patient can see pictures of the donor as a baby, hear a recording of their voice, and more. The line is usually drawn at the donor's personal information: their name, address, et cetera.
Egg donor qualifications in Russia
Regulations aren't lax, however, when it comes to donor qualification. People who wish to donate must receive a clean bill of health and meet very strict criteria – this is to ensure the process is safe for all parties involved. Among the tests a prospective Russian donor must undergo are:
HIV 1 and 2
Hepatitis B and C
Syphilis
Clinical blood count
Bloodwork: glucose, ALAT, ASAT, creatinine, bilirubin, general protein, urea
Coagulogram
Blood group
STD testing for chlamydia, gonorrhea, mycoplasm, ureaplasm, trichomonas, cytomegalovirus, herpes simplex 1 and 2
Pap smear
Breast ultrasound
Urinalysis
TSH and prolactin
Anti-Rubella, Anti-CMV, Anti-HSV testing
Bacterioscopic smear examination (vaginal, cervical, and urethral)
On top of all that, a prospective donor also requires a statement from their GP, confirming that there are no health problems present which could result in complications through the donation process. A psychological examination is also required – this ensures the donor understands the consequences and impact of their decision. For their trouble, the donors are compensated a nominal sum of around 900 euro (60,000 rubles).
IVF and Egg Donation cost in Russia
Russia is often chosen as a treatment destination by foreign patients due to the cost of treatment. The country offers results and a standard of care comparable to clinics in Western Europe at a more affordable price: the cost of an average own egg cycle is around 3,300 euro – slightly more expensive than the Czech Republic, cheaper than Latvia or Spain – while egg donation cycles average out at 5,100 euro. This puts the country in the middle of our comparison, as you can see below. The prices quoted include the cost of donor eggs, donor reimbursement, ICSI fertilisation and embryo transfer.
Be aware that some clinics may not be upfront about additional costs and fees that can accumulate over the course of treatment. Make sure you ask your clinic about whether these costs are included in their price quote:
the donor's fee, her medications and screening (if you're interested in egg donation)
egg retrieval
sperm collection and preparation
ICSI
assisted hatching (or any other IVF procedure you require)
blastocyst transfer
vitrification (freezing) and storage of embryos/blastocysts
IVF Success Rates in Russia
The results reported by Russian clinics, along with those from other countries in Europe, are compiled into a yearly aggregate report. According to the report for the year 2014 (published in 2018), Russian success rates don't stray much from the European average. Own egg treatments have an average success rate of 27.5%, matching the overall average of 27.2%. Egg donation treatments enjoy a 48% success rate – slightly below the average of 50.3%.
IVF Success Rates in Russia (ESHRE 2014)
IVF in Russia
ESHRE European average

IVF donor eggs - success rates
(pregnancies/embryo transfer)
48%
50.3%
IVF with own eggs - success rates
(aspirations - egg retrievals / embryo transfer)
27.5%
27.2%
Your individual chances for a successful IVF treatment in Russia
Remember that average success rates shouldn't be the primary deciding factor for your choice of clinic. Each patient is different – they have different infertility diagnoses and medical histories. As such, the prognoses for each patient can vary greatly and usually are different from the presented average success rates of each clinic. If you're concerned with the success rates, call the clinic before scheduling an appointment – describe your medical history in detail, including your age, weight, height, the infertility diagnosis, the number of failed cycles, performed tests and procedures etc. and ask for your individual success prognosis.
IVF in Russia – Law and Clinics Accreditation
The Ministry of Health issued order no. 107N in August 20124. This document serves as the legal basis for all assisted reproduction treatments in the country and applies to every federal state in Russia. The law lays out the proper procedure for diagnosing infertility (part 2, articles 8 to 19), indications and contraindications for the use of IVF procedures (part 3, articles 20 and 21, respectively), as well as an outline of a basic IVF cycle. Later on it goes on to describe the rules for oocyte, sperm, and embryo donation and the medical requirements for donors.
Russian clinics are required to acquire two licenses in order to operate: one granted by the local authorities, and a second one, granted by the federal district, which allows the clinic to perform tasks in the field of assisted reproduction. In order to acquire both licenses, clinics must pass rigorous inspections. Appendices 1 and 2 of the Ministry of Health order 107N define the procedures carried out by an IVF clinic.
The Russian Association for Human Reproduction (RAHR) runs a nationwide registry of clinics and medical centres performing assisted reproduction treatments. Like ESHRE, they release annual reports detailing the efficacy of IVF treatments in Russia. The latest such report available concerns the year 20165 – we've used data from it, as well as from the ESHRE report concerning the year 2014 in this article.
Find Best IVF Clinics in Russia
Resources:
1 ART in Europe, 2014: results generated from European registries by ESHRE: The European IVF-monitoring Consortium (EIM) for the European Society of Human Reproduction and Embryology (ESHRE), https://academic.oup.com/humrep/article/33/9/1586/5055580
2 EggDonationFriends.com, data for 2018, own elaboration
3 Data comes from 2014 ESHRE report, published in 2018. https://academic.oup.com/humrep/article/33/9/1586/5055580
4 http://www.garant.ru/products/ipo/prime/doc/70218364/
5 Russian Association for Human Reproduction ART Registry Report 2016, http://rahr.ru/d_registr_otchet/RegistrART2016.pdf