British Cyprus IVF Hospital (now known as Bahçeci Cyprus Fertility Hospital) is an assisted reproduction clinic with 21+ years of experience based in Famagusta, Cyprus. This British Cyprus Hospital performed 900 IVF cycles (100 IVF and 800 egg donations) in 2016 and has 80% average success rate. British Cyprus IVF Hospital employs an experienced team of 3 physicians, 3 embryologists, 4 midwifes/nurses and 12 customer service employees. British Cyprus IVF Hospital has received IVF AWARD 2016 in the category IVF Program. Would you like to know more?
Looking for "best" IVF clinic abroad?
We analyse your needs, egg donor availability, destination preferences and find top IVF Clinics for you.
Why did EggDonationFriends award the clinic and why should you visit British Cyprus IVF Hospital?
There are a number of reasons to book an appointment with this IVF clinic based in Cyprus:
Full International Support – as an international patients you will get all the help possible. You will be put in touch with a UK-based coordinator and local partners who will assist you with remote preparations and help you make necessary bookings. At British Cyprus IVF Hospital you can also benefit from the presence of an English nurse.
Knowledge – British Cyprus IVF Hospital professionals continually contribute to science of Artificial Reproduction with international publications.
Technological Investment – British Cyprus IVF Hospital invests in world-class technology, such as time-lapse imaging, Next Generation Sequencing, Preimplantation Genetic Diagnosis, Recombine, Endometrial Receptivity Array test, and array Comparative Genomic Hybridization.
Trusted Clinic – British Cyprus IVF Hospital has been awarded before. The clinic is the holder of Trusted Clinic Certificate. There aren't waiting lists and all patients can enjoy full anonymity! This is what most patients are looking for.
Your Piece of Mind – British Cyprus IVF Hospital complies with ISO9001 and ISO27001 quality and security standards.
Genetic Screening – at British Cyprus IVF the donor eggs can be screened for more than 250 diseases stemming from over 1,500 genetic mutations.
Exceptionally large egg bank of healthy 20-28 year old egg donors from various ethnical backgrounds.
10 oocytes guarantee – the clinic provides you with 10 donor eggs to maximize your chances of having successful pregnancy.
Optional Tandem Cycle – the tandem cycle allows you to use your own eggs and donor's eggs in a single cycle. If you have low quality oocytes, you have a lower chance to get pregnant with your own eggs. However, you can try anyway. This is a chance for you to have a baby of your own genes. At the same time your donor's eggs will be frozen. If your result is negative, you can use donor's eggs without facing the cost of two separate cycles.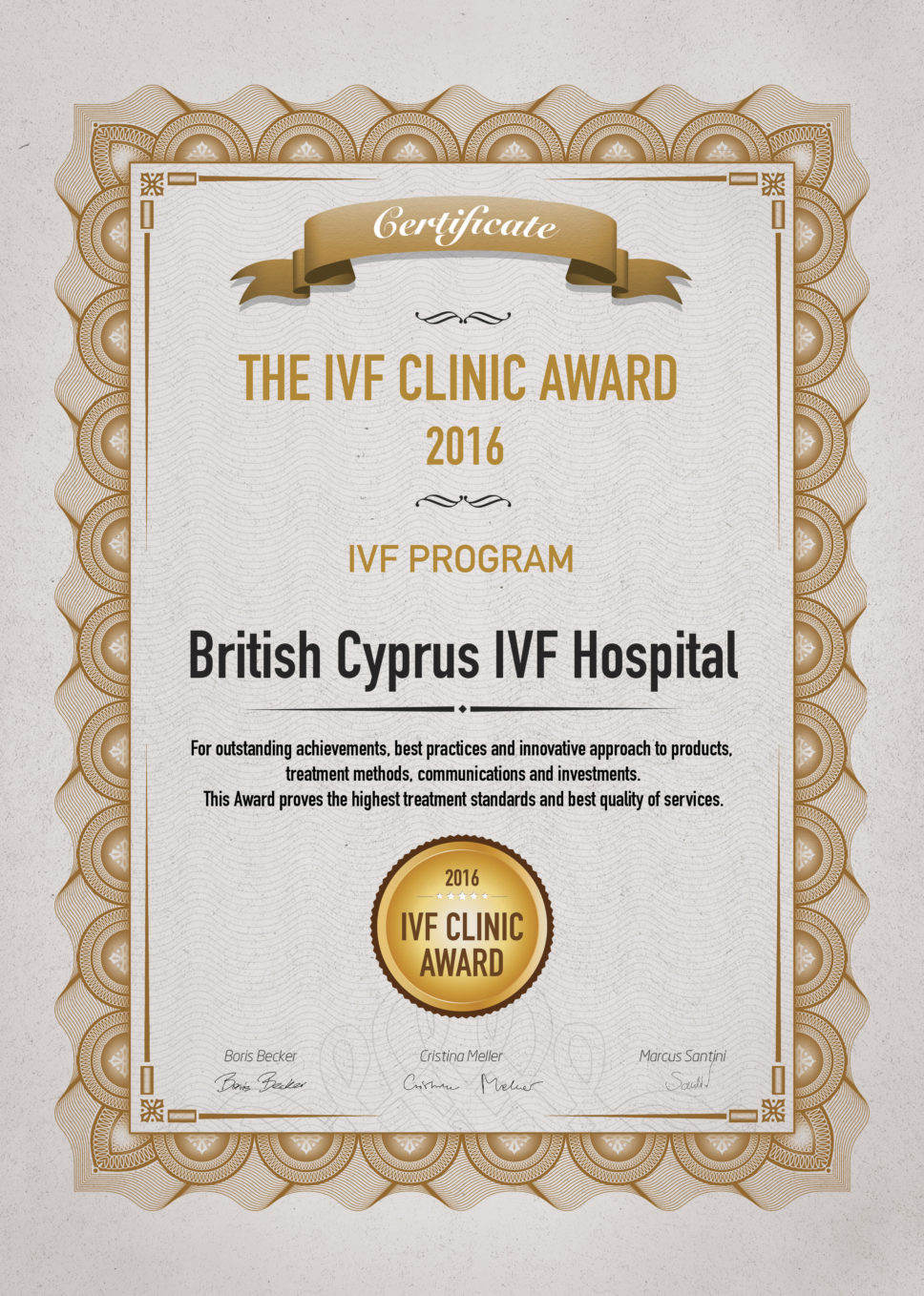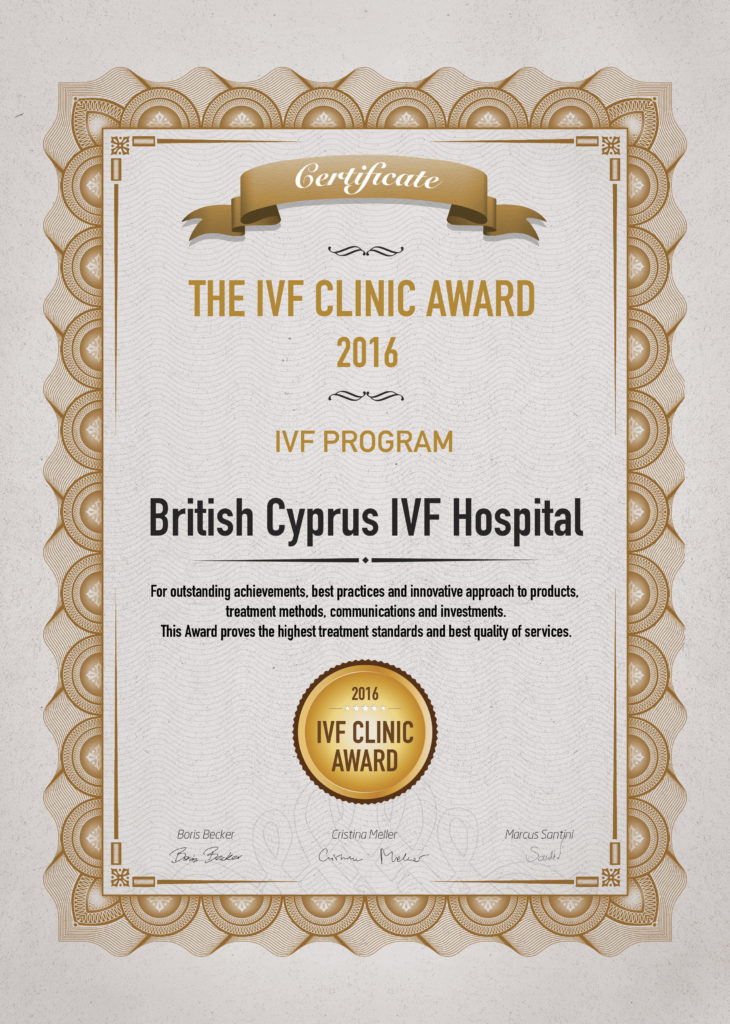 EggDonationFriends have interviewed the clinic:
Why did British Cyprus IVF Hospital take part in IVF AWARD 2016?
Infertility level increases day by day all over the world. In order to overcome this situation scientists develop the IVF technologies and methods every day. British Cyprus IVF Hospital tracks these developments at every turn. As an institution featured by Newsweek and ESHRE, British Cyprus IVF Hospital wants to be a game changer in assisted reproduction. The clinic has one of the biggest donor pools in the world, (1400+ genetically screened egg donors) but they are also equipped with the latest technology (MicroSort, MitoScore, CGT, NGS, ERA, MIRI 7/24 monitoring incubator, etc.). The fertility team at British Cyprus IVF Hospital work with the highest sense of ethics. After all, having higher success rates than European standards the clinic's professionals want to manifest their prestige. IVF AWARD is a good occasion to do so.
What does it mean to British Cyprus IVF Hospital to win the Award in this category?
For British Cyprus IVF, winning the IVF AWARD proves that the clinic's fertility specialists are on the right track. The award has recognized the clinic not only among the IVF clinics in Cyprus, but also worldwide. Awards like this are like medals that the doctors wear every day to show their success and tenacity.
Does British Cyprus IVF Hospital offer money back guarantee?
Yes. With the clinic's average success rates being one of the best in the European Union and attractive pricing for international patients; British Cyprus IVF Hospital has decided to offer an unmatched money back guarantee. If you do not get pregnant after three egg donation cycles, the clinic will give you back your treatment costs. And, what is important, you only pay for one cycle at a time. The clinic does not require payment in advance.
Book a free online Skype consultation and benefit from money back guarantee, airport pickup and much more. See the complete British Cyprus IVF Hospital clinic profile (now known as Bahçeci Cyprus Fertility Hospital) and contact the clinic by clicking on the red contact button.