Recent studies by the Institut Marquès, fertility clinic from Spain, show that pregnancy after cancer treatment is safe. In these cases, the clinic achieves a pregnancy success rate of 82%.
Until recently, women who wished to have a baby after overcoming cancer were faced with uncertainties as to whether pregnancy could retrigger the cancer. Institut Marquès has shown that having a baby after cancer is safe. The results were the pregnancy success rate of 82% among patients who had undergone IVF treatment after using the services of Oncology and Reproductive Medicine Unit.
When can I start – pregnancy after cancer – when?
his is the most frequently asked question by women who need help to have a baby after overcoming their illness. Institut Marquès's Oncology and Reproduction Unit studies each case to ensure patients' safety so that the cancer will not be reactivated during their pregnancy or as a consequence of it. To do so, this unit is composed of 20 doctors from different specialties: oncology, radiotherapy, surgery, gynaecology, endocrinology, etc. All information is evaluated: diagnosis, treatment, and controls to determine when it is safe to start and which techniques are advised.
From the total number of women that ask for Institut Marquès's advice, the beginning of treatment is approved in 91% of the cases and the pregnancy rate is very high: 82% of the patients have a baby.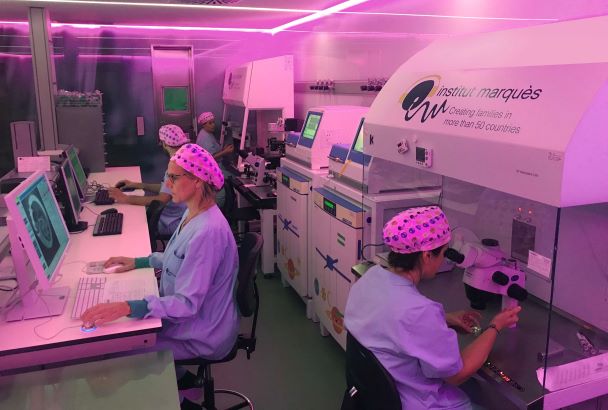 Currently, 89% of the patients whose cases were researched by Institut Marquès were diagnosed as healthy enough to start their fertility treatment. 82% of these women fell pregnant after various reproductive treatments. 70% of women gave birth within 2 years from their first visit consultation at the Institute.
Why do I need help to become a mother? – fertility and pregnancy after cancer treatment – why do I need help?
Both cancer and its treatment can affect a woman's fertility, but it is the delay of the maternity in the majority of the cases, which causes the need to undergo an assisted reproduction treatment to have a child after cancer. Although fertility preservation is more and more frequent before cancer treatment, according to Institut Marquès's study, only 1 in 10 women who began assisted reproductive cycle had their eggs frozen before their cancer treatment. Thus, IVF, embryo donation and, in most cases, egg donation, are the most common treatments among the patients of Institut Marquès's specialised unit.
However, it is very important to remember that if you have overcome cancer it is possible for you to become a mother. More young women are diagnosed with cancer but there are treatments that actually cure it. Current reports confirm that 85% of cancer patients under 50 beat this terrible disease.
When a patient is diagnosed with cancer, it is often not considered whether they may want to become a mother in the future. These patients are faced with and have to win two battles: against cancer and, after being treated, the other against all the obstacles put up by doctors and their family who may insist on quitting on trying to become a mother as pregnancy may pose a risk.
Institut Marquès wants to send out a clear message to the medical community not to fall into default and say "No" to women with a history of cancer who wish to have a baby. The doctors' experience at Institut Marquès shows that if patient's assessment and medical examination is performed, and the patient is fit for pregnancy, the only risk that is simply the natural risk involved in any pregnancy.
And then? Pregnancy after breast cancer treatment and other diseases
The specialised unit in Reproductive Council of Institut Marquès has already treated women from around the world. The initial consultation can be done in your home country. Did you know that you can visit Institut Marquès in Ireland? You can have your first consultation in Clane, Dublin or London. Then you can travel to Spain, or Italy to complete the Assisted Reproduction treatment at the clinic's premises.
The cancer-survivor patients who come to the clinic are usually around the age of 40. The majority of them have been through breast cancer, others overcome the hematologic type of cancer (leukaemia, lymphoma or ovarian cancer). On average, women take about 8 years, from the onset of cancer diagnosis, before they start to actively seek professional advice on how to become mothers. The great news is that 7 out of 10 women become mothers in less than two years after their first consultation. All women are closely monitored by their oncologists at the Institute and, on average, after two years, they remain healthy. There is definitely hope if you have had cancer treatment and you dream of becoming a mother.