Why seek treatment in your country? What makes your country stand out from other medical destinations?
Success rate of IVF is one of the first questions that arise when choosing a fertility clinic. In vitro procedures are expensive and if people are waiting to have a baby for a long time, they rightly want to maximise their chances of success. With numerous European clinics to choose from, Poland is a newly popular destination, because of the highest success rates in all Europe.
35.2% of in vitro fertilisation procedures are successful per treatment cycle. Poland is followed among others by Spain (33.8%), the UK (30.9%), Germany (27.9%) and Italy (24.1%). These are official results from a study in 2010 by the European Society of Human Reproduction and Embryology (ESHRE), the European body governing fertility treatments in Europe. They compare treatment cycles using various in vitro techniques (IVF, ICSI and IMSI) and it includes women from all age groups.
Such a high average effectiveness can be seen also for egg donation cycles. For example, at InviMed clinic, the 65.2% of egg donation patients are successful first time. This is thanks to the expertise of our medical team, individualised treatments and the procedures we have refined over the years.
What are the standards of treatment in your country?
Standards of fertility treatment in Poland are regulated by -the Act of infertility treatment.  InviMed has been recognised for its excellence in fertility treatments. We follow not only Polish acts but also meet or exceed international standards required by organisations, including the World Health Organisation (WHO), the European Society of Human Reproduction and Embryology (ESHRE), and the American Society for Reproductive Medicine (ASRM). What's more, InviMed is regularly audited by international consultants and partners
From which countries do your international patients come? Please specify the country name along with the average percentage of international patients from each country.
We treat people from all over the world. However the majority of our patients come from Germany, Sweden, Norway and the UK.
Do patients expect treatment to be in their native language?
Many people ask about it and are happy to hear that at InviMed we speak in English, German and Swedish. Care coordinators speaking these languages help patients with all formalities. Then patients have contact with English- speaking doctor, but we also can arrange a translator for the appointments. In clinic in Poznań, which is frequently visited by German patients.
What percentage of patients from abroad are treated in their native language?
Around 80% of patients are treated in their own language.
In which languages do you offer treatment to international patients?
Our coordinators can communicate with patients in English, Swedish, German or Polish. Patients can be sure to receive the best care, without language barriers. Then they speak with doctors in English or via translators. In Poznań we have German translators on site.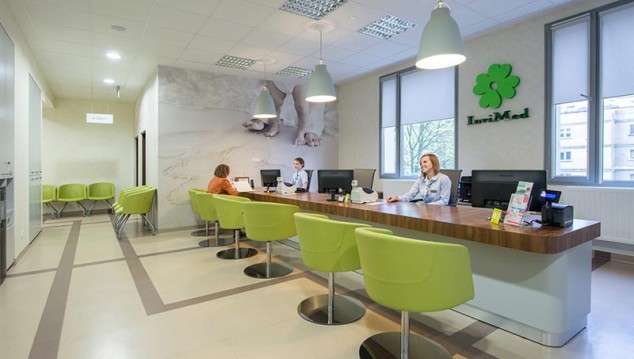 Which services/procedures do patients most frequently use in your clinic?
The most of patients use ICSI and IMSI procedures. Egg donation is our specialisation, so this is also very popular procedure, especially among patients from abroad. What's more, PGD and PGS tests are getting more and more popular every year.
How long do patients need to wait for donor eggs?
There is no waiting time for donor eggs. Patients can start as soon as they are prepared for the treatment. This is what makes our programme unique on Polish market.
By what criteria do patients choose treatment in Poland, as opposed to e.g. The Czech Republic?
Treatment range
Do you offer Egg donation – fresh eggs NO
Do you offer Egg donation – frozen eggs YES
Do you offer IVF for single woman NO
Do you offer IVF for same sex parents NO
Do you offer Sex selection/family balancing NO
Do you offer Sperm donation YES
Do you offer Embryo donation YES
Do you offer Surrogacy NO
Do you offer PGS – chromosome screening YES
Do you offer PGD – single gene diagnosis YES
Costs & success rates
What do you think about the standard price of services provided in your country, in comparison with other countries? (Including neighbouring countries)
We're proud to offer one of the most cost effective programmes. Our egg donation treatment is up to 60%
Is success rate data monitored? By whom?
It is constantly monitored by our medical and embryological team, as well as external auditors. We also report our embryological reports to ESHRE.
If so, how does this monitoring take place?
What do you think about treatment success rates in your country?
Treatment success rates are higher than in other European countries e.g in Spain, Germany or Italy..
How you think success rates might be improved?
Law/legislation
What laws regulate IVF treatment? (Please list the applicable acts and laws)
Act on infertility treatment from 2015, November 1st
Are there any associations or legislative bodies governing, overseeing or monitoring the quality of IVF clinics?
Ministry of Health in Poland
Which procedures may be legally performed in your country? (Please specify which are legal and which are not.)
All fertility procedures, except of surrogacy can be legally performed. However, procedures are open only to heterosexual couples, no matter whether married or unmarried and cannot be offered to single women.
Are there any legal limitations to treatment (E.g., a woman's age, marital status, a maximum number of embryos transferred in one cycle, etc.)
IVF treatment is open for infertile couples, both married or cohabiting, who have exhausted all other methods of treatment over a 12-month period. There are no age limits.
What laws regulate the donation of eggs? Please specify.
The Act on fertility treatment, together with appropriate ordnances
What are the rules of egg adoption for patients?
IVF with donor eggs treatment is open to couples, both married and unmarried. If a couple are not married, the man who participates with her female partner in the in vitro procedure using donor eggs will have to sign a declaration at the Polish Registry Office that he will be the child's father. Then he needs to declare at the clinic that he had fulfilled this obligation.