In this year's edition of IVF CLINIC AWARD EggDonationFriends have recognized the best clinics and egg banks which continue to provide excellent services to fertility patients. The IVF CLINIC AWARD in the category of Egg Donation Program has been given to IVF Spain, Alicante-based clinic.
EggDonationFriends jury panel has appreciated the clinic's broad egg donation offer, offered guarantees and taken into account patients' feedback. Congratulations to the entire IVF Spain team for maintaining the high level of medical services throughout the years.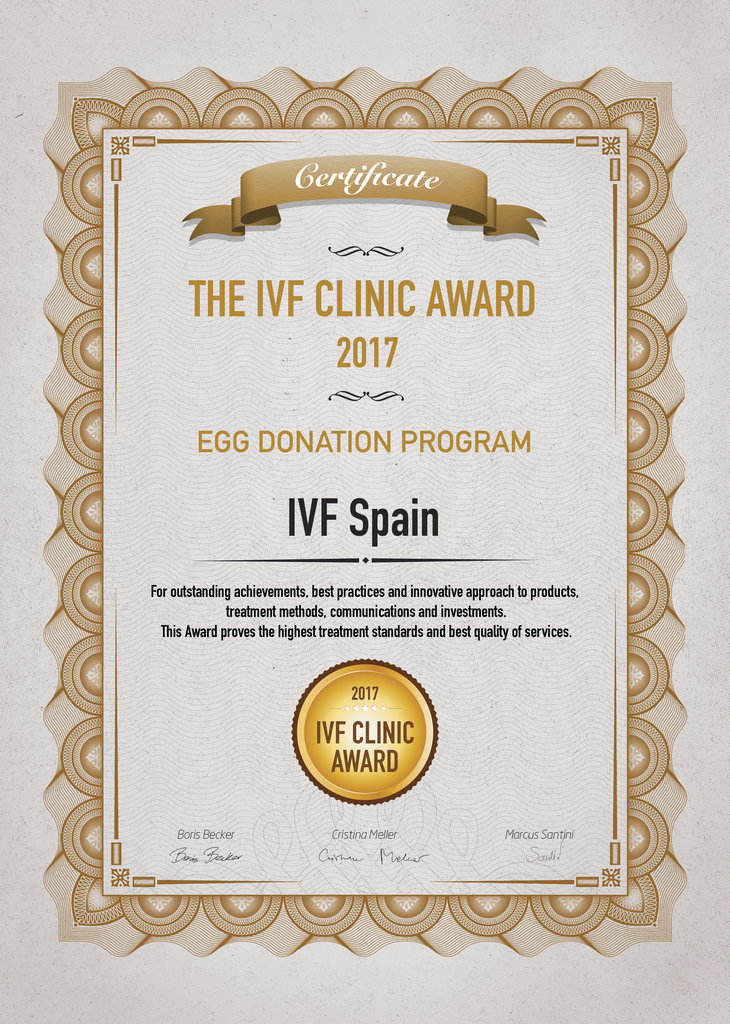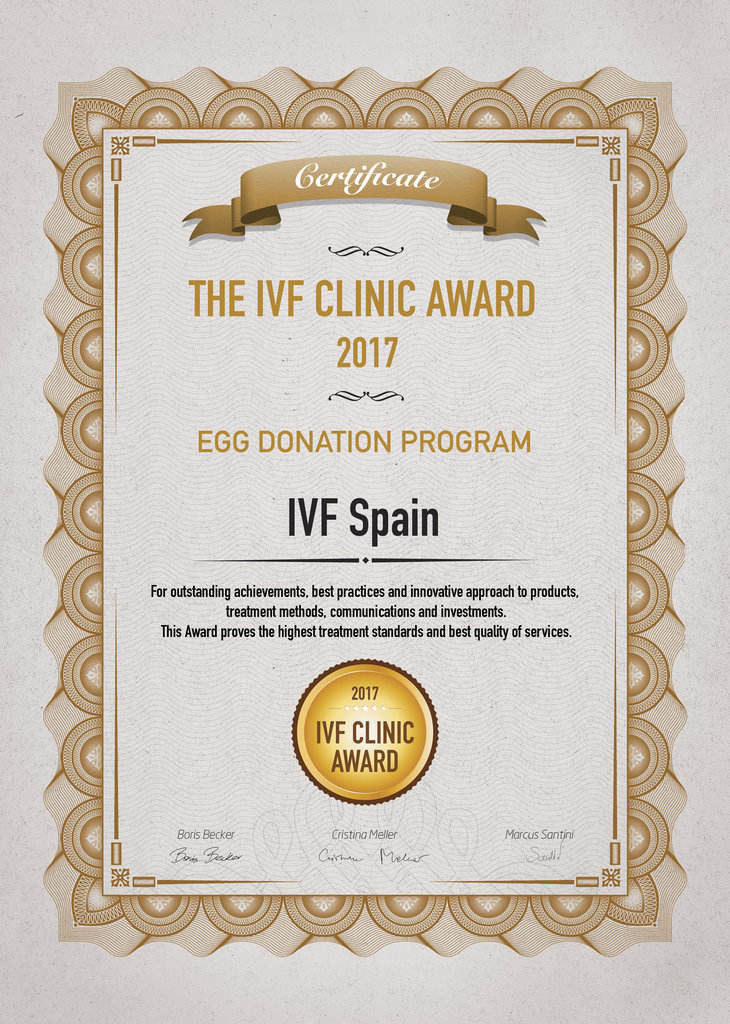 Why IVF Spain?
Patients who need egg donation in order to start a family choose IVF Spain for many reasons:
egg donor management – special department inside the clinic dedicated only to selecting, managing and updating the clinic's donor list
no waiting list for egg donor
personalised phenotype matching with a pool of 500+ donors
guarantee of anonymity – both the egg recipient and the donor are anonymous
strict donor selection including mandatory medical check-up, further tests like genetic carrier map Recombine® done by protocol to every donor.
IVF Spain offers guarantees for every Egg Donation Program chosen by a patient. The doctor, together with the patient, can decide which program suits them the best. Each egg donation program offers a guarantee of number of embryos or blastocysts, compared to other clinics that usually offer only the number of eggs guaranteed. In case of not reaching the guaranteed number, the clinic would stimulate the same or a different compatible donor again for no extra cost for the patient.
Looking for "best" IVF clinic abroad?
We analyse your needs, egg donor availability, destination preferences and find top IVF Clinics for you.
Egg donation success rates and certification
IVF Spain is proud of their certified success rates, by TÜV Rheinland, one of the most comprehensive and stringent of all independent ratings, with a cumulative pregnancy percentage per ED cycle of 93%. In addition, the clinic has also received many prestigious ART awards and recognitions, like:
international ISO 9001,
UNE 179007:2003,
"highest honour" award from ASEBIR (Spanish Embryologist Association) for research on embryo banking with PGS and Sperm Vitrification,
IVF CLINIC AWARD 2016 and 2014
and many more.
IVF Spain has also teamed up with EggDonationFriends for our #IVFwebinars project in an effort to help patients understand the complexities of in vitro treatment. Dr Natalia Szlarb, the Medical Director, has delivered educational presentation on the process of IVF with donor oocytes abroad and patient journey at IVF Spain. The webinar attracted many patients, mainly from the UK, Ireland, Australia, Germany and France.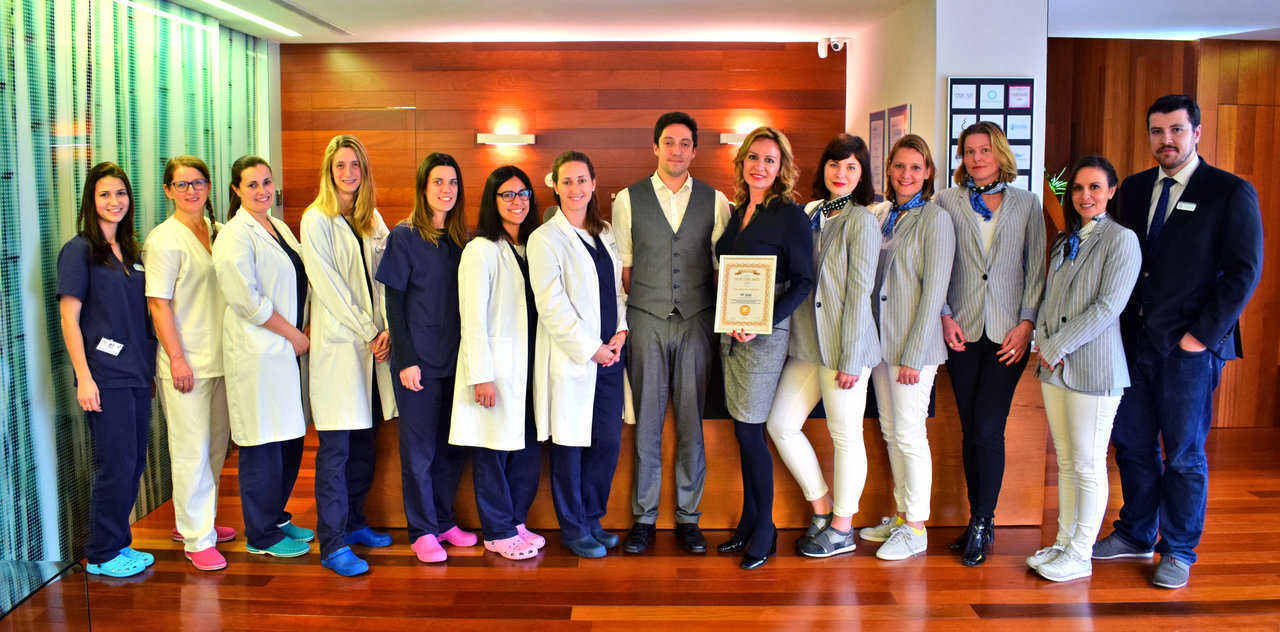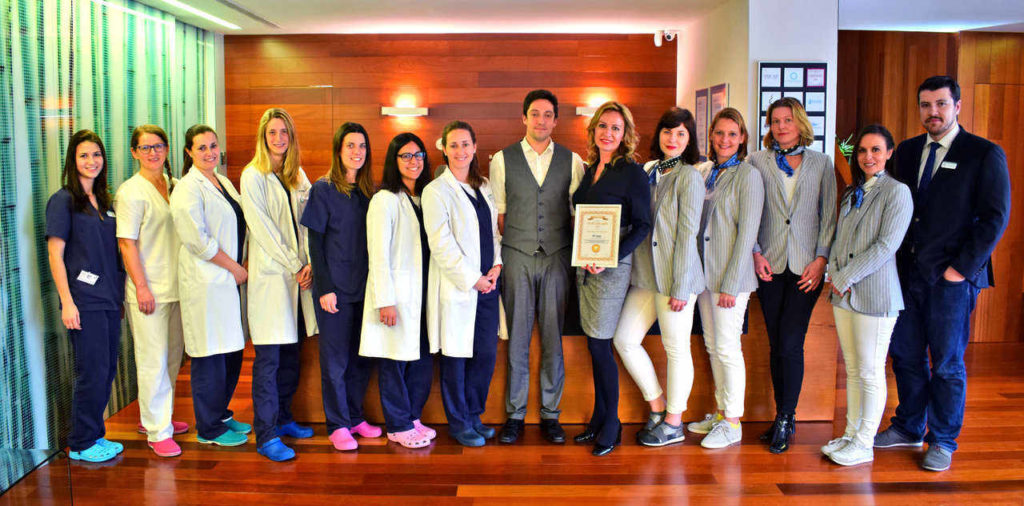 Patient Care that makes a difference
IVF Spain team always tries to improve patient experience in terms of human support, but also by including state-of-the art technologies and making continuous changes in medical protocols that will help conceive a healthy baby for the patients. Thanks to the laboratories, fully equipped with the latest Time Lapse technology (Geri+) and biological samples tracking system (Gidget), the clinic's experts are able to perform any test "in house". The tests help investigate factors that could hinder achieving an on-going pregnancy:
male factor (MACS, ferticert, DNA fragmentation and apoptosis),
genetic factor (PGSPGD),
receptivity issues (ErMap),
immunology issues (iMap, KIR-HLA).
In other words, at IVF Spain the specialists understand that a live-birth is not only a matter of egg quality. The doctors' responsibility is to do their best to offer a personalised and integrated solution to the patients. After years of protocoled treatments in their own country, many patients highly appreciate this different approach to medical care.
EggDonationFriends have asked Inge Kormelink, Head of Strategies & Policies at IVF Spain, a few questions about the award:
EggDonationFriends: Last year IVF Spain won IVF CLINIC AWARD 2016 in the category of IVF PGD/PGS Program. Why did you apply for the award again in 2017?
Inge Kormelink, IVF Spain: We are constantly striving to improve the service we provide and feel that the prestigious IVF CLINIC AWARD provides us with an opportunity to assess how well we have achieved our goals over the previous 12 months. The award for the best IVF Clinic for the second year running demonstrates our ongoing commitment to quality, patient care, medical and scientific advancement.
EDF: What does it mean to you to win the award in your category?
Inge, IVF Spain: We are extremely pleased and proud to have won in this category which is judged by an impartial organization like EggDonationFriends with such an impeccable and long standing experience in the fertility field. We feel that the IVF CLINIC AWARD not only reflects what we offer holistically but highlights specifically the excellent Egg Donation Program we provide. The ED Program we offer is one of the key reasons behind our ability to develop diverse and effective treatment programs and deliver excellent egg donation success rates.
EDF: What has changed in your clinic since last year?
Inge, IVF Spain: We constantly review the use of advanced technologies as well as promoting medical protocols which provide our patients with the best possible chance to conceive a healthy baby. We have updated our laboratories which are fully equipped with the latest Time Lapse technology and biological sample tracking systems. We also have improved our "in house" tests which investigate factors that might affect coorect implantation and healthy pregnancy. These include, male factor, genetic factor, receptivity issues and immunology issue tests.
To contact the clinic for more information on your egg donation options, go to IVF Spain clinic profile or use our LiveChat to chat with our International Patient Coordinators who will be happy to help guide you through the decision making process.