If you are interested in fertility matters, you definitely have heard of Instituto Bernabeu. This fertility center from Spain has existed for over 30 years has already achieved over 12,000 births. Patients from more than 63 countries have been visiting the clinic. The Institute consists of five clinics in Spain and is equipped with top-notch equipment to conduct the most modern treatments. Over 20,000 fertility services have been performed for patients who picked this Spanish clinic for their journey to parenthood.
The fertility clinic based in Spain has been recognized with many awards, for example: ISO 9001, SEP (Excellence in Private Health) and EFQM (European Foundation for Quality Management) and now IVF Agency of the Year (2016).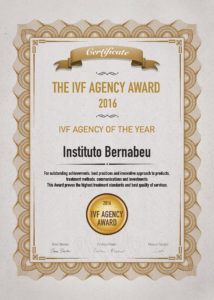 Why EggDonationFriends awarded Instituto Bernabeu?
The jury has decided that the IVF Agency of the Year Award would go to Instituto Bernabeu because of their number one and most important value: the focusing all their efforts towards patient care.
What matters most to the clinic's staff is the patient. What is important, this fertility center from Spain was founded by doctors over 30 years ago and since then it has been managed by doctors only. The clinic is unique in a way that no medical outsiders (investors or venture capitalists) are part of the institute. Patients who wish to undergo treatment at Instituto Bernabeu can be sure that all medical decisions and fertility treatment they get is not based on financial gain but purely on medical grounds.
The IVF Award jury asserted that the fertility doctors from Instituto Bernabeu in Spain are driven by high ethical standards in their daily work. This is the number one reason that the clinic has been providing excellent treatment to the patients non-stop for 30 years. Did you know that at Instituto Bernabeu 90% of egg donation cycle patients come from abroad? Only 10% of oocyte donation patients are Spanish.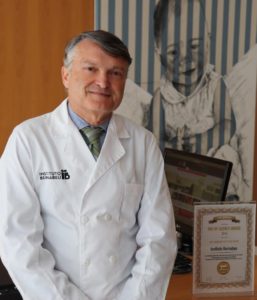 EggDonationFriends asked the clinic's representative a few questions:
Why did you take part in IVF Awards 2016?
The decision to take part in the IVF Awards 2016 was easy. We believe in hard work and we trust that our efforts benefit the patients. It is only possible thanks to our dedicated and highly qualified team of fertility doctors. We are grateful to EggDonationFriends and FertilityClinicsAbroad.com for recognizing us, Instituto Bernabeu, as the IVF Agency of the Year (2016).
What does it mean to you to win the Award in your category?
The IVF Award 2016 in the category of the IVF Agency of the Year reinforces our strong commitment to our patients. We are even more motivated to offer the best of our knowledge and experience to all our patients who are in need of treatment.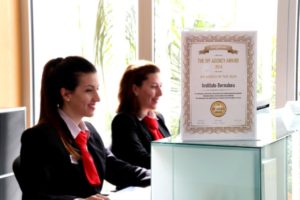 Contact Instituto Bernabeu
If you are looking for fertility treatment at a renowned clinic, Instituto Bernabeu is worth considering. Read more about the IVF clinic from Spain – have a look at the clinic's profile. Did you know that EggDonationFriends clinic profiles are unique? They are the most detailed, comprehensive and reliable source you can find online. Find out yourself – see the full profile of Instituto Bernabeu here and to contact the clinic click the red Contact button on the right.
Stay tuned for more weekly articles from EggDonationFriends. Visit us also on our social media: Facebook and YouTube!